How to Stay Young
Published on: 14 September 2017
Experts from Newcastle University reveal the shocking differences between people's body age and their actual age in the BBC 1 series 'How to Stay Young'.
Our lifestyles affect how we age and many of us are ageing too fast and have a body age much higher than it should be.
Dr Chris van Tulleken and Angela Rippon join some of the country's leading health experts at Newcastle University to turn around the lives of people whose bodies are much older than their actual age.
Using the latest scientific research on ageing, the expert team try to help volunteers by giving them a complete lifestyle overhaul that will bring their body age closer to their birth age in just 12 weeks.
How to Stay Young is on BBC 1, 9pm on Wednesday 13th, 20th and 27th of September and you can watch now on the BBC iplayer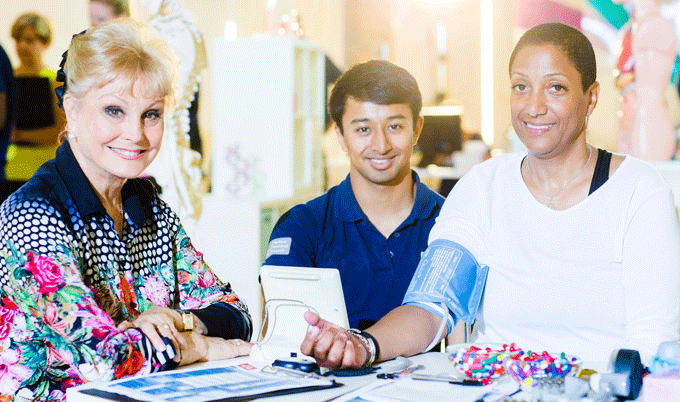 Anti-ageing lab
Working alongside the Institute for Ageing at Newcastle University the BBC built the ambitious anti-ageing lab, where they will be testing some the country's worst offenders to get the most complete picture of how they are ageing. The results from these tests will provide their real body age, and allow them to put together a personal plan.
Professor Mike Trenell from Newcastle University's Institute for Ageing who designed and oversaw the testing said: "It was great to have members of the general public come into the lab to have their body age calculated. However, what we found was a real wake up call for them and us. The great news is that as poor lifestyle choices age people, good choices about physical activity, diet and sleep can fight the ageing progress - some cut more than a decade off their body age."

He was joined in the anti-ageing lab by Newcastle University Professors Paula Moynihan, Lynn Rochester , Mark Birch-Machin and Dr Daniel Collerton covering diet, movement and brain function issues with the volunteers.
The volunteers were also supported by Changing Health, a spin-out from Newcastle University and Newcastle Hospitals NHS Foundation Trust, which provides digital education and personalised coaching based on scientific evidence from Professor Mike Trenell's research. Using these digital tools and working with a coach, people improve their lifestyle, centred around diet and physical activity, leading to weight loss and better health outcomes.
Professor Trenell adds: "These people are quite typical - and when we talk about an ageing population many of us don't realise that refers to ourselves!

"If we don't take action, make better food choices, move more and manage our weight then we will see the problems of older age creeping up on us at a much younger age. We already see it in the growing problem of diabetes, obesity and heart problems.

"This is why it is so important that we study these conditions to help provide solutions towards a longer, healthier life."
True body age
In episode one, to be broadcast on the 13th September, the 'How to Stay Young' team invited a group of ordinary people to the specially -constructed anti-ageing lab to take part in one of Britain's biggest ever ageing experiments to find out their true body age - and the results are shocking.
One volunteer Kamini discovers how being so lazy has made her body weak, putting decades on her age. Fifty year-old Alison finds out why modern life has made her so forgetful, and 51 year-old stress eater Tim has one of the worst results our scientists have ever seen, putting his life at serious risk.
They'll have just three months to get their body age down and closer to their birth age. But will they have succeeded when they re-face the tests in the ageing lab?
How to Stay Young will be shown on BBC ONE at 9pm on the 13th, 20th and 27th of September.
---
Latest News