Bridget Stratford
Co-Founder, N.E.S.T, Psychology Graduate, 2019
Bridget Stratford, Co-Founder, N.E.S.T, Psychology Graduate, 2019
Bridget is the co-founder of the multi-award winning and internationally recognised student-led volunteering project N.E.S.T (North East Solidarity and Teaching). N.E.S.T empowers the refugee and asylum-seeking community in the region through a variety of formats such as one-to-one English teaching, group English classes, sports, creative arts and trips into the local area.
From August 2019, she has led the project to support 550 refugees and asylum seekers and recruit over 450 students to lead a holistic programme of daily provision, providing a sustainable change-making solution to a local societal need.
Bridget graduated from Newcastle University in 2019 with an academic, research and practice based Psychology background.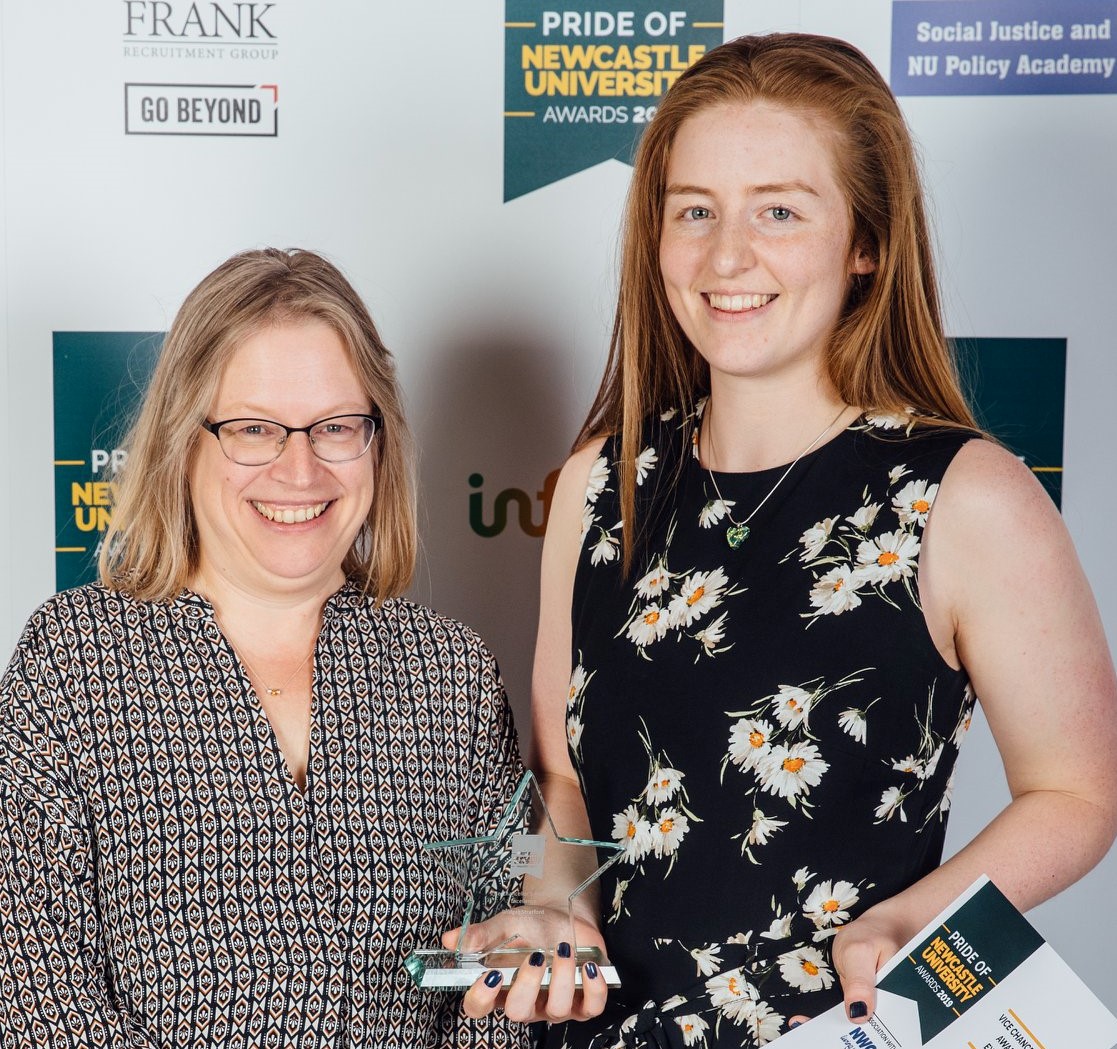 An interview with Bridget Stratford:
What was your favourite memory from your time at Newcastle University?
I loved my time training and rowing with the Boat Club and I really enjoyed working on placement in Gateshead and South Tyneside Hospital Trust but the highlight of my time at University, for me obviously has to be my time setting up and running N.E.S.T alongside my friends and now colleagues.
How did your degree help you in your current career?
Training as a Psychological practioner has given me a lot of experience working with and supporting people from lots of different backgrounds and presenting with a wide range of needs. I also gained knowledge and improved my own abilities to lead, communicate and develop solutions to problems that students and community members are facing.
Whoever you are and whatever you have to give, you can make a real difference.
What initially motivated you to take action on social justice?
Go Volunteer gave me with an opportunity to support a Syrian family in Gateshead. I was able to provide them with some support and begin to help provide the resources and information they needed to make progress in their own lives. I was and still am constantly inspired and blown away by the strength and determination of the people who I am privileged enough to work with. Conditions are extremely difficult for a lot of people living locally to the University and I, and the rest of the N.E.S.T team, just want to do what we can to work towards a better life for refugees and asylum seekers in the North East.
What piece of advice would you give to students and alumni whi have an interest in tackling social justice?
Whoever you are and whatever you have to give, you can make a real difference. Look at what people are already doing to find solutions and listen to what the community are asking for support with and try to provide resources, whether that be time, talent or financial support. There is so much need not just in support for the forced migration communities but right across the VCS, if you can just get started at a level you're comfortable with then you can always increase or develop your role.
What would you still like to achieve?
N.E.S.T is really just at the beginning of its journey and there is so much to work towards. Short-term we are working towards a hybrid programme to reintroduce in-person volunteering and learning opportunities and from September we will also be expanding into primary schools in Newcastle to provide some in depth support for children from refugee backgrounds. More broadly, I hope to be able to create more stability for the project by employing a team, securing rolling funding and finding a permanent base. As always, the main aim for N.E.S.T is to maintain relevenancy to our community and continue to meet their needs and listen to their voices.