68 Remembers - Medical grads raise money to support students
12 April 2021
Alumni from the Newcastle University Medical School class of 1968 have come together to raise hundreds of pounds to support the Newcastle University Covid-19 Emergency Fund for Students.
Led by Dr Peter Tate MBE and Dr Keith Baxby, the group have collated and produced a paperback and e-book entitled '68 Remembers: Newcastle graduates medical memories', with all proceeds going towards supporting students. The book is a collection of medical anecdotes from their peers of their time spent in medicine and has over 25 contributors.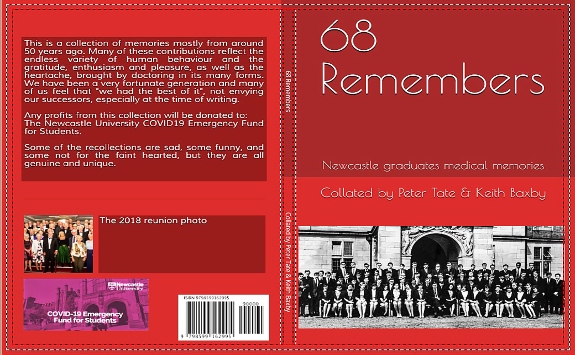 We spoke to Dr Tate about how the project came about and why they chose to give back to current students at Newcastle:
"The book grew out of a WhatsApp group we had formed some months ago, based on successful reunions and an e-mail list organised by Stuart Walton.
We sent an email out and the stories rolled in. I edited them minimally. The brief was very broad, there was no word limit, just a request for medical anecdotes.
We started in mid-November and by mid-January we had what is now in print, available as an e-book and as a paperback and priced to produce a reasonable profit. The stories, many but not all humorous, are snapshots into medical careers that began over 50 years ago. Several are memories of medicine and life in the Sixties. There are 26 doctors from our diminishing year that contributed.
We wanted to support Newcastle University, as after all that is our common ground, and discovered the Covid-19 Emergency Fund for Students which was agreed by all as the ideal charity for such a venture at this time."
The number of students applying for financial support this year has increased by over a third in part thanks to the pandemic. To support our students, an emergency assistance fund was established by the University to provide immediate financial aid to vulnerable and disadvantaged students who are most affected by the impact of Covid-19.
The bursaries, of up to £400 each, provide support for travel expenses, basic living costs such as food and medication, and other financial challenges experienced due to Covid-19.
To donate to the Covid-19 Emergency Fund for Students you can do so by regular donation or via a one-off donation.