Alumna publishes first poetry collection 'Driftwood by Starlight'
23 November 2021
Driftwood by Starlight is being published a year on from Caroline's contribution to our One Planet e-book as part of 2020's Alumni Day of Action. To mark the release of the 48-page collection, we caught up with Caroline (née Dudley-Smith) to look back on her time at Newcastle.
The offer of a place at Newcastle University was a wonderful gift. My A Level grades, with the exception of Classical Civilisation, were disappointing, and I found myself in the Clearing system. When I heard that Newcastle still had spaces in Classical Studies, I jumped at the opportunity.
Everyone in Newcastle seemed so friendly. I thoroughly enjoyed Freshers' Week. Little did I realise then that days later I would meet my future husband, David Gill, at a party in the Classics Department.
I lived in rural Norfolk, so it was a novel experience to have so many friends to hand when I moved into Havelock Hall, Castle Leazes. I played table tennis and much enjoyed the ceilidhs and hall balls.
Very early on, a fellow student asked if I would accompany her to a Newcastle University Christian Union meeting. We were soon attending not only the Christian Union together, but also Jesmond Parish Church. We were appointed CU Catering Officers, a role totally unsuited to my lack of culinary expertise!
One of my favourite memories of my time at Newcastle was our Rag Day recitation of Homer in Greek, with Professor Peter Jones in a snowy Quad. If I had to choose one stand-out memory, it would be the Classics trip to the British Museum with Professor Brian Shefton (who attended our wedding some years later).
Life after Newcastle University
Following graduation in 1982, I completed a PGCE at Exeter University. I went on to teach Religious Studies to GCSE, and Classical Civilisation to A Level in a Norfolk secondary school. David and I were married in 1985, and moved to the British School at Rome, where David had been awarded a Rome Scholarship in Archaeology.
We returned to Newcastle for two happy years while David held a Sir James Knott Fellowship, before moving to Cambridge and then Swansea. I was no longer teaching at this point, following a diagnosis of rheumatoid arthritis.
I found an enthusiastic poetry community on arrival in South Wales, emanating from the Department of Adult and Continuing Education at Swansea University. I was also invited to join a Disability Arts Cymru writing project, which resulted in an anthology, Hidden Dragons/Gwir a Grymus (Parthian Books, 2004). I took part in the anthology launch at the Hay Festival.
I have always enjoyed poetry. My father liked to read to his growing family on winter evenings. I won my first poetry competition at the age of twelve, with a poem about a koala.
Driftwood by Starlight, my first full collection of poems, was published in 2021 by Peter Thabit Jones, Editor of The Seventh Quarry Press, and launched online. One of the poems in my collection, 'Silence on the Sand', concerns the Curlew, a species in decline. This poem, set on the Northumbrian coast, was included in One Planet, the eBook edited by Linda France for the 2020 Newcastle University Alumni Day of Action on the theme of the Climate Crisis.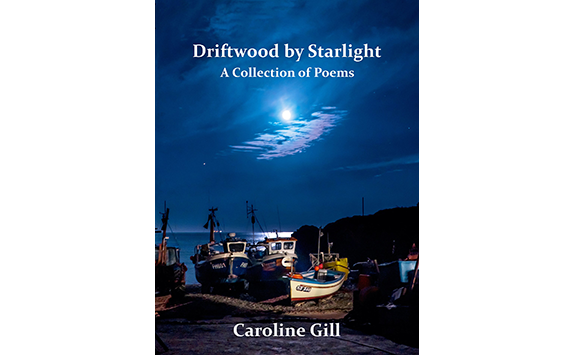 Caroline is an active member of Suffolk Poetry Society. Her poetry chapbook, The Holy Place, shared with John Dotson, was published by The Seventh Quarry Press (2012). Caroline was awarded First Prize in the General Section of the international Petra Kenney Poetry Competition (2007) for her sestina, 'The Figure at the Phoenix Mine', inspired by the UNESCO World Heritage Site in Cornwall. 'Raft Race', featuring the rare Fen Raft Spider, took Overall First Prize in the ZSL 'Conservation' Poetry Competition (2014). 'Penwith Fingerstone' was awarded Third Prize in the Milestones Competition (2017), judged by Brian Patten.
You can find out more about Caroline's work and Driftwood by Starlight on her website.