Alumni rowers make a splash at the European Rowing Championships.
11 June 2021
Newcastle University alumni helped lift Team GB to the top of the medal table at the 2021 European Rowing Championships.
Tom Ford (Newcastle University Boat Club (NUBC) 2012-2015 and men's captain in 2014) and James Rudkin (NUBC 2013-2015 and men's captain in 2015) were part of the men's eight, while Emily Ford (NUBC 2013-2015 and 2015 women's captain) was in the women's eight.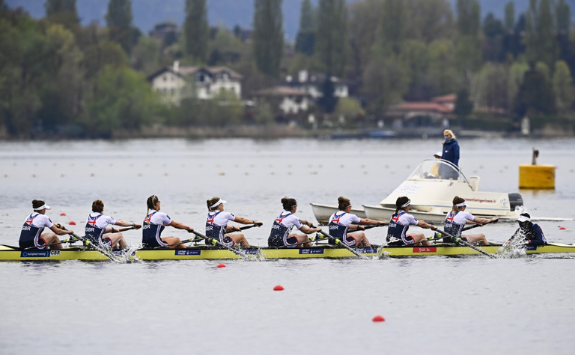 In the first international regatta since the start of the Covid-19 pandemic last year, Team GB topped the medal table. The overall success was thanks in part to the outstanding performance of the men's eight who beat the reigning world champions Germany in the second half of the race.
Tom Ford said: "It is a bit of a cliché but there isn't really any secret to the success, it just comes from lots of hard work. It was a demonstration of the work that has been put in behind closed doors and the efforts put in when we have been in lockdown training individually. The individual training on the rowing machine for the many months in lockdown has created some real mental resilience on top of the physical gains that have been made."
Emily Ford's crew came fourth, challenging for a medal most of the race.
Emily said: "Having not raced for 20 months, the European Rowing Championships were set to be exhilarating. Our first race down the track I think took us all a little by surprise as we began to find our feet on how to race again. We had some key areas to focus on changing for the final which we executed well however just missed out on the bronze medal. We as a crew were disappointed with the result but it gave us more fight to get back training and make the improvements we needed to."
Held from 9 to 11 April 2021 in Varese, Italy, the 2021 European Rowing Championships featured 18 events in rowing and four in para rowing. Great Britain finished with a total of 12 medals – five gold, four silver and three bronze.