From Architecture student to Arches artist
29 September 2021
Graham Caffull graduated from Newcastle University's School of Architecture in 1980 and since, built a successful surveying career in the North East. When an illness cut his career short, Graham rediscovered his passion for art. He now works at a local gallery in Newcastle and sketches in his spare time. Graham recently returned to Newcastle's city centre campus to sketch our much-loved Arches, and kindly allowed us to use this artwork as a gift to volunteers who have supported the University during the pandemic. This is Graham's story.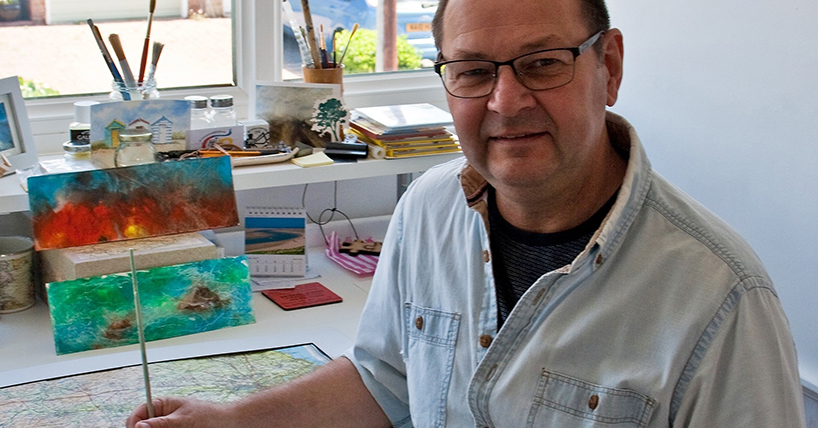 I had moved around the UK a lot as a child – in fact, every few years with my parents' work we'd be on the move – but all of my secondary schooling was on the south coast in Worthing. It was there that my love of art and drawing as a child developed into more serious study, as I completed an A Level in the subject and became interested in a career in architecture.
The desire to study architecture at university led me to consider Newcastle amongst other options, even though I knew very little about the city at the time. Following interview, however, this place became my preferred choice and so I headed north in 1977. I was so lucky to study at the School of Architecture in one of the oldest parts of the University overlooking the Quadrangle, where the majority of students still head for photographs following graduation. I think my favourite memory of my time at university was the opportunity to explore the city with my fellow architecture students, from the historic castle and city walls, to more modern structures such as the Civic Centre and, love it or hate it, the Byker Wall, which had only been developed in the previous decade.
Three years later, after graduating with a degree in Architectural Studies, and having met my future wife, I made the decision to branch out into the workplace rather than move onto a second degree in architecture. I joined a firm of Chartered Surveyors in Newcastle and, following further studies and exams, I pursued a career as a Building Surveyor, working mainly in private practice in the North East.
I worked in the surveying profession for 25 years before a long period of ill health cut short my career. But, as they say, when one door closes another one opens, and it was during this period that I rediscovered my love of art. A lot of my current art combines painting with an interest in maps and, several years ago, I was invited to exhibit in a Newcastle gallery, North East Art Collective, where my map-based artwork can still be seen and where I now work on a part-time basis.
Alongside my own art, I've recently become involved with a couple of sketching groups, venturing out and about in Newcastle and the surrounding areas, finding interesting places to sketch and paint outdoors. This became a real godsend during lockdown, when it wasn't possible to meet together indoors to pursue these interests and, coincidentally, this brought me back to Newcastle University and the Quadrangle, where we met for a sketching session a few months ago.
I suppose that one of the highlights of my surveying career was appearing as an expert surveyor in an episode of BBC Watchdog some time ago. As far as my art is concerned, I get a real buzz when anyone appreciates my work enough to remark on it or sometimes even to purchase it but, more than that, I feel privileged when I'm commissioned to produce a piece of art for a specific reason or for a special person – that really makes the creative process worthwhile.