Class of 1968 graduate returns to campus for 80th birthday surprise
23 November 2022
Now retired, Mike worked in engineering all his life after graduating from Newcastle's Department of Electrical Engineering in 1968. He returned to Newcastle University on Wednesday 9 November, more than 54 years since he graduated!
Mike's daughter Amy, who organised the surprise, said:
"My dad is an engineer to the core! My siblings and I all remember him getting out his squared paper to explain our science homework 'from first principles' and not so long ago he built himself a 3D printer!
"Dad is really tricky to buy gifts for and never wants 'stuff'. I had the idea to see if I could arrange for him to have a look around the engineering department at Newcastle. He is retired, and still amazes me in what he can solve, fix, build or explain when it comes to mechanics and engineering.
"He was fascinated to see how the department is teaching our engineers of the future. I can't thank Prof Mecrow enough."
We caught up with Mike after his trip to hear all about life as an engineering student in the 1960s and what it was like to return to campus over five decades later.
Life as an Engineering student in the 1960s
I grew up in Feltham, near Heathrow Airport, and left school at 15 to become an apprentice in a gear cutting machine tool manufacturing company. At the end of my apprenticeship my employers encouraged me to go on to university. Newcastle University was one of only two universities that would accept candidates from industry, a university well ahead of its time. In addition to distinctions in HNC GCE English Language was required, a daunting task. I qualified and was accepted; just a little older than my fellow students! In the 1960s, the chances of a secondary modern pupil like me progressing to university were 24,000 to 1.
In my first year, I was studying Mechanical Engineering but quickly changed to Electrical Engineering. I had already spent my apprenticeship learning all things Mechanical and was keen to expand my knowledge. My new course was made more interesting – and more difficult! - by the fact that this was at the time when thermionic valves were being phased out and solid state transistors were being introduced.
I still remember one lecturer – Frederick Ritson – for always being dressed in a three-piece tweed suit with plus fours trousers. I believe he had worked on developing wartime radar. He was a very impressive, knowledgeable lecturer who could design complex electronic circuits on the blackboard as fast as he could draw - complete with ongoing explanatory dialogue. And I was also lucky to be taught by a Dr Short, to whom we attributed the world-famous circuit which to this day still bears his name.
Outside of my studies, I briefly got involved with the Amateur Radio Society and played lead trombone in the Rag band – with emphasis on volume rather than musical quality!
I was a regular attendee at the Agric's night in the Bun Room Bar and never missed a Saturday night in The Union to perfect my dancing skills. We were lucky to welcome The Animals, Long John Baldry and Howling Wolf to the stage during my student days.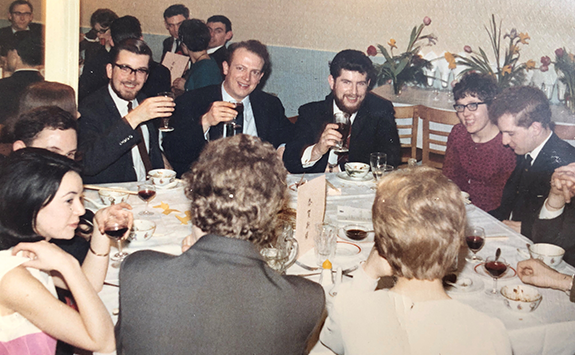 Having the opportunity to return to campus was a very special gift. Not only did I make many friends and lasting memories on campus, it's also where I met my wife in my second year.
Returning to campus 50 years later
Having the opportunity to return to campus was a very special gift. Not only did I make many friends and lasting memories on campus, it's also where I met my wife in my second year. She was Features Editor on The Courier at the time, and we met at a party in The General Arts Common Room on a Saturday night.
It was great to visit my old haunt - the Department for Electrical Engineering – and I can't thank Professor Barrie Mecrow enough for taking the time to show me around the department and share some of the latest engineering research taking place in Newcastle.
Since I left, the university campus has developed in such a way that it has kept the reassuringly familiar original old buildings whilst unobtrusively bringing in the new. Despite having left 54 years ago, I can still walk from Merz court to the Union and feel like I am a young student again - without the pressure of looming exams!
Would you like to organise a reunion?
Your student days are a defining period in life, full of new and unforgettable experiences. Unfortunately, it's easy for the connections and friendships to slip as time passes.
Our reunion service can help you reconnect with your former classmates and return to campus. Get in touch if you'd like to plan an alumni reunion.