Newcastle alumna features on new Scottish £100 note
29 July 2022
Born in Dumfries in 1869, Flora received her MB BSc in 1903 and MD in 1905 from our School of Medicine and Surgery, which was then part of Durham University. Her thesis was entitled 'Asylum Organisation and Administration'.
After qualifying, she founded the Women's Hospital for Children in London with her partner, Louisa Garrett-Anderson. The hospital provided healthcare for children of factory and shop workers in the local area as at the time, women doctors were only permitted to treat women and children.
When the war began in 1914, the women founded the Women's Hospital Corps, a feminist organisation, and opened two successful military hospitals in France, staffed entirely by female suffragettes.
The British War Office provided the pair a premises in London in 1915 which became the Endell Street Military Hospital, the first hospital in the UK established for men by female medical professionals. There, they treated more than 50,000 seriously injured soldiers and saved countless lives.
In 1917, Flora was awarded a CBE for her work and medical efforts during World War One.
In April 2022, it was announced that Flora would appear on the 'reverse side' of the new polymer £100 banknote to be issued by Bank of Scotland to highlight her work in medicine and in women's rights. Brought into circulation the following month, the note features a portrait of Murray by Francis Dodd.
The School of Medicine and Surgery was established in 1834 in the city of Newcastle upon Tyne and served as the College of Medicine in connection with Durham University from 1851 to 1937 when it joined Armstrong College, to form King's College, Durham. In 1963, King's College became Newcastle University.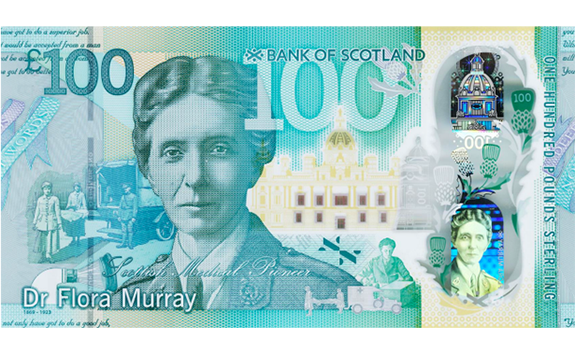 Do you have news to share with our alumni community?
Get in touch and share your latest news and achievements so we can let your fellow Newcastle alumni know!