Alumna to launch 'Freelancer Magazine'
13 April 2021
The first issue of Freelancer Magazine, an independent business and lifestyle title created by alumna Sophie Cross, is now in production following a swift and successful Kickstarter campaign.
With an estimated 2.2 million freelancers in the UK and over a billion worldwide, high demand saw the magazine reach its target just two weeks into a five-week crowdfunding campaign.
Created by freelance marketer Sophie Cross working with designer Angela Lyons, Freelancer Magazine is a quarterly printed magazine brimming with feature stories, interviews, freelancer-specific business advice, news and events 'for a freelance life less ordinary'.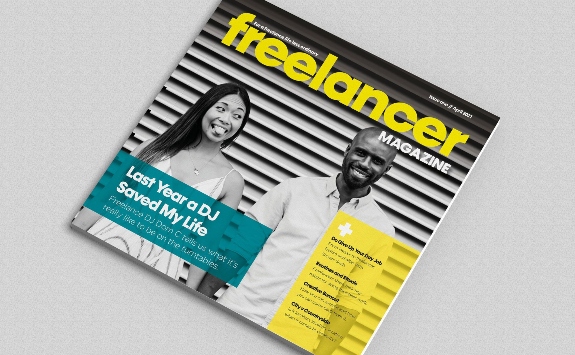 Sophie's time at Newcastle University
During her time at Newcastle, Sophie studied Business Management: "All I ever really wanted to do was to work in business and to start a business, so this set me up really well. My favourite modules were Marketing, Occupational Psychology and Graduate Enterprise. We set up our own business as part of Graduate Enterprise and had an amazing mentor called Leslie Fulton. I'm now a mentor for Young Enterprise".
Sophie explains she has had 'quite a non-linear career' post-graduation. She began waitressing and qualified as a personal trainer, then worked as a Marketing Executive for the Hilton Hotel Brighton, eventually working her way up to look after 52 hotels in London. She then went on to work as a Resort Marketing Manager at Chessington World of Adventures. Sophie decided to leave to go freelance as a marketer and copywriter eight years ago. Last year she started building her own online marketing courses and on New Year's Day 2021 had the idea to launch the magazine.
About Freelancer Magazine
The magazine will be available in a digital format, but it was important to Sophie that Freelancer Magazine was - first and foremost - a printed item. "We're all on our screens more than ever and, if you're anything like me, there are about 2000 tabs open and an ever-growing list of bookmarked yet unread articles."
"We want Freelancer Magazine to be 'pore-worthy' enough that when you get your hands on it, it prompts you to have a proper break, put the kettle on and soak up what our fantastic contributors have helped pull together. We'll be featuring a huge mix of the most talented freelancers and small businesses out there. Sharing stories and information to help anyone on their freelance journey and proving that this isn't a 'stop-gap' career."
Sophie adds: "We've got more than 100 contributors lined up, which means every beautifully designed issue is varied, fresh, fun and informative. It's crammed with content that is both inspirational and attainable. And because there's such a diverse range of voices in its make up, there should be something to resonate with every reader."
With an overwhelmingly positive response from freelancers so far, Sophie says she's been 'blown away' by the success of the crowdfunding campaign: "We knew there was a gap in the market for a magazine by freelancers for freelancers, but this really proved how strong that demand actually is.
"The reaction so far has been amazing; Lauren Laverne featured the magazine on BBC Radio 6 Music, it was chosen as a Kickstarter 'Project We Love', and the pledges are still coming in thick and fast, along with some great advertisers like Brompton Bike Hire and Motion Nutrition".
The launch party was live-streamed on Twitch and hosted by issue 1's cover stars, DJs Dom C and Mary Rose, which got lots of people involved and excited about the magazine.
The first issue of Freelancer Magazine will be printed and delivered to subscribers in April 2021 and also stocked at magCulture London and Magazine Brighton.
Find out more at freelancermagazine.co.uk
Have a story to share with us? Email us at advancement@ncl.ac.uk