$121k donated to Gertrude Bell archive 100 years after Kingdom of Iraq founded
23 August 2021
Newcastle University has received $121,000 to transform the Gertrude Bell Archive, 100 years on from Bell's pivotal role in the establishment of the Kingdom of Iraq under British Administration.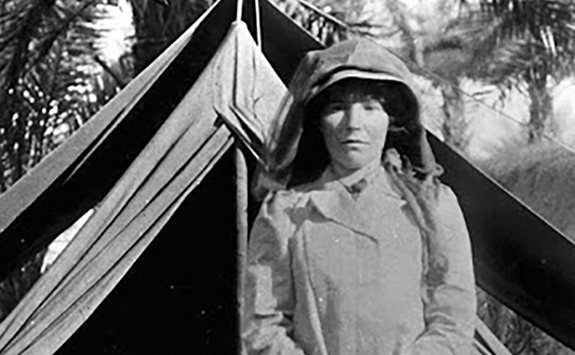 The generous donation, made by the Harry and Alice Stillman Family Foundation in Pittsburgh, Pennsylvania, will enable the University to continue to digitise their extensive Gertrude Bell Archive, including personal letters, diary entries and photographs of the pioneering archaeologist and political agent.
A significant influencer and modern-day icon, Bell is perhaps most known for her role in King Faisal I's rise to power and the establishment of the Kingdom of Iraq under British Administration in 1921. Her letters and photographs in the Archive illustrate this exceptional journey and poignant moment in global history.
The Kingdom of Iraq was officially founded on 23 August 1921, following the defeat of the Ottoman Empire in the Mesopotamian campaign of World War I. The centenary of this event represents a unique opportunity for Newcastle University to share the story of Gertrude Bell and Iraq with a broader audience, made possible through the transformative digitalisation work supported by this donation.
Items included in the Archive and set to be digitised include 1,827 letters, giving detailed accounts of Bell's travels and interactions, and more than 7,000 travel photographs from around the world, many of which include sites and landscapes that no longer exist.
Trustee of the Harry and Alice Stillman Foundation, Roger Stillman, said:
"The new scanned images are a stunning improvement over the old ones and they now show how good Bell's camera was more than a century ago. I hope these new images and the contextual website Newcastle University is developing will be enjoyed by enthusiasts and scholars for many years to come."
The generous donation made by the Harry and Alice Stillman Family Foundation will also enable Newcastle University to host community workshops about the cultural significance of Bell's legacy, Iraq at 100 and the process of curating the collection.
The Gertrude Bell Archive was gifted to Newcastle University shortly after her death in 1926. It is recognised by UNESCO as a globally significant collection to be preserved and celebrated, and is an invaluable source of reference or scholars, artists, filmmakers, curators and writers interested in the post-war history of the Middle East.
Newcastle University Special Collections is home to over 200 unique and distinctive archives and rare books. Find out more at https://www.ncl.ac.uk/library/special-collections/