Newcastle graduate publishing book on mixed-race British history
31 October 2022
Since graduating, Lucas has started a career in documentary development and production, working on productions for Netflix, BBC, Channel 4 and more. In his spare time, he has been working on his first book, Everyone Everywhere: Mixed Race Family Stories, which details the 100-year history of mixed-race Britain.
We recently caught up with Lucas to find out more about the publication and to look back at his time as a student at Newcastle University.
A vibrant city and an open-minded university
I love Newcastle as much as Geordies love demolishing parmos post-3am. (A lot.)
Newcastle is a vibrant cultural spectacle, dressed in gorgeous Georgian buildings, packed with streams of friendly people. I met some of my best friends there. As I look back, I'm so grateful for all the experiences I had… post-Digital-parmo-demolishing aside, that is.
Back in 2012/13, some of the other universities I considered applying to were a bit snooty. For example, some didn't have modules about children's literature because they didn't deem it worth studying, which is sort of indefensible, like going to Sam Jacks every weekend or watching MTV. I love children's literature.
Luckily, Newcastle's course was open-minded in comparison. It was exciting. You could study classics and children's literature or take a documentary module too. There was variety.
If it hadn't been for Newcastle, I doubt I would have ever had the confidence to write my first book.
'Everyone Everywhere' & 100 years of mixed-race British history
Everyone Everywhere covers 100 years of mixed-race British history, told through a series of interviews with those who lived it.
While this book won't shy away from challenging experiences and stories, its emphasis is on sharing joyous and humorous family stories from across the decades, leading up to the modern day.
Think of this book as one long love story, but with more rotis than all the other ones you've read.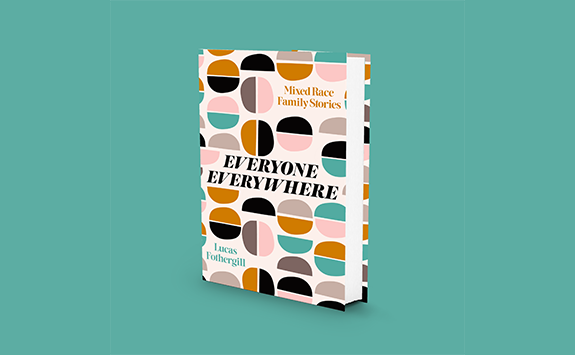 A favour to ask from my fellow graduates
I can't wait for people to read Everyone Everywhere, but I need a bit of help to get there.
The book is being published by Unbound, who also released 'The Good Immigrant' by Nikesh Shukla.
Unbound has a different model to traditional publishers. While it still has a commissioning team and does everything from editing and cover design, through to publicity and putting the book in shops - they ask authors (like Vic Reeves, Terry Jones and more) to crowdfund production costs through pledges/pre-orders. Get enough pledges, and the book goes in shops. This is where you come in.
If you would like to pre-order a copy, you'll get your name printed in the back of the book as a thank you. You can pledge to support Everyone Everywhere via the link below, with a range of additional rewards available if you do so.
Finally, I'm always interested in hearing more stories about mixed-race Britain, so if you are mixed-race and would be comfortable sharing stories about your life, food and more, I'd love to hear from you. My email is below. Please say hello.
Do you have news to share with our alumni community?
Get in touch and share your latest news and achievements so we can let your fellow Newcastle alumni know!