Newcastle University awards 10 honorary degrees in summer congregations
23 August 2022
This summer, we welcomed 6,000 students back to campus to celebrate their graduation. These 6,000 graduates, alongside 10 new honorary graduates, are now officially part of our 250,000-strong alumni community!
Our summer graduations kickstarted on 12th July with renowned poet and filmmaker Imtiaz Dharker being formally installed as Chancellor of Newcastle University. Imtiaz has been in post for over two years, but her inauguration was postponed due to the pandemic.
During the ceremony, honorary degrees were also awarded to leading figures, including former poet laureate Dame Carol Ann Duffy, physicist and broadcaster Professor Jim Al-Khalili and Rachel Dwyer, Professor Emerita of Indian Cultures and Cinema. Over the course of our graduation fortnight, a further seven honorary degrees were awarded and you can find out more about them below!
6,000 students were welcomed back to campus to celebrate their achievements between 13 – 26 July, taking the total number of members in our alumni community to a staggering 250,000! This was the first time since the pandemic began that summer graduations returned to their normal schedule. But just when we thought we were finally back to business as usual, the hottest day on record struck! Sadly this caused mass disruption to the railway system which left some graduands and their families unable to make it to Newcastle. However, they have been invited to celebrate their success at our upcoming winter graduations in December.
Meet Newcastle University's Chancellor, Imtiaz Dharker
A fellow of the Royal Society of Literature, Imtiaz Dharker was awarded the Queen's Gold Medal for Poetry in 2014. She is the author of many outstanding poetry collections, including I Speak for the Devil (2001), Over the Moon (2014) and Luck is the Hook (2018). 
She was born in Lahore and raised in Glasgow. Themes of social justice run throughout her work, which is often concerned with major issues facing the world today, including freedom, displacement, conflict and gender. 
She is well-known at Newcastle University and has contributed to events at the University's Centre for Literary Arts and the annual Newcastle Poetry Festival. Her work is studied at GCSE and A-Level and published by local press Bloodaxe Books.
Imtiaz's talents stretch beyond the written word. She is also a noteworthy artist. She has had more than 10 solo exhibitions of drawings in Delhi, Bangalore, London, New York and Hong Kong. 
She is also an award-winning documentary filmmaker, with more than 300 works in film and audio-visual media under her belt. This includes documentaries in partnership with Shelter and UNICEF, on topics ranging from homelessness to cancer treatment and care in India.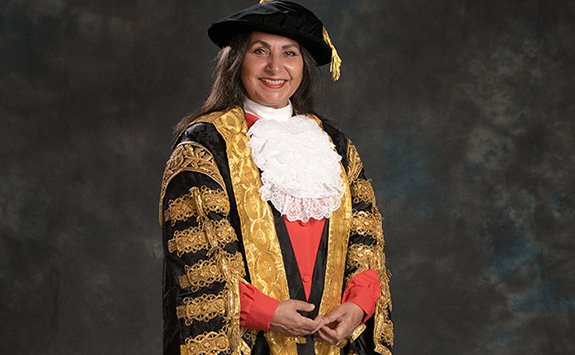 Meet our new honorary graduates
An honorary degree is the highest honour Newcastle University can bestow. It recognises those who have distinguished themselves in their chosen field, whose achievements have made a significant contribution to their area of expertise and to society as a whole. Find out more about our 10 new honorary graduates' achievements below.
Dame Carol Ann Duffy
Dame Carol Ann Duffy received an Honorary Doctor of Letters degree. She was the first female Poet Laureate of the United Kingdom in its 400-year history and is a multi-award-winning poet, writing on topics including oppression, gender issues and social inequality. She is a Professor of Contemporary Poetry and the Creative Director of the Writing School at Manchester Metropolitan University and was made a Dame in the 2015 New Year Honours list.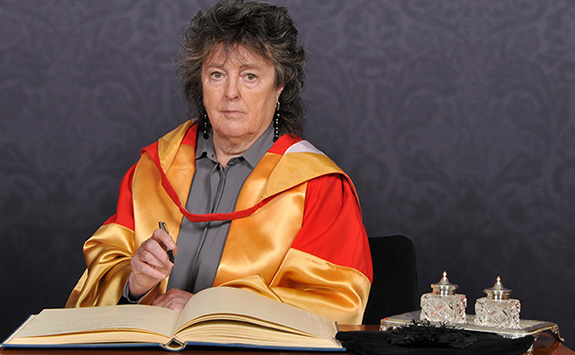 Professor Jim Al

-Khalili

CBE
Jim Al-Khalili is Professor of Theoretical Physics and Chair in the Public Engagement in Science at the University of Surrey and was awarded an Honorary Doctor of Science degree. A multi-award-winning science communicator, prominent author and broadcaster, Jim is renowned for his public engagement around the world through writing and broadcasting, and as a leading academic making fundamental contributions to theoretical physics. Jim is a past President of the British Science Association and received a CBE in 2021 for services to science.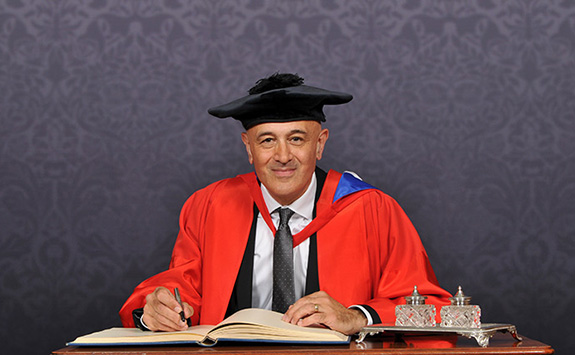 Professor Rachel Dwyer
Rachel Dwyer is Professor Emerita of Indian Cultures and Cinema at SOAS University of London and received an Honorary Doctor of Letters degree. She has published several books, a number of which are on Indian cinema. She wrote the BFI (British Film Institute) guide to 100 Bollywood films and most recently co-edited the book Cinema and Soft Power.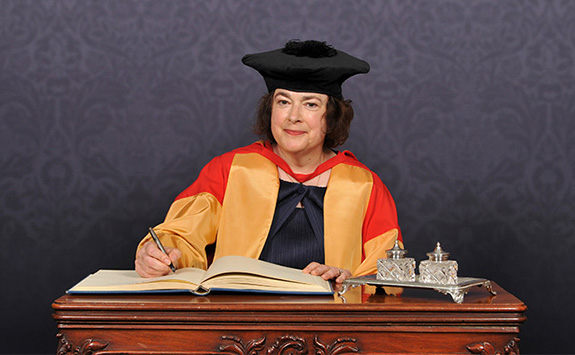 Neil '

Shaka

' Hislop
Neil 'Shaka' Hislop was recognised with an Honorary Doctor of Civil Law degree. He has made a significant contribution to anti-racist education since the mid-1990s, when he played for Newcastle United. He became founding patron of the anti-racism education charity 'Show Racism the Red Card' in November 1995 and was the first player to visit schools with the charity to answer young people's questions about racism.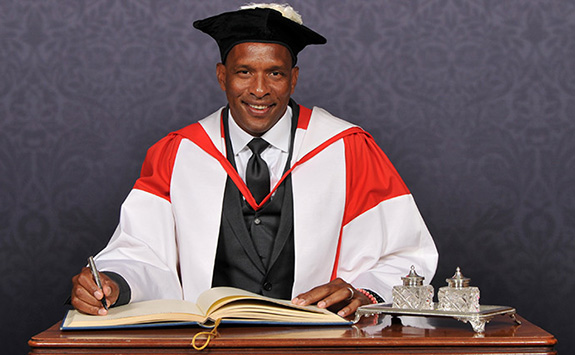 Ann

Cleeves
Ann Cleeves was awarded with an Honorary Doctor of Letters degree. As well as being a world-renowned novelist, she is also a key library and literacy advocate. Known around the globe for her detective novels, particularly since the televisation of her crime fiction series, Vera and Shetland, Ann was awarded a lifetime achievement award by the Crime Writers' Association in 2017. A long-standing champion of literacy agendas and widening participation, she has been involved in literacy work in prisons as part of the Inside Books project.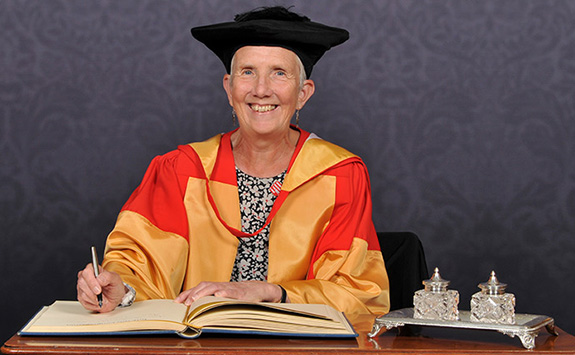 Sirkka-Liisa

Konttinen
Sirkka-Liisa Konttinen, who is best known for her photographs of Byker, was made an Honorary Doctor of Letters.
As a founding member of the Amber Film and Photography Collective, Sirkka-Liisa moved to Byker in 1969 and the industrial working-class area proved to be an inspiration to her. Over a 12-year period her photographs captured a community and a way of life that was on the brink of massive change. In the 1970s most of the area was demolished and replaced with new housing.  Sirkka-Liisa's photographs stand as an enduring record of old Byker. In 1989 she published her book Byker and an exhibition of her photographs toured the world.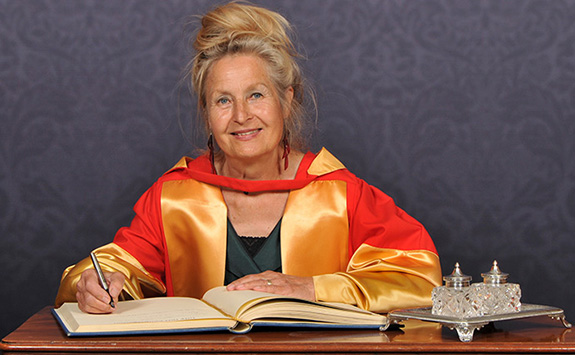 Frances Bradshaw and Anne Thorne
Frances Bradshaw and Anne Thorne met as architecture undergraduates at Newcastle University and are partners at Anne Thorne Architects. They were made Doctors of Civil Law.
They were founding partners of Matrix, a radical feminist architecture co-operative, which in the 1980s and 90s was one of only a handful of practices internationally to directly engage with feminism and architecture.
Matrix took a revolutionary approach to design that aimed to empower groups often excluded in the design of buildings, including Black and Asian women's organisations, community and childcare groups and lesbian and gay housing co-operatives, to explore more inclusive ways of designing, building and occupying spaces.

Today, Bradshaw and Thorne are recognised as leading innovators in Passivhaus design, community architecture and, with their latest scheme, planning and building one of the most innovative examples of co-housing in the UK.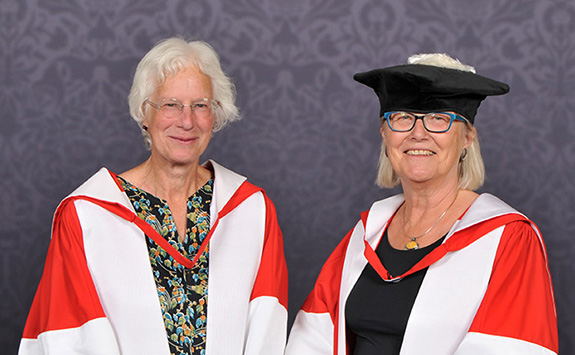 Dr

Hayaatun

Sillem

CBE
Dr Hayaatun Sillem, CEO of the Royal Academy of Engineering, has received an Honorary Doctorate.
As the first female CEO of the Academy, Dr Sillem is pioneering a sustainable global society and inclusive economy. Named one of the 'Inspiring 50 Women in Tech', she chairs the UK government's Business Innovation Forum, the St. Andrews Prize for the Environment, and co-chaired with Sir Lewis Hamilton on his Commission to improve Black representation in UK motorsport.
She is also a trustee of EngineeringUK and the Foundation for Science & Technology, a member of the UK government's Levelling Up Advisory Council, a non-executive director of UNBOXED: Creativity in the UK and Laing O'Rourke, and an advisor to the Lloyd's Register Foundation.
Dr Sillem is co-founder of the Enterprise Hub, which supports and funds UK tech and engineering entrepreneurs. Recognised as a major champion for diversity in STEM, she sits on multiple boards and councils and is an adviser to AccelerateHER, a network of female founders and partners with a mission to help women accelerate growth and scale companies.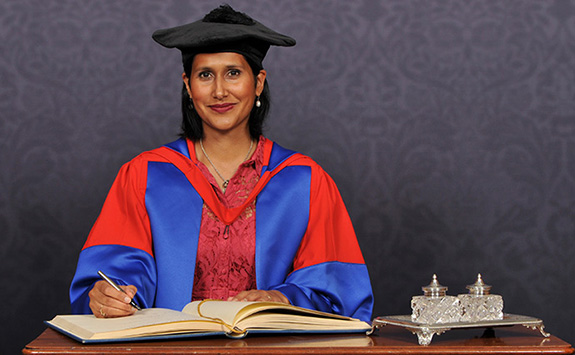 Lonnie G. Bunch III
American educator and historian, Lonnie G. Bunch III has been awarded an Honorary Doctorate in Civil Law by Newcastle University.
A visionary museum professional whose work consistently promotes social justice and equality, Lonnie G. Bunch III is the 14th Secretary of the Smithsonian Institution, the world's largest museum, education and research complex. He is the first African American and first historian to serve as head of the Smithsonian in its 173-year history.
As Secretary, he oversees 21 museums, plus two new museums in development - the National Museum of the American Latino and the Smithsonian American Women's History Museum - as well as more than 20 libraries and numerous research centres and education units.
Prior to this he was the founding director of the Smithsonian's National Museum of African American History and Culture - America's largest and most comprehensive cultural destination devoted to the African American story and its impact on American and world history.
In 2005, he was named by the American Association of Museums as one of the 100 most influential museum professionals of the twentieth century.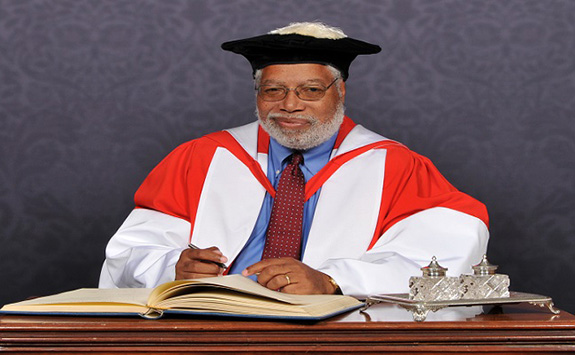 Catch up on our congregations
If you would like to watch any of the congregation ceremonies where an honorary degree was awarded, or perhaps you know a student who graduated this summer, you can access recordings of the ceremonies.