Take a virtual tour of the North East with alumnus Alex Iles
13 April 2021
Learn how Alex has adapted his walking tour business during the pandemic to provide virtual tours of the North East.
About Iles Tours
Iles Tours is a UK tour company that brings amazing places to life with unforgettable walking tours - telling you the stories of the North East of England.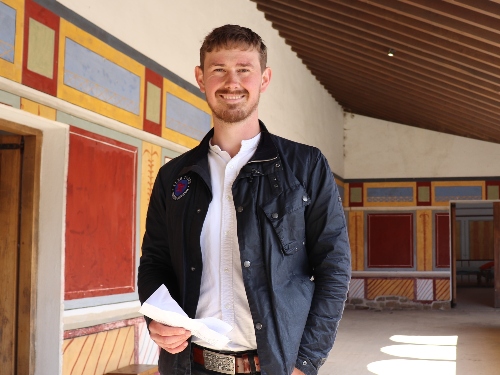 Alex started Iles tours on the 9 March 2013 with a single tour of Newcastle and now offers eleven tours of the region as well as bespoke tour packages.
"When I was younger I would go to the Edinburgh festival and see guides doing tours of the city. After finishing university, I wanted to do something to be a part of Newcastle and show-off the region. I saw that this region was a cultural gem with a vital role in British and world history that most people didn't know about. I wanted to show it off in the best way I knew how – by sharing the story of its fascinating past, as well as helping people understand what it is today and where it's going in the future" explained Alex.
Alex's time at Newcastle University
Alex studied politics and sociology at Newcastle University for his undergraduate degree. He found a passion for anthropology and that helped shaped how he viewed the world; "It means that when I look at history, I look at the culture and people which I find fascinating. People in history are just like us with passions, dreams and hopes and it's finding out about those and bringing them to life which really excites me!"
Following his undergraduate degree, Alex completed a Masters in Innovation, Creativity and Entrepreneurship (ICE). Alex commented that spending time with other students, from all over the world, with a desire to go and create their own businesses gave him the drive to create and grow his own business.
The impact of the pandemic and introducing virtual tours
The global pandemic put a halt to Alex's walking tours, resulting in a loss of income and also a knock-on effect on Alex personally. His wife was also pregnant and gave birth to his daughter during lockdown, and so Alex felt a strong need to provide for his family.
He threw himself into projects and looked for ideas to innovate his business. Alex, like many others, had to go digital and started by teaching history online. He also continued doing research and planning for returning once restrictions were lifted.
Alex's idea to do virtual tours arose from his involvement in a project with Eyemmersive, which aims to provide 3D tours across the world. Alongside this, Alex was also invited to be a part of Robson Green's Channel Five programme on Hadrian's Wall and enjoyed the experience of presenting on TV. As a result, Alex decided he would take the style of TV travel journalism and combine it with the guiding that he had been creating for Eyemmersive to create something different.
The first instalments of Alex's virtual tours focus on exploring Hadrian's Wall and so far it is going very well. "The positive responses from people have been great and in a fortnight I have seen my YouTube channel grow and had a number of people contact me talking about working together on other projects for the future. I think it will be a great way of both highlighting the North East of England and providing entertainment online!"
If you would like to join Alex on his virtual tours, subscribe to his YouTube channel to view the videos as they go live. If you're interested in finding out more about the tours or would like to speak to Alex about ideas and projects, you can email him at alex@ilestours.co.uk.
Have a story to share with us? Email us at advancement@ncl.ac.uk