We spoke to alumnus, James Tennant...
5 March 2021
Find out about James' journey from graduation to setting up his own business, Converge.
Studying at Newcastle University
I thoroughly enjoyed my time at Newcastle University studying Ancient History. The degree was great fun, and I chose to do it because I had a passion to know more about this field. I particularly enjoyed Lecturer Jeremy Paterson's lectures; his energy and enthusiasm for the material was infectious. I also enjoyed playing football on weekends and meeting new people by getting involved in events going on at the Students' Union.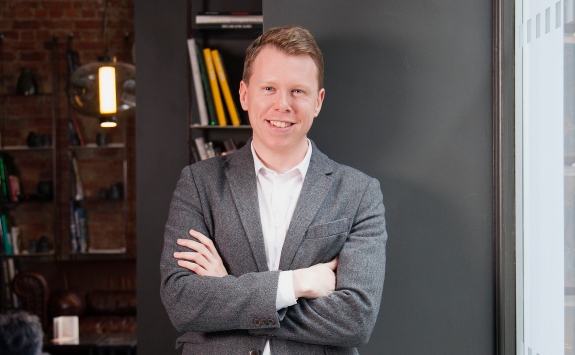 Newcastle itself is one of the great small cities. By small I mean everything you could need as a student is probably within a short walk away from the University itself. The architecture of the city centre is wonderful, as is the Quayside, the people are friendly and of course the nightlife is amazing.
Studying Ancient History at Newcastle helped me build the research and writing skills that have become a major part of my career. Being able to undertake 'proper' research and then create a well-written piece of content (both long and short form) with a cogent argument is a skill I've needed on pretty much every brief for every client in the years since I graduated. It also gave me the discipline to work well on my own and gain the confidence to become a public speaker.
Post-graduation
After I graduated, I jumped on a plane to Canada. I knew some people there and I wanted a change of scenery to celebrate my graduation. What started as a two month trip, ended up being two years! I started freelance copywriting (I had to pay the travel bills somehow) and it was here I also met my future wife. Upon my return to the UK, I continued working as a freelance copywriter, earning gigs with companies such as eBay, Universal Studios, Gumtree and the UK Government, before deciding to set up Converge - the business I currently run.
About Converge
I set up Converge because I was working with a lot of B2B companies that were creating content, but not doing a great job of promoting it. Because of that, they weren't getting the attention or the return on investment they wanted from their content which is sort of important really!
In most cases they weren't promoting their content because they simply didn't have the time to do it. So, Converge was built to do consistent and effective content promotion on behalf of businesses, to reach larger, engaged audiences and solve that problem. I'm happy to say that we've helped hundreds of businesses do just that over the last few years, including the likes of NatWest, Yorkshire Bank, and Sage.
Having just been joined by four investors, Converge has ambitious plans. We've learnt a lot over the years about what works and what doesn't work, and what our members need and want from the platform. We're currently upgrading the platform to better meet those needs, and will continue to improve and evolve it over time to ensure it remains an effective and valuable tool for our members.
Our plan is to expand to the US, Canadian, Australian and New Zealand B2B markets over the next few years after having validated the business in the UK. And there are always new features to add to the platform to improve the user experience.
Advice to fellow alumni
Make sure you are networking as often as you can in the circles you want to be a part of. Education and academia builds the essential skills you need to perform your work well, and networking complements that by opening doors to amazing opportunities if you meet and build relationships with the right people. It was an event I co-hosted and attended in London around 18 months ago, that led to the recent investment in Converge - I met someone there who became one of the four investors, and he introduced me to two more of them as well. I have lost count of the number of opportunities that have come my way thanks to networking.
Yes it can be painful at times - not every event is a winner - but turning up builds your personal brand and that of your business if you're running one so do it!
You can find out more about James' business here.
If you would like to share your alumni story, email us at advancement@ncl.ac.uk.