Students supported by first Newcastle Student Fund awards
22 October 2021
The Newcastle Student Fund was launched in June 2021 and thanks to the generosity of alumni and other supporters, more than £186,000 has already been distributed to help current and future Newcastle students.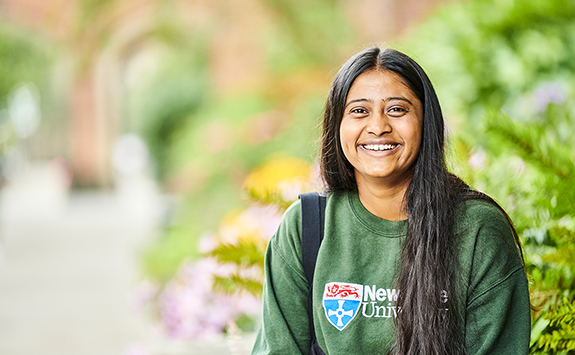 The donations have been allocated to support urgent financial support to students most in need, such as those from asylum seeker backgrounds or at risk of homelessness, as well as to ensure all students have the same opportunities while at Newcastle and are able to realise their full potential.
Naomi Oosman-Watts, Director of Student Life at Newcastle University, welcomes the funds allocated to ensure all students, no matter what their background, can make the most of their university experience and reach their potential. She said:
"The donations made to the Fund so far are already making a life-changing difference to the student experience, providing opportunities for our students to do more and reach higher.
The Newcastle Student Fund is also, crucially, there for our students when life is toughest. Having emergency funding there to help students at risk of homelessness and digital poverty means we can always provide a safety net for those that need it most."
Following the disruption to graduation celebrations caused by the COVID-19 pandemic, a special fund of £25,000 has been reserved to provide travel bursaries for returning graduates attending rescheduled ceremonies in the winter. £27,000 has also been put aside to provide bursaries for students accessing internships and volunteering opportunities. Further funding will be used to support access to clubs and societies, research internships, field trips and expeditions.
Paul Tyack, Director of Advancement at Newcastle University, said:
"I have been humbled by the generosity that our alumni community have shown towards our students, particularly during the COVID-19 pandemic.
I was proud to be part of the team allocating the first round of donations from the Newcastle Student Fund and I'd like to extend my thanks to everyone who has supported us so far. Your donations will help students returning to campus for the first time in 18 months really make the most of their Newcastle University experience."
If you would like to consider supporting the Fund, or to have a conversation about supporting another area of the University's work, please contact paul.tyack@newcastle.ac.uk.
Alternatively, you can donate online to ensure we can support more students in 2022.