In conversation with alumnus Paul Rodgers
19 May 2021
Paul graduated in BA English Literature, 1983, before going on to work in the media. His most recent position was Head of Station at BBC Radio 6 Music between 2008 and 2020.
I chose to go to Newcastle University (depart Rotherham Central, via Sheffield) because some of my friends had made the same train journey before me, and told me what a great place it was. I'm grateful to them for their excellent recommendation. During my time there, living in Fenham and Saltwell, I made many life-long friends and developed an enduring love of books.
Unsurprisingly, when I left Newcastle in 1983 with a degree in English Literature, I had a vague ambition to write. Or more accurately, to be a writer.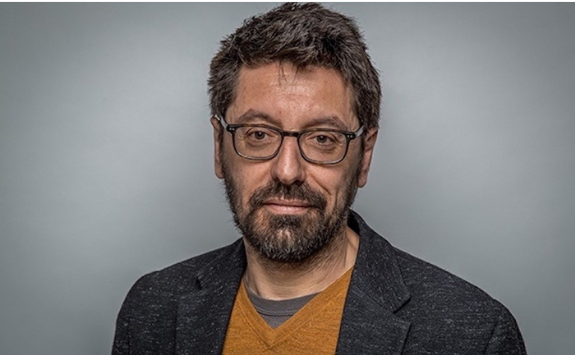 Now, many years later, and despite having spooled out innumerable words for many different purposes, I still want to be a writer. So although studying English Literature didn't exactly transform me into Herman Melville (anyway, didn't he classify the whale as a fish not a mammal?), it was however, crucial to the development of my career and cultural life.
It furnished me with the skills and confidence I developed as I began to produce the many and varied proposals, scripts, commentaries, reports, reviews, treatments, features, articles, stories, poems, jokes, slogans, sleeve notes, CVs, mission statements, questions, answers, amendments, strategies, presentations, emails, letters, little notes and the lists lists lists which have been the main expression of my agency in work and the world.
Since leaving Newcastle, most of my career has been spent in London, where I worked first as a teacher, and then in various media roles writing features, in an advertising agency and in format TV development.
At the moment I am consulting and (still) writing, having recently left the BBC, where I worked in music radio for most of the last three decades.
My career with the BBC afforded me great creative opportunities, and a platform to make a contribution to the lives of millions of listeners. I've been able to launch programmes, make documentaries, put on shows, shape festivals, head the radio coverage of Glastonbury, commission radio schedules, and contribute to the vitality of the UK's brilliant music culture and economy. Most of all, I've been able to learn from and help develop some truly top talent, some new and some established, both in front of and behind the microphone.
Between 2008 and August last year, I ran BBC Radio 6 Music, a multi-award winning, much-loved, once jeopardised and highly influential radio station, that has found its place in the UK's cultural affection by exploring, sharing and championing music from beyond the mainstream. The station is a space where new and old artists, who are often little covered elsewhere, attract a growing audience of curious music-lovers.
During my time in Newcastle, I discovered it to be a city that loves its music. It was there I developed my own passion for music, as a punter in the audience at the ground-breaking Channel 4 show, The Tube, at clubs like Tiffany's and Rockshots, and as a heavy user of the brilliant jukebox in the world-famous Trent House. It was all so inspiring, and the kind of music I was introduced to in Newcastle in those times has shaped my values and tastes ever since.
So if I had to pick one personal highlight of my career to date, it would be taking the opportunity to put on the 6 Music Festival on Tyneside in 2015. Knowing that I had played a part in celebrating artists like Father John Misty, Nadine Shah, Young Fathers, Sleater-Kinney, Fourtet and The Fall (and lots more) in a range of venues across Newcastle and Gateshead, with a music-loving North East audience was an undeniably brilliant and satisfying feeling.
I'm incredibly grateful for the music education I received from friends and DJs in its flats, pubs and clubs of Newcastle. With that in mind, here's a playlist containing some of the artists and genres that I was first introduced to at uni, and which I've continued to follow since that time: http://bit.ly/paul-rodgers-playlist
Paul is still actively involved with the University and works with The School of English as a member of their Alumni Advisory Group.
If you want to share your alumni story email us at advancement@ncl.ac.uk.