Fine Art graduate returns to Newcastle for first solo sculpture exhibition
3 October 2022
Newcastle graduate and award-winning contemporary sculptor Peter Hanmer (MFA, 2018) is opening his debut solo show 'Seeking Armageddon' at Newcastle Arts Centre later this month.
Running from 15 October – 12 November, Peter's upcoming exhibition is titled 'Seeking Armageddon' and brings together over 10 years of his apocalyptic musings in sculpture, installation and ink.
Winner of the Gillian Dickinson North East Young Sculptor of The Year award 2017, Peter has been shortlisted for multiple awards and has exhibited his work worldwide, including at the Mall Galleries in London and the Baltic Centre for Contemporary Art in Gateshead. This will be his first solo gallery show.
Peter graduated with a Master's in Fine Art from Newcastle University in 2018, having completed his undergraduate degree at the University for the Creative Arts (UCA). As well as winning the Gillian Dickinson Award, he has also been shortlisted for the Jerwood Makers Open and was Axisweb's Artist of the Month in March 2019.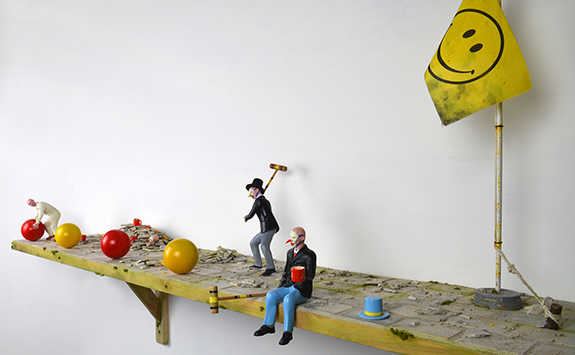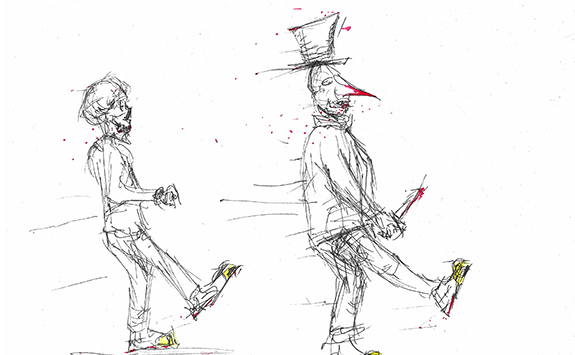 About 'Seeking Armageddon'
Inspired by the writings of Plato, John the Elder, Rousseau and Žižek, and evoking the spirit of Gulliver's Travels, 'Seeking Armageddon' stages very human apocalypses; ecological, technological and democratic. Utilising traditional model-making techniques and materials alongside the unorthodox, Peter brings his visions to 'life' by employing everything from carved resin casts to found animal bone and recycled toys.
Visitors can explore Peter's exhibition at Newcastle Arts Centre on Westgate Road, a not-for-profit enterprise established in 1981 to build a venue for creative activity in the city centre. The exhibition opens to the public on 15 October, with a special preview event taking place the evening before on 14 October, 5-7pm.
'Seeking Armageddon' is the latest of a new series of exhibitions curated by Jed Buttress, Curator and Programme Co-Ordinator at the Newcastle Arts Centre and fellow Newcastle graduate. Speaking about the show, Jed expresses that "it'll be a fun, thought-provoking and regrettably relevant exhibition" and "like any apocalypse, there'll be something for everyone."
Do you have news to share with our alumni community?
Get in touch and share your latest news and achievements so we can let your fellow Newcastle alumni know!