"You've got a choice to make"
13 April 2021
After being diagnosed with blood cancer, alumnus Peter McCleave (BSc Physiology, 1999) set himself the goal of getting as many people as possible to become stem cell donors.
A cancer diagnosis takes everything out of your control, all your hopes and aspirations, your career, your family – especially when the cancer I've been diagnosed with has no cure. But when I was told that I could extend my seven-year prognosis if I found a stem cell donor, that was something quite clearly in my control. It was something I could grab hold of and influence, so it gave me some sort of control of my life again.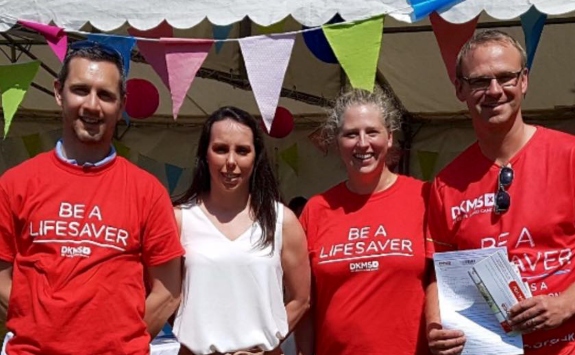 For the first couple of years after diagnosis, I was in and out of hospital with chemotherapy and it wasn't feasible for me to do anything. But when things stabilised, I was sat in bed one night with my wife, Jen, and I just had this idea to get 10,000 donors signed up to the stem cell register in one year.
It was just a number in my head, but when I was told that the target was too ambitious because sign up rates to the register are so slow, that was like a red rag to a bull for me. I decided to go big anyway and set 10,000 donors as my target.
Starting out
I started out by just running donor drives. I'd go to my local rugby club and we just started registering parents down there. As we started to go a bit further, we got celebrity endorsements from local celebrities like Beth Tweddle, but it was really slow.
But about five months into the campaign my oldest son, Max, wrote this letter which he wanted to put in the local village magazine – basically a letter asking people to help save me. It got into the magazine, but then it took on a life of its own and got picked up by the national and international press.
It got translated into seven languages and was picked up by channels like BBC and Sky. In the 24 hours after those interviews, we got about 12,000 or 13,000 people register, which was amazing.
Reaching that target of 10,000 donors was really significant because we were told it could take so long to reach that number. It's been great to raise aspirations and influence thinking as well as letting organisations see that it is possible to get that volume of registrants on the stem cell donor register. So we've revised that target and we're now aiming for 100,000 donors to sign up to the stem cell register – and we've only got 15,000 donors left to reach that target.
Finding matches
So far, 16 people who need a stem cell transplant have been matched with donors because of the campaign – roughly 1 in every 4,500 registrants. One of those people was somebody I used to manage when I worked at Royal Bank of Scotland and for him it's been a life-changer. It is really quite powerful to make that difference to someone's life.
There are a lot of misconceptions about what it's like to donate stem cells and I understand why, but in 90% of cases it's the easiest thing for somebody to do, really. You spend about a week stimulating the growth of stem cells by injecting a naturally occurring hormone, and those stem cells go into your bloodstream. Then you go into hospital and over about 4-6 hours they take the stem cells and return the rest of your blood back into your system and that's it, you can go home. Your stem cells then grow back in around two weeks and throughout the whole process, you're paid for your transport, your food and any loss of earnings. The person I managed at RBS said he was treated like royalty.
Looking forward
To be honest and blunt, I'm quite sure I won't find my match because my genetic heritage is so rare – I've got a mix of Macanese, Irish and English genes, so there aren't too many of us out there.
In many ways I'm lucky, though. I take my chemotherapy in pill form which means it gets sent to me in the post every month and that means that my chemotherapy hasn't stopped because of Covid. I know some patients, who need to go into hospital for their chemotherapy, who have really suffered. They've lost years from their lives because they can't have the chemotherapy.
Interestingly, one of the drugs that I've taken advantage of was developed at Newcastle, which gives me such a sense of pride and affiliation with the University. When the doctor mentioned that I was able to take advantage of that, it was such a relief for me at that particular point in time. There was nothing else that we could've done until the cancer came back but I know that taking that drug has extended my partial remission.
But for me now, I want to make as many opportunities as possible with 10,000 Donors to get as many people as possible signed up to the stem cell registry, maximise my time with family and friends, travel as the world opens up post-Covid and hope that more advances will be made with the science.
Only 2% of the UK population is on the stem cell register, but this is something which we can all influence and control. After reading this article, you've got a choice to make: can you sign up to the stem cell donor register and help to improve the chances of people like me finding their match?
If you live in the UK, you can sign up to the stem cell donor register here.
If you live outside the UK, you can sign up to the stem cell donor register here.
You can also follow Peter's story on social media by searching @10000donors on all social media platforms.