Meet the Newcastle alumni promoting women in STEM
16 August 2021
Two former Newcastle University students have set up a charity to promote the increased representation of women in science careers by financially supporting them through a science-based degree at Newcastle University.
Promoting Women In Science was established as a charity in 2020 by Newcastle alumni Imran Ahmed (Genetics, 1988) and Sadia Nujhat (Law, 1988). They have recently partnered with Newcastle University and the EY Foundation to launch a new scholarship opportunity for young women from disadvantaged backgrounds to study towards a STEM degree at Newcastle University.
We caught up with Imran and Sadia to find out more about Promoting Women In Science and how they're giving back to their University.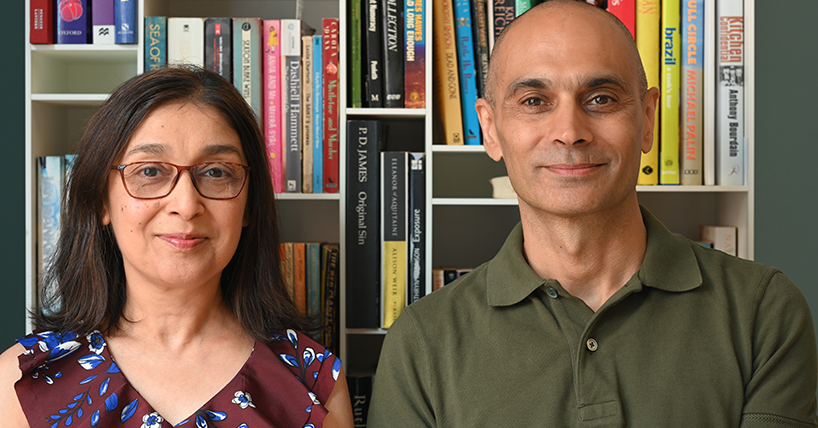 Our time at Newcastle University was a really positive experience and really broadened our horizons, meeting a wide range of people and making lifelong friends. The learning from our degree courses have been a massive help throughout our careers, and in setting up Promoting Women In Science.
While Sadia chose not to practice Law after graduating, it provided really valuable skills in logical thinking and how we can adapt and influence positive change.
Promoting Women in Science is a charity that is supporting disadvantaged women pursue further education in STEM by providing tuition fee scholarships for study at Newcastle University. We also target Year 12 and 13 students with interventions designed to encourage them to consider STEM as a potential further education and career path.
STEM education is vitally important to the UK economy, with a shortage of talent in critical roles. A recent report from the Institution of Engineering and Technology estimated the loss to the UK economy of £1.5 bn per year due to STEM skill shortages. Participation of women in many STEM subjects is low and even lower for those from a disadvantaged background, meaning these women miss out on the opportunity to access those exciting and high-earning career opportunities.
Our partnership with Newcastle University and the EY Foundation hopes to remedy this. We'll be offering one successful applicant from the EY Foundation's Smart Futures programme - which helps young people from low-income backgrounds prepare for the world of work - a scholarship to fund their tuition fees for their full degree programme. We believe this is an important incentive for an individual to choose further education rather than opting to enter the labour market at this stage in their career.
We believe the combination of targeting the right students through Smart Futures, removing a key barrier to further education via the scholarship and the leading standards of education provided by Newcastle University have the potential to make a positive impact on a young woman's life.
If you've been inspired by Imran and Sadia's story to give back to your University and support the Newcastle graduates of the future, get in touch with us to find out how you can help.