Call for Science, Agriculture and Engineering alumni to help mark landmark anniversary
29 November 2021
Newcastle's College of Physical Science – now our Armstrong Building – opened in 1871. We're marking the 150th anniversary of the establishment of the College by celebrating the achievements made by our Science, Agriculture and Engineering alumni community.
The College of Physical Science, which was part of the University of Durham, was a ground-breaking institution that established Newcastle University as a leading centre for science, technology, engineering and mathematics.
It was established in response to a need for training among mining engineers. In its first year of teaching, the College had eight teaching staff, 173 students and offered tuition in four core subjects, including Mathematics, Physics, Chemistry and Geology.
After being renamed Armstrong College in 1904 and King's College in 1937, the College was a founding part of Newcastle University in 1963.
In its 150-year history, our students and academics in Science, Agriculture and Engineering have made incredible breakthroughs with a global impact. From pioneering computing education to discovering new species of fish and developing an ovarian cancer treatment!
Share your achievements to help us celebrate
To celebrate this landmark anniversary, we're creating profiles of graduates from our Science, Agriculture and Engineering (SAgE) Faculty to highlight the diverse impact our alumni community has had around the world. Get in touch with us to share your achievements since graduating and to be featured.
Here are 10 SAgE graduates who have made a real difference, whether that be in the field of their degree or otherwise!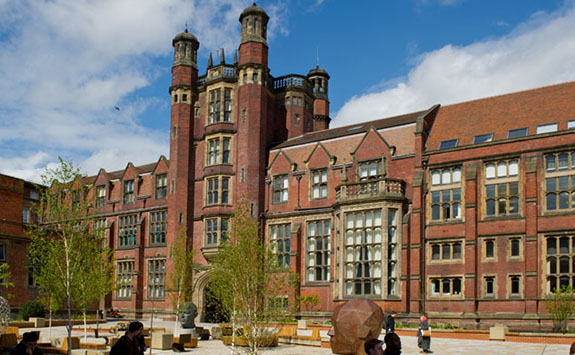 Professor Mushtaq Ahmad Saleem (MSc Agriculture 1980)
Mushtaq is Professor of Biochemistry and Dean of the Faculty of Life Sciences at the University of Central Punjab, Lahore. During his PhD and post-doctoral research in the UK, he discovered a novel field of research regarding various enzymes and macromolecules, exploring 'Proteases and their role in the resistance to insecticides'. This work was highly regarded, and he won the Research Productivity Prize from the Pakistan Council of Science and Technology, as well as the Special Science and Technology Prize from the Higher Education Commission of Pakistan.
Rowan Atkinson CBE (BSc Electrical and Electronic Engineering 1975)
Rowan shot to fame as the star and co-creator of the satirical sketch show Not the Nine O'Clock News, before starring in a number of well-loved TV comedies, including Blackadder and The Thin Blue Line, and introducing us all to the adventures of Mr Bean.
Rowan was awarded a CBE in the 2013 Birthday Honours for services to drama and charity and has won two BAFTAs.
Ann Cairns (MSc Medical Statistics 1979, Hon DCL 2018)
Ann is Executive Vice Chairman and President of International Markets at Mastercard. She is responsible for business spanning 210 countries and territories, connecting over 27,000 banks and 35 million merchants. Her responsibilities also include promoting diversity, inclusion and innovations, as well as managing all customer related activities in 200 countries. Ann is the lead non-executive board member at the Department for Business, Energy and Industrial Strategy (BEIS), and in 2018, was made an Honorary Doctor of Civil Law at Newcastle University.
Professor Sarah Hainsworth OBE FREng (BEng Science of Engineering Materials 1989, PhD 1993)
Sarah is Pro-Vice-Chancellor and the first female Executive Dean of the School of Engineering and Applied Science at Aston University. Sarah came to public attention in 2013 for her work related to the skeleton of King Richard III; her expertise helped establish the manner of his death. In 2019, she was awarded an OBE for her services to Engineering and Forensic Science.
Professor Lisa Harvey-Smith (MPhys Astronomy and Astrophysics 2002)
Lisa is an astrophysicist, Australia's first Women in STEM Ambassador and a Professor at the University of New South Wales. She is also a presenter on the popular Australian television show Stargazing Live. She won both the Commonwealth Scientific and Industrial Research Organisation (CSIRO) Chairman's medal and the Eureka Prize for Promoting Understanding of Australian Science Research in 2017.
James Honeyborne (BSc Biology of Plants 1992)
James is a wildlife film producer who spent 25 years at the BBC's Natural History Unit. He is now the CEO of Freeborne Media, a Bristol-based production company, which recently signed a multi-year deal with Netflix to produce nature and science documentaries. As an Executive Producer, he is best known for creating the Emmy and BAFTA-award winning Blue Planet II, narrated by David Attenborough.
Marc Jobst (BSc Agriculture 1983)
Marc graduated from Newcastle University in 1983 with a degree in Agriculture. He began his career in theatre, and then worked as a producer and director at the BBC for 10 years, where he directed shows such as Eastenders and Casualty. He is now best-known as a Netflix and Marvel Director, overseeing production of the likes of Daredevil and The Witcher.
Dr Savas Parastatidis (MSc Computer Software and System Design 1996, PhD 2000)
Savas completed both a Master's and a PhD in Computer Science at Newcastle University. Since graduating, he has held prestigious positions at Microsoft, Facebook, and most recently, Amazon, where he is a Senior Principal Engineer for the Alexa Artificial Intelligence program.
Savas works on the application of Artificial Intelligence to help humans do more, and focus on what matters the most to them.
He has donated £100,000 in the past six years to the University's Centre for Doctoral Training in Cloud Computing for Big Data, supporting the Centre's PhD programme to produce future leaders in data analytics.
Melesse Temesgen (MSc Agricultural Engineering 1987)
Melesse is a researcher, businessman and manufacturer of agricultural machinery. He is co-founder and CEO of the Aybar Engineering PLC, a company based in Addis Ababa, Ethiopia, that specialises in research on design, testing and development of agricultural machinery and manufacturing matured prototypes for sale. Earlier this year, Melesse won our Alumni Achievement Award 2021 for his work supporting poor smallholder farmers in Ethiopia.
Graham Wylie CBE (Computing Science & Statistics 1980, Hon DCL 2004)
Graham co-founded Sage in 1981, one of the UK's largest home-grown software company, having programmed the original Sage Accounting software whilst still at university. When he retired from the company in 2003, The Sage Group Plc employed 6,000 people, had 3,000,000 customers, revenues of £560m, profits of £151m and a market capitalisation of £2.5b. His contribution to the North East region has been acknowledged by the awards of honorary doctorates at both Newcastle and Northumbria University, as well as being awarded with a CBE.
If you're a graduate from our Science, Agriculture and Engineering (SAgE) Faculty and would like to share your story to contribute to the celebrations, please get in touch!