START UP Fund 2021
11 February 2021
40k in grants available to advance student and graduate business opportunities
START UP has secured £40,000 in equity-free funding to advance current Newcastle University students and recent graduates with early-stage businesses opportunities, thanks to the generous support of Santander, through Santander Universities.
Grants of either £500 or £3,000 will be awarded between January-July 2021 to eligible individuals or teams with a clear need for finances to progress well-developed ideas or businesses that have been trading less than 18 months.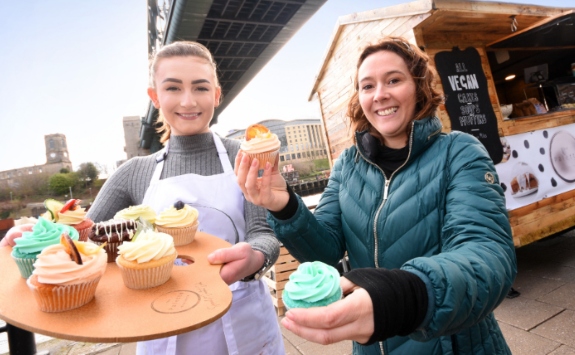 Advancing entrepreneurial talent
"Last year with Santander, we launched a Covid-19 Fund to help our START UP community adapt in response to the global crisis, supporting some businesses to scale in order to meet new demand. This new Fund is about stimulating and supporting the next wave of entrepreneurs and changemakers who will have a critical role to play in our economic and social recovery" said Marc Lintern, Director of Student Experience, Newcastle University. "It is also about making visible and celebrating the individuals joining the growing community of Newcastle University students and graduates who have created their own graduate jobs as well as employment opportunities for others", he added.
There are currently 203 START UP-supported businesses trading with a combined annual turnover of close to £60 million. Between them, they have raised over £19 million in external investment, won national and global awards, created 695 full-time equivalent jobs*.
In partnership with Santander
Santander Universities has been in partnership with Newcastle University since 2009 and has provided close to £1.7M to the University, with £189k appointed to enterprise activities.
Matt Hutnell, Director, Santander Universities, says: "Santander is committed to supporting higher education as well as local communities across the UK. We're proud of our partnership with Newcastle University and we're delighted to support their new Start Up Fund which will enable many more budding entrepreneurs to thrive, particularly during this challenging time.
Advocating all self-employment
Just like the broader START UP offer, this fund is available to students and graduates up to 3 years from all subject areas, all sectors and all segments of the self-employed. From creatives to company builders, global traders to social impactors and so on.
Those eligible can apply now until Sunday 14 February. Strong applicants will be invited to make a compelling pitch to a panel of START UP Business Advisers, the START UP Manager and a Santander Universities representative for a share of the 40k.
For more information and to apply, visit: www.ncl.ac.uk/careers/startup/funding

*Statistics taken from HE-BCI Survey 2018-19.