Alumni triumph at summer sporting events
30 August 2022
Summer 2022 has been jam-packed with sporting events.
From the Commonwealth Games to the UEFA Women's Euro - there's been a lot to watch and celebrate! But did you know that many of our alumni and current students competed in sporting events over the summer?
Gold medals galore for rowers
There has been a lot of success for our alumni rowers this summer!
Starting at the first World Cup of the 2022 season back in May, five alumni represented Great Britain at the event in Belgrade, Serbia. All five rowers were successful in securing medals, totalling four Gold and one Silver. The Gold medallists included William Stewart (MPhys Physics, 2019) in the men's coxless four, Emily Ford (BA Fine Art, 2017) in the women's pairs, and in the men's eight Tom Ford (BA Geography and Planning, 2014) and James Rudkin (BA Politics & History, 2015). Lola Anderson (BA English Literature, 2019) raced in the women's double sculls winning Silver, as well as the women's quadruple sculls placing fourth.
In July, four of the above alumni went on to compete at the World Cup III in Lucerne, winning three Gold medals and one Bronze. William Stewart claimed Gold in the men's four and Tom Ford and James Rudkin secured Gold in the men's eight, resulting in them claiming the overall World Cup title. Emily Ford won Bronze in the women's pairs.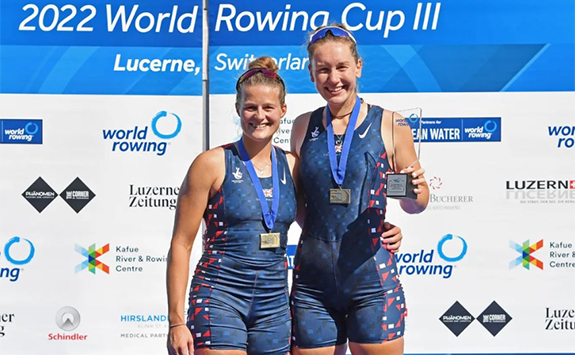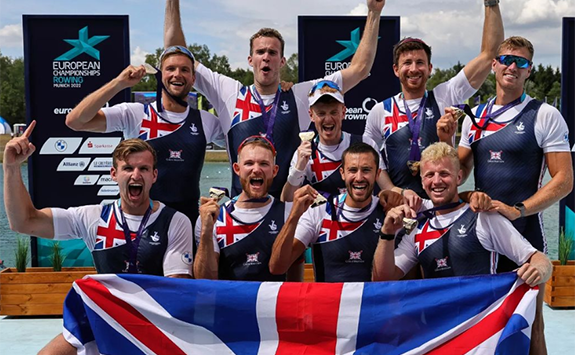 There was further success in July at the World Rowing Under 19 & 23 Championships 2022 in Varese, Italy, where Bruce Turnell (BSc Chemistry with Medicinal Chemistry, 2021) won Gold in the U23 men's coxed four, Sam Shuker (Urban Planning student) coxed the U23 women's eight winning Silver, and Joe Adamson (BEng Geospatial Surveying and Mapping, 2022) finished 12th in the U23 men's double sculls.
And in the latest competition, the European Rowing Championships 2022 in Munich, Germany, our alumni once again rowed to victory. Gold medals were awarded to William Stewart in the men's four, to Tom Ford and James Rudkin in the men's eight, and to Lola Anderson in the women's quadruple sculls. Emily Ford picked up Silver in both the women's pairs and women's eight.
Want to find out more about our alumni rowers and follow their success? Check out @bluestarnubc on Instagram!
Commonwealth Games 2022
The Commonwealth Games have been running since 1930 and take place every four years with athletes from the Commonwealth of Nations competing in the multisport event. This year the Games took place in Birmingham, running from 28th July to 8th August. Two alumni, a student and a staff member represented Newcastle University at these Games!
Lauren Torley, who graduated this summer with a Joint Honours in Psychology and Nutrition, competed in the Women's Rugby Sevens for Team England. They finished the competition in a respectable fifth place following a win against Scotland in the play-offs. Lauren was also part of the squad who won the Women's Rugby Europe Sevens Trophy Series in both Zagreb and Budapest in June 2022, as well as the squad who recently successfully qualified for the World Cup.
Femi Sofolarin, who also graduated this summer with a Combined Honours in Geography and Business, competed in the Men's Rugby Sevens for Team Scotland. Femi scored two tries in Scotland's final match at the Games against Samao, finishing the competition in sixth place. Femi has previously represented Team GB in the Youth Olympic Games qualifiers in 2018.
Rhodri James Erskine Adamson, who graduated with a Bachelor of Honours in Ancient History in 2016, competed in the Men's Rugby Sevens for Team Jamaica who finished the Games in 13th place. This was Rhodri's second Commonwealth Games appearance having also competed in 2018 on the Gold Coast.
Over on the squash court, Jade Pitcairn, a second-year Sports and Exercise Science student, represented the Cayman Islands in both the Women's Singles and Mixed Doubles. Prior to the Commonwealth Games, Jade won two Gold medals at the 2019 Island Games in Gibraltar and two Bronze medals at the Central American and Caribbeans Games in 2018.
And staff member Richard Eaton, Head of Strength and Conditioning, was part of the Falkland Islands Badminton Coaching Team.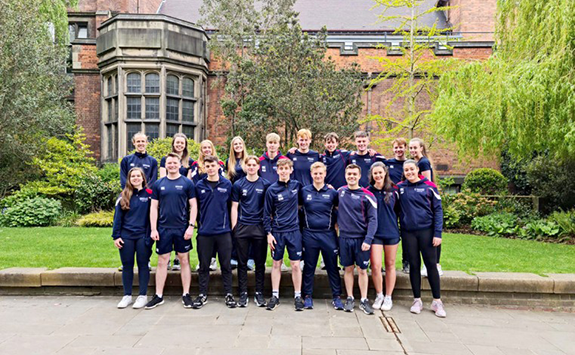 Commonwealth Fencing Championships 2022
The Commonwealth Fencing Championships were established following the removal of fencing as a sport from the Commonwealth Games in 1970. The 2022 event took place in London from 9th August to 20th August, featuring Newcastle University student Natasha Lee who represented Jersey in the Senior Women's Epee Individual category. Natasha is a PhD student enrolled onto the ONE Planet Doctoral Training Partnership programme between Newcastle University and Northumbria University, investigating the effect of climate change on Icelandic ice caps and glaciers.
European Universities Games 2022
The European Universities Games occurs biannually and is the largest European multisport student event. Sports included in this year's Games were: 3x3 Basketball, Badminton, Basketball, Beach Handball, Beach Volleyball, Chess, Football, Futsal, Handball, Judo, Karate, Kickboxing, Sport Climbing, Swimming, Table Tennis (including Para Table Tennis), Tennis, Volleyball, and Water Polo, with Sitting Volleyball and Para Power Lifting as promo sports.
Three students from Newcastle University attended the European Universities Games 2022 which took place in Lodz, Poland between 17th and 30th July. Luciano Zanuni, a second-year Chemical Engineering student, competed in Karate. Andrew Hicks, a Master's student studying Chemistry, and Ella Sands, a Law student, both competed in Taekwondo. Ella was successful in bringing home a Bronze medal.
German cricket champions
Alumna Anuradha Doddaballapur is the coach and captain of the women's Frankfurt Cricket Club, Frankfurt Furies. She recently coached the team to success in DCB Bundesliga final, winning the Northern Dragons by 9 wickets.
"Coaching the team this year has been challenging with my playing commitments, other development work, injuries and heaps of travel. It's been quite the journey finding new approaches to set up and mentor leadership and coaching groups within the team, match prep, and training plans, amongst other things done locally and remotely.
"The performances from players and the results we've had as a team is gratifying after those countless hours and efforts gone in, and I couldn't be more proud as the Captain and Coach to see the team lifting the Champions trophy this year!" said Anuradha.
Anuradha also captains Germany's women's national cricket team, Golden Eagles.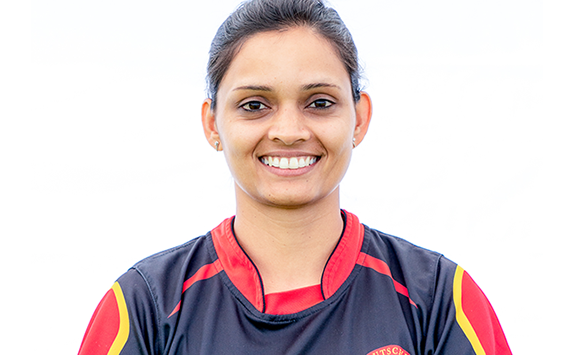 Newcastle University achieves top 10 sports ranking
All of this sporting action falls in a year when Newcastle University has achieved its highest ever place in the national BUCS (British Universities & Colleges Sport) league, ranking 8th out of 160 institutions for the 2021/22 season.
A total of 22 Newcastle teams won their respective BUCS leagues, the University's highest ever number of league titles in any season, and 10 teams won their respective cup competitions. In addition, 48 students across several sports have gone on to international honours and/or professional contracts throughout this year.
Do you have news to share with our alumni community?
Get in touch and share your latest news and achievements so we can let your fellow Newcastle alumni know!