Alumnae to take on a world-record attempt in a 3,000 mile endurance rowing race in aid of cancer charities
14 April 2021
Charlotte Irving and Abby Johnston, alongside crewmate Kat Cordiner, will be taking on the Talisker Whisky Atlantic Challenge in December 2021 to raise money for three cancer charities.
About the challenge
The Talisker Whisky Challenge is a 3,000 mile endurance rowing race across the world's second largest ocean. Team ExtraOARdinary will be one of 30 crews setting off from La Gomera in Spain and rowing across the Atlantic Ocean to reach Nelson's Dockyard in Antigua, whilst being watched by an audience of over 88million worldwide.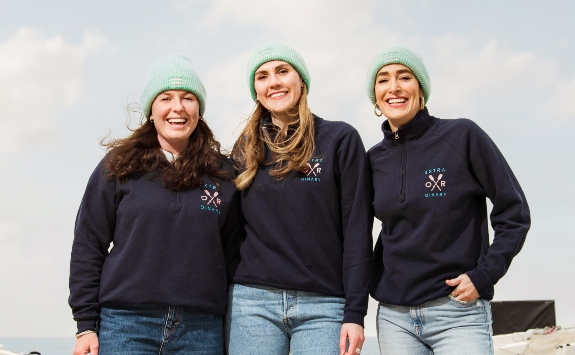 The team are aiming to set a world-record along the way by breaking the speed record for the fastest three women to row the Atlantic. The current world record is 49 days, 13 hours, 49 minutes. ExtraOARdinary are hoping to come in under 49 days to beat it.
Abby and Charlotte's time at Newcastle
Abby studied Modern Languages (French and Spanish), graduating in 2011 and Charlotte studied English Literature at undergraduate, and then a Masters in International Business, graduating in 2012.
After rowing at school together, Abby headed up to Newcastle a year before Charlotte in 2007, joining the boat club in her first week at university having been awarded a Sports Recruitment Bursary.
When Abby started rowing at Newcastle, the women's squad was not what it is today. There was a grand total of 7 girls in the squad - which meant there were only just enough people to put together an 8. Despite this, the squad trained very hard under the legendary Angelo Savarino's watchful eye, and in Abby's first year at the boat club the girls' squad won a medal in every event they entered at BUCS Regatta.
Charlotte joined the boat club to row in the 2009 University Boat Race – which they won and from that point on, Charlotte too was a part of the boat club, going on to watch it go from strength to strength, winning BUCS medals and eventually Women's Henley in an 8+ in 2012.
The pair then went on that same year to qualify an 8+ for Henley Royal Regatta (there were very few women's events at that regatta at the time, so competition was fierce to secure one of the spots to be able to race at the regatta itself), eventually racing the German national team.
They both saw the club transform into the powerhouse it is today and feel so lucky to have been there at such a pivotal moment in its history - especially for the women's squad. One of the major things they took away from their time rowing at Newcastle wasn't just their resilience, but the lifelong friends they made; "it's really true that a team is only as good as its people, and the friends we made over our years there are still our closest today" said Charlotte.
About the charities
ExtraOARdinary aim to raise upward of £100k to split between their three chosen cancer charities: The Royal Marsden Cancer Charity, Cancer Research UK and Macmillan.
Charlotte explains why the chosen charities are of importance to the crew:
"Cancer patients have been adversely affected by the current pandemic, with cancer diagnoses and treatments being delayed, and charities missing out on their usual opportunities to fundraise. This is sadly close to home for so many – including our crew. Our crewmate Kat, having already beaten cancer once, is currently battling against the disease again. This time she will be managing the disease for the rest of her life, with the Atlantic challenge an opportunity for us to raise as much as we can for these wonderful charities".
Preparing for the challenge
The team are currently in fundraising and training mode. They are working with businesses to build corporate partnerships, as well running fundraising events as best as they can in the current climate, recently running a virtual raffle.
They continue to adapt to the ever-changing regulations, switching up their training to fit with the equipment they have at home - from rowing machines in lean-tos, to kettlebell circuits in the living rooms of top-floor flats, to long (very long) runs.
Their aim is to raise as much as they can for their wonderful charities, as well as demonstrate the power and resilience of women in sport - especially those overcoming adversity like their crewmate Kat.
You can follow team ExtraOARdinary's journey via their website (www.weareextraoardinary.com) and Instagram (@weareextraoardinary) and if you or your business are interested in partnering with the crew; taking advantage of the massive audience the race pulls in, as well as supporting them in their one-of-a-kind challenge, you can reach the crew at crew@weareextraoardinary.com.
Have a story to share with us? Email us at advancement@ncl.ac.uk.