Support for Uterine Leiomyosarcoma Research at Newcastle University's Centre for Cancer
14 April 2021
A generous donation from Jan Taylor in memory of her wife, Jan Hopper, who sadly passed away from uterine leiomyosarcoma will support vital research into a cure for this disease.
Jan Hopper's story
Jan Hopper lived life to the full. She loved walking, all kinds of music, going to the theatre, and exploring the world with her wife Jan Taylor. Jan had an impressive career in the police force, working through different departments until joining the surveillance team where she found her niche. Most recently, working as a team member in the 'Confi' unit with the then named Serious and Organised Crime Agency (recently renamed National Crime Agency).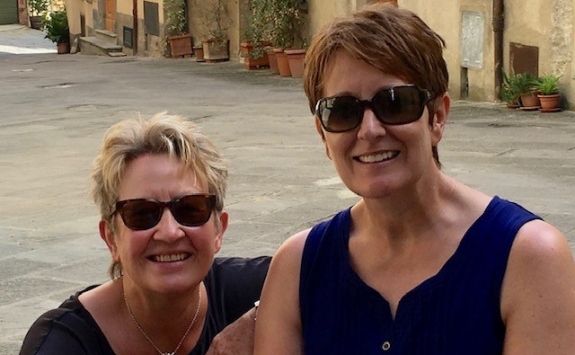 In February 2019, Jan became ill and a very rare and aggressive sarcoma was found, called uterine leiomyosarcoma. Following two types of chemotherapy and an immunotherapy trial drug, Jan sadly lost her battle to the disease.
Uterine leiomyosarcoma (uLMS) is a relatively rare aggressive cancer of the womb (uterus). It arises from the smooth muscle cells that make up the wall of the uterus. These cancers respond poorly to current treatments and as a result have a high risk of recurrence and death, regardless of how soon they are diagnosed. There is a lack of knowledge about what changes have happened in the muscle cells to make them grow out of control in this type of cancer.
Throughout Jan's battle with the disease she still managed to live her life to the fullest; "we continued to see friends and family, eat out, visit the theatre, and take weekend breaks (covid allowing). Making more happy memories to look back on for everyone we mixed with and shared time with," explained Jan's wife.
Jan's legacy
Jan Taylor's decision to donate to Newcastle University in memory of her wife originated from an association with the University during Jan's treatment. Jan's oncologist was Dr Yvette Drew, who is also a Senior Lecturer at Newcastle University and carries out world-leading research in this field. Dr Drew arranged for Jan to be part of a trial with a new PARP inhibitor drug developed as part of her research study.
Below, Jan shares a few words about her decision to donate.
"It was Jan's wish that she wanted to help to ensure that one day no one would suffer as she had. I am extremely grateful to Dr Drew who I contacted after Jan's death, as Jan and I both wanted to be involved in research into this rare and aggressive disease. Our wish that one day effective drugs could be found and eventually a cure".
Research into uterine leiomyosarcoma at Newcastle
Researchers are using powerful new techniques and analysing DNA sequence databases which have been developed to search for mutations and changes of gene expression that drive the growth and spread of the tumour cells. These changes vary between individual patients. As well as identifying whether there are existing targeted drugs that can be appropriately used for individual patients, this information will provide urgently needed new targets for drug development.
One of the new classes of drugs being developed at Newcastle University are called MDM2 inhibitors. These drugs target a gene which is frequently abnormally regulated in uLMS. Pilot results have been strongly convincing, showing that the uLMS cancer cells of some patients are particularly sensitive to this new class of drugs. One of the advantages of MDM2 inhibitors is that unlike conventional chemotherapy they do not damage DNA and are therefore referred to as "non-genotoxic". As part of this project, testing and optimising combination treatments using MDM2 inhibitors and other targeted drugs have shown promising effectiveness in uLMS. This includes another class of drugs developed at Newcastle called PARP inhibitors, which are being successfully used in other gynaecological cancers and will be investigated in novel combinations for leiomyosarcoma.
The generous support received from Jan's relatives will help researchers at Newcastle University to advance scientific understanding of this rare but often fatal cancer and improve the diagnosis and treatment options for uLMS. In paticular, it will allow for the collection and building of a biobank of uLMS patient tumour tissue samples and to be able to analyse them for genetic sequence variants and gene expression profiles. This will help to provide gene signatures to guide patient treatment and to identify potential targets for new drug development projects.
This donation will help to build upon the great work of Victoria Chamberlain, who was awarded a PhD studentship in 2016 to research this field and is now in her final year. The studentship was established thanks to the support of Dr Mark Welfare (former Dean of NUMed) in memory of his wife Nicky, who also sadly passed away from uLMS in 2016. The studentship is annually part-funded by Mark and the generosity of his friends and family, with the University matching the funding to make up the remainder.
Nicky's twin sister, Cheryl, shares below why support for Uterine Leiomyosarcoma Research is vital.
"The very worst thing about this type of cancer is the lack of hope. We tried hard to hope one of the treatments apart from surgery would work but really we knew there wasn't a treatment with unequivocal benefit and so hope was hard to come by. Everyone who knew Nicky adored her and as her twin I feel that she would want this research to continue so other families do have some hope".

Find out more about how you can also support research at Newcastle University.