Embodied Awareness and Space Symposium
Thursday 22 April - Saturday 24 April
Virtual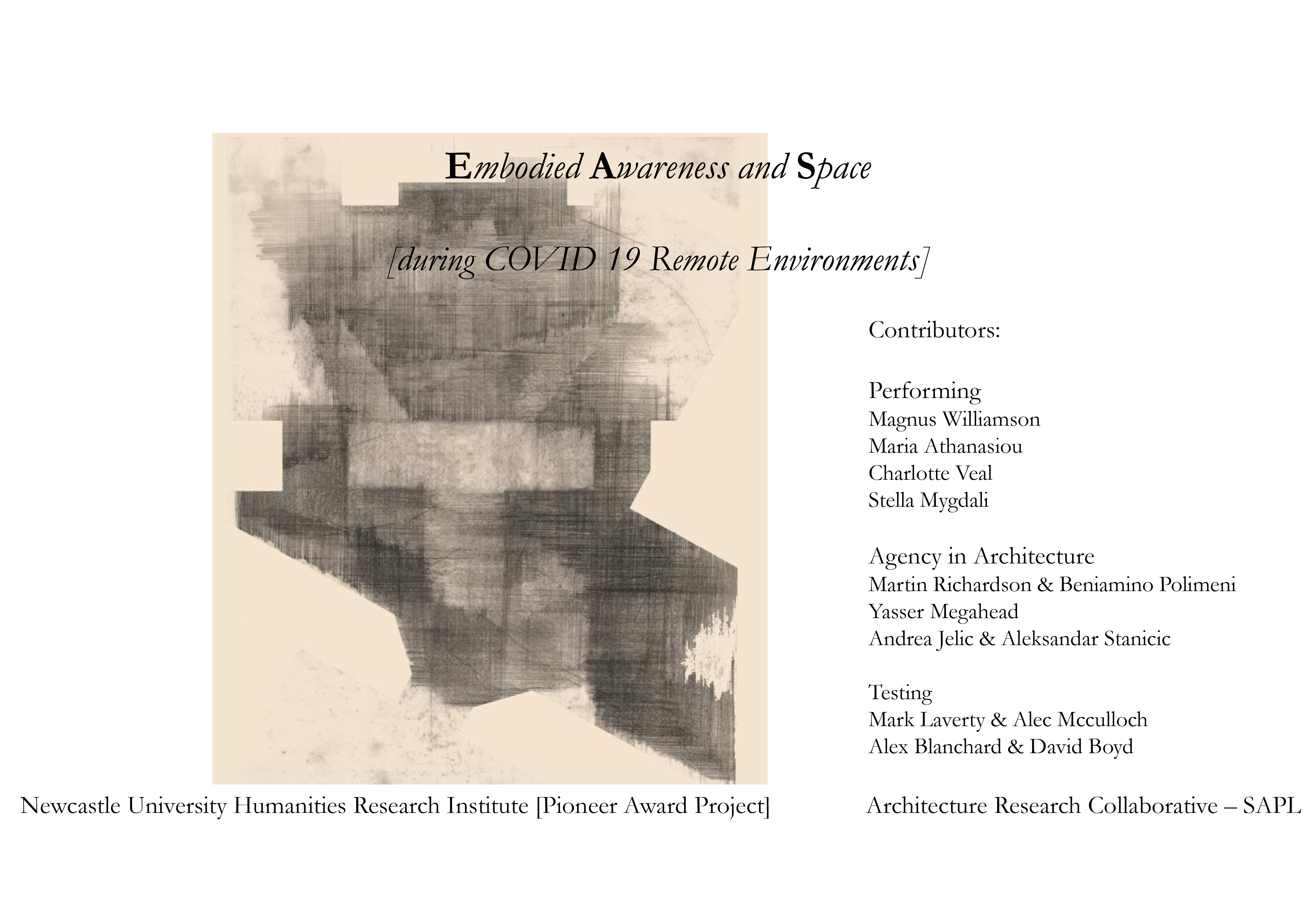 Embodied Awareness and Space (EAS) [during COVID-19 Remote Environment]
Embodied understanding of reality relates to the physical and psychical interpretation of an actual or imaginary situation. Besides the multisensory, bodily realisation of an environment, human experience involves also memories, thoughts and beliefs. The reciprocal interrelation between these tangible and intangible components can lead to aphenomenal (eventful?) space-time that is fluid and vibrant as a living organism. This forum aims to explore embodied experience through the lens of diverse disciplines: architecture, music, literature, performance studies, philosophy, geopolitics.
Embodied Awareness and Space (EAS) project invites you to contribute to an online Symposium to be held on Thursday 22 April 2021 (afternoon), Friday 23 April 2021 (full day with in-between breaks) and Saturday 24 April 2021 (morning), in order to discuss around the themes that you have either already suggested by you or new ones. This ice-breaking event will be used to trigger the creation of a network of collaborations and an online platform.
Being unavoidably a virtual event, it will be a rather challenging way to interact on themes related to body, space and time through distant and disjointed embodied realities. The invitation is open to:
(a) traditional presentations of a topic, followed by Q&A discussions.
(b) workshop-like, more experimental, ways of 'presenting' via virtual interfaces (for example: performative or literary ways of interacting between the participant-facilitator and the rest of the participants, visual discussions over pre-chosen material, sound interactions and so forth)
(c) the event will also work as a forum of exploring ways of recording the discussion: PhD students in Architecture, and ideally other disciplines (please feel free to suggest a documenting possibility by one of your doctoral students), as well as the key invitees are asked to (also) contribute a recording/documentation of the event in different ways related to their creative practice work (e.g. drawing recordings, coding recordings, photographic, video and so forth).
Suggested key readings will be asked by the presenters to add to the event. This has already happened with most of the invited contributors, but depending on the actual proposal the authors/facilitators might want to revise their initial suggestions.
The idea is that a virtual event on Embodied Awareness and Space is by definition, a workshop and experiment on methods of interacting bodies during isolation conditions.
The intended online platform will publish lightly edited short versions of the presentations of the participants, and the experimental documentations of the event, and will be the beginning of an online forum for researchers interested in the theme that will publish a controlled number of edited short pieces per month (2-3 per month, depending on the number of chief editors and commitments).
Key Dates
Friday 12 February 2021
Deadline to express interest and confirmation of participation.
Friday 26 February 2021
Deadline of submission of (revised) abstract and key reading, addressing the category to which your presentation respond: (a), (b) or (c). Submission of a short bio as well.
Wednesday 31 March 2021
Deadline of submission of a paper up to 1500 words, related to your contribution.
22 April 2021 – 24 April 2021
Virtual Symposium