Building Futures Bursaries 2021
2 February 2021
Newcastle University is delighted to offer two bursary awards for young people from Black Asian and Minority Ethnic (BAME) backgrounds
Students on the scheme will have the cost of their three-year undergraduate study fully met. Stephen Lawrence's own dream of becoming an architect was cut cruelly short, but the University is proud to be working with Blueprint for All (formerly known as the Stephen Lawrence Charitable Trust) to give young people from BAME backgrounds the opportunity to enter the career he loved.
To be eligible for one of the bursaries, students should apply to study architecture (K100) at Newcastle following the usual UCAS process. All applicants will then receive details of the scheme including eligibility criteria and how to apply. The first students on the scheme took up their places at Newcastle in September 2020. Through the generous donations of alumni and architectural practices, the University is delighted to be able to offer two students bursaries for entry in 2021.
2020 Bursary Recipients
The first bursaries were awarded in September 2020, to 19 year olds Sumaiya Aziz and Hooman Valizadeh.
"I feel so lucky to have been awarded this scholarship," says Sumaiya, from Burnley. "I used to tell my uncle I wanted to be an architect even before I really understood what an architect was. Then as I got older and learned more about it, I realised it really was what I wanted to be."
Hooman, from Saffron Walden, Essex, who grew up in Iran, says "I feel very honoured to have been awarded this scholarship. I feel very grateful for this support, especially as most of my family is many miles away."

A love of design and a fascination with how buildings are made have led Hooman to study Architecture. And he has followed in his brother's footsteps to come to Newcastle University, where his older brother Abbas is studying dentistry.
Read more about the 2020 bursary recipients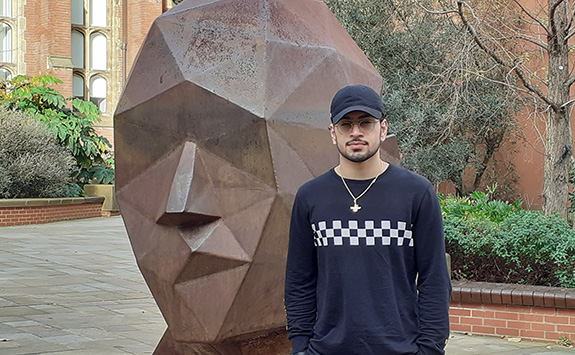 "Architecture as a profession should be open to people from every background"
Chief Executive of Blueprint for All, Sonia Watson OBE, said 'We believe that architecture as a profession should be open to people from every background, but we know that many talented young people are deterred by the cost of the course. Newcastle University has a brilliant reputation for both the quality of its teaching and the support it gives to students, and we are delighted to be working with them on the bursary awards, making their architecture course more accessible.'
Professor Juliet Odgers, Director of Architecture at Newcastle University said: 'It is a privilege to be working with Blueprint for All to support young people from disadvantaged and under-represented background in this demanding and exciting area of professional study. The bursaries are supported by excellent practices, who share our values and we applaud their continuing engagement with these talented young people through their financial support and mentoring activities.'
Blueprint for All
Blueprint for All believes that every person, regardless of their background, has the opportunity and support to flourish in a society that treats them with fairness and respect.
The Trust works with young people from disadvantaged backgrounds aged 13 to 30 to inspire and enable them to succeed in the career of their choice. It empowers people and communities to create better places for people to live and work. And it influences others to create a fairer society in which everyone, regardless of their background, can flourish.
Stephen Lawrence himself had hoped to become an architect, and in the last three years the Trust's flagship Building Futures programme has supported over 250 young people from disadvantaged and under-represented backgrounds to enter careers in architecture and the built environment by providing bursaries, mentoring, work experience placements, internships and industry workshops.
Supporters
The University would like to thank the following donors who have made the bursary awards possible:
Grimshaw Architects, London and international
Foster & Partners, London and international
FaulknerBrowns, Newcastle and international
Page\Park,Glasgow
Napper, Newcastle
Sheppard Robson
X-site Architecture, Newcastle University