SOLAR Outreach Team
We offer opportunities to volunteer as part of a team that teaches science practicals in schools.
SOLAR is a student-led group of undergraduates. They lead fun, interactive and highly engaging science workshops for a variety of age ranges. If you would like to become a member of the SOLAR team, contact Dr Vanessa Armstrong or complete the online form.
We are delighted to announce that the SOLAR team were runner up for the Youth Volutneering Award in the Community Impact Awards 2020, a fantastic achievement.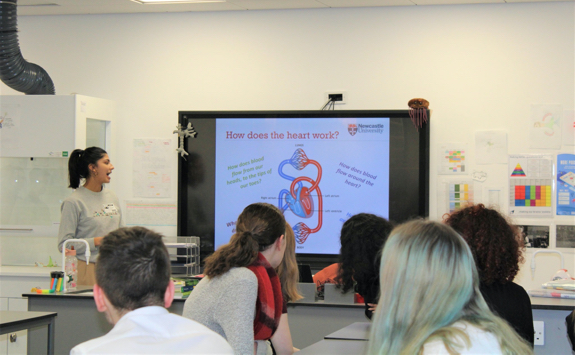 Read what some of our SOLAR members thought of the scheme
We do a range of activities from a certain topic which could be about the heart, germs, PCR for the older ones, and even DNA extraction from fruit. I always meet children who are so enthusiastic about science. The class gets very excited when we visit. They really enjoy it a lot and what some of them say sometimes will make you laugh. (Rani, Stage 2 Biomedical Sciences)
SOLAR was a great way of gaining experience in presenting to a wide age range. It is ideal for anyone who wants to improve their communication skills. All the sessions SOLAR run are easy and fun to do. They range from drawing bacteria in primary schools to thinking about the heart at secondary school, and how PCRs work at college level. A big aim of these sessions is to inspire upcoming students at all levels to think about science more. We want them to look at studying science at a higher level. SOLAR sessions are always run in a group format so no-one feels isolated and unsure of what to do. You can do as little or as many sessions as you want. The entire team are friendly and are always looking for more volunteers from all science backgrounds. (Antony, Stage 3 Biomedical Sciences)