Meet our neighbours: The People's Kitchen
31 January 2023
Meet our neighbours is a new series for Arches, where we showcase one of our neighbours based within the recently developed Helix site. The People's Kitchen is the longest standing resident within the Helix, so there is no better way to launch our series by starting with the established charity.
Founded by Alison Kay in 1985, The People's Kitchen aim to offer friendship and food to their supporters, also known as Friends of The People's Kitchen. Alison Kay was awarded an Honorary Degree by Newcastle University for her services to supporting those in need in the region in 1997.
Newcastle University Business School (NUBS) has a growing relationship with the charity. The school regularly donates to The People's Kitchen, most recently supporting the charity's 'Feed a Friend for a Fiver' campaign for World Christmas Jumper Day. Staff members from the school also volunteer their time to The People's Kitchen.
Jaclyn Wright, Corporate Relations Engagement Officer at NUBS and Newcastle University alumni volunteers every week at the charity.
Jaclyn said: "You often read the news and feel powerless to make a difference but volunteering at The People's Kitchen has given me a tangible way to make a difference in the community I love so much. The Friends who visit The People's Kitchen and fellow volunteers have welcomed me with open arms, and really made me feel like a part of the team - it's become the highlight of my week."
Maureen Armstrong, Corporate Social Responsibility Lead at The People's Kitchen, knew of the charity from a past life, when she worked for a bank that had a charitable foundation, and The People's Kitchen applied to them for funding. Maureen visited the charity to see their work and talk to the charity about giving them funding. Maureen was so impressed with what she saw on her visit, she became a volunteer. Maureen is now in her seventh year of working for the charity.

Out of all the support we offer our friends at The People's Kitchen, it is the friendship that our friends value the most. We've got friends that have been coming here since we opened in 1985. A lot of people are excluded from society, so they come here because they know that they'll get a warm welcome and they can sit and talk to somebody. We'll sit and chat with people. It doesn't have to be about anything serious, or what's going on in their life. Sometimes people just want to chat to a friendly face and that's what we offer. The food is great, but it is a smiling face for people to go that makes their experience. Sometimes we're the only people that our friends will speak to in the day. When we open the door at half six, I love it because there's such a buzz. The room is big and it's so loud.
The relationship between the volunteers and friends of The People's Kitchen is great and the friends always feel welcomed A lot of our volunteers have been here for quite a while, but we also have quite a few students who come and volunteer with us whilst they're in Newcastle, which is lovely. The students love it because it helps them to know other volunteers. Sometimes people will move up here and they won't know a soul, so they'll volunteer here, and they'll naturally make friends.
I wouldn't do it if I didn't get something out of it, because you don't want to work all day and then think that you have to do a four-hour shift at the kitchen. You just wouldn't do it.
The friends quite like it when there are new people. At the start of a new academic year, when all the new students are here, the friends love meeting them. Our friends love to interrogate new people and find out where they're from.
I think what works here is we're a night-time creature, so all the buildings around us are closed by the time we open. Sometimes it can get a bit rowdy, but we don't disturb anyone because of the different times we operate.
I think the recent development on the Helix site has been great because it's bringing life to this little part of the city. When I first started seven years ago, there was nothing around - there was National Tyres and us. The area was dark and lonely in the night-time, but now, with all the big buildings around us, it's just brought a little bit of life to it. Long may it last.
Recent developments on the Helix site benefits us, but we've always been lucky that The People's Kitchen has a good reputation and people know that we're here. We've been here since 1985, so we tend to find that local businesses do want to support us because we're totally volunteer led. We don't pay anybody within the organisation apart from the cleaner, who is an ex-friend.
What I would like to say to the alumni, is if you do pass somebody on the street, don't ignore them. Even if it's just a smile that you give them, or just stop and have a two-minute chat, because quite often that's all our friends would like. When I'm walking in town, I see a lot of our friends, literally all they want is just somebody to acknowledge them.
That means a lot to them. Can you imagine sitting on the street and so many people just walking past, ignoring you? When I do see people, if I don't recognise them, I will stop and tell them about us. As Newcastle is such a small city, a lot of the homeless know about us because of word of mouth.
If you do pass somebody on the street, don't ignore them. Even if it's just a smile that you give them, or just stop and have a two-minute chat, because quite often that's all our friends would like.
People's support to charities means a lot. As far as The People's Kitchen goes, it costs us roughly about £10,000 a month just to stand still and that's paying for food and utilities. In fact, it will have gone up since that figure. We are one of the only places in town that actually offers hot food and we're open seven days a week, so there's a continuity there for the friends. They know that every single day they're going to be able to come and have a hot meal.
We also have our welfare department, so if our friends need to talk to somebody in private, they can do. We work really closely with other charities, and we can direct them to support for areas like housing or mental health, and our friends know that we're a one stop shop. However, we can't do that without financial support because we're like every other charity, we don't get any sort of government support. It's up to us to raise money to be able to keep on helping the people that need us most.
We've got quite a few of our friends now who have no gas or electric on because they simply can't afford it. The last increase was just the death knell, so they sit all day in the cold, in the dark. Coming to us on a night-time is great for them, because we have electricity and we offer a warm safe space. If we weren't here, there's very few other charities that are doing food in the centre of Newcastle.
A testament to The People's Kitchen is when the pandemic hit and lockdown came along, we were the only food-based charity that was allowed to keep on operating in Newcastle. It was announced that the lockdown would take place from the Friday, and overnight we had to change how we did things. We changed from people coming in, sitting and eating with us, to a takeaway service. We got a hatch, put it out by the main entrance and nobody missed a meal because we immediately changed so that people could get sort of a takeaway meal from us.
The council were good enough to allow us to keep doing that. They got most people off the streets during lockdown, but unfortunately, the numbers are creeping up again.
The cost-of-living crisis has seen an increase in friends using the service. Something that has also changed is our demographic, before it tended to be mainly men who were in the age range of 20 – 40-year-olds, but now it's totally changed. We have a lot more ladies coming in now and we also have people that come in and they'll get takeaways for their family. We have got mothers and fathers coming in who will ask for two or three meals so they can take food home and feed their children. That's not something that we ever used to do.
We also do family bags now, so if anybody needs it, they just need to get in touch and we'll put a bag of groceries up for them. The bags contain everyday staples items like beans, pasta, tuna, crisps for the kids and a few biscuits.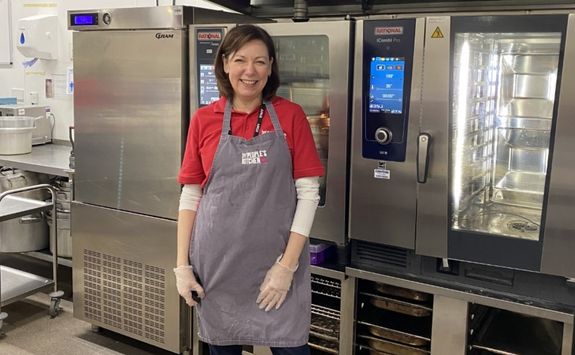 Our goals are to ensure we have enough funds so that we can keep the doors open to our friends and keep on doing what we're doing. Prior to lockdown we had various clubs which probably will start up again this year. For instance, we had a rambling club and we'd get a group of friends together, hire a minibus and take them somewhere out of the city centre for a nice long walk. We always manage to find a lovely cafe at the end of our walks, who would give us sandwiches and coffee either free or very cheap. It's amazing because a lot of our friends only see Newcastle and that's it.
We had a camera club and they actually had an exhibition three years ago now. We gave disposable cameras to some of the friends, and they just went around town taking pictures from their point of view. The pictures that were taken were amazing and we put on an exhibition to showcase all their photographs, so that was great.
We're also starting a literacy course. We're trying to get together some books so we can offer some literacy. There's a few of our friends who never got through school and to be able to apply for anything now, you need to be able to read and write.
We're always on the lookout for volunteers because we do have a cycle of volunteers. Naturally students leave us, because they finish their courses and they go home. We also have some people who will come try it and then think that it's not necessarily for them.
Our website details what posts we've got available at the moment. You can't dip in and out of volunteering because we need continuity, especially on an evening, we need to have certainty of numbers to make sure that it's safe for us to open. It doesn't have to be every single week. We do five nights a week and then on a weekend we do breakfast on a Saturday and Sunday.
The biggest challenge over the next six months for The People's Kitchen is the cost of living. We're currently trying to source non plastic cutlery to hand out to our Friends with their takeaways following the ban on plastic knives and forks and we need to find a reasonably priced solution.
If any alumni know an answer to this, that would be amazing. This is a big problem that is coming down the line to us. But we can't just give away takeaway food without something for them to eat it with.
The team at The People's Kitchen are running their literacy programme and are looking for donations of the following books to help the friends:
Noughts and Crosses - Malorie Blackman
Animal Farm - George Orwell
Northern Lights - Philip Pullman
The Subtle Knife - Philip Pullman
The Amber Spyglass - Philip Pullman
The Firework-Maker's Daughter - Philip Pullman
The Other Side of Truth - Beverley Naidoo
The Unforgotten Coat - Frank Cottrell Boyce
If you have a copy of any of the books listed and would like to donate them to The People's Kitchen, please email the Marketing team at NUBS.