Newcastle University Business School confirmed as world-class
1 June 2023
Recognition of excellence
The accreditation demonstrates the Business School's continuing commitment to excellence and represents the highest standard of achievement in postgraduate business education.
AMBA's rigorous assessment criteria ensure that only the highest-calibre programmes which demonstrate the best standards in teaching, curriculum, and student interaction achieve AMBA's accreditation.
The MBA programme at Newcastle University Business School has been accredited by AMBA since its establishment in 1981. The recently awarded re-accreditation is for five years – the maximum level of accreditation – which further recognises the School's achievements.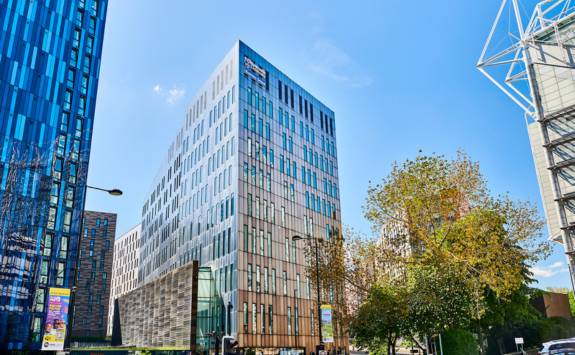 According to members of AMBA's accreditation panel, who represent senior management from globally accredited business schools, Newcastle University Business School benefits from enthusiastic and committed leadership, with a special mention to the dedicated MBA team.
The panel also recognised the advantages of the School's location within the Newcastle Helix development and its proximity to the National Innovation Centres for Data and Aging.
During their visit, the panel had overwhelmingly positive feedback from employers they met, who highlighted their engagement with students, particularly in consultancy exercises and industry-based projects.
Professor Stewart Robinson, Dean of Newcastle University Business School, said: "We are delighted to receive continuing recognition from AMBA for the quality of our MBA programme. We are also proud of our 40 plus years of membership of this community of leading MBA providers. Built on the strength of our research and the education and experience we provide for students, we will continue to innovate and refresh the MBA programme to reflect the latest business trends."
Benefits to students, past and present
Upon receiving AMBA accreditation, all current MBA students and alumni of Newcastle University Business School are invited to join AMBA's global member community for free. This community is made up of more than 60,000 students and alumni and provides opportunities for networking, thought leadership, career development, plus a variety of other benefits.
AMBA accreditation is international in scope and reach, and AMBA works under the belief that accredited programmes should be of the highest standard and consider changing trends and innovation in postgraduate management education. Its accreditation process reflects this commitment to fostering innovation, and demanding business schools to continually perform at the highest level.
Andrew Main Wilson, Chief Executive of the Association of MBAs and Business Graduates Association (BGA) said: "I would like to congratulate everyone at Newcastle University Business School for this re-accreditation. The School has been in the network since the 1980's and plays an important part of the AMBA family. It is continuously innovating and producing impressive students – who are recognised by employers."
Discover why you should choose Newcastle as the place to complete your MBA and learn more about the scholarship funding available.
Press release adapted with thanks to the Association of MBAs