Alumni Celebrations: Reconnecting in China
26 May 2023
250,000 Alumni members
Outside of the UK, China hosts the largest Newcastle University Business School (NUBS) community who are going on to achieve amazing things.
As part of the School's (and University's) mission of 'education for life', we aim to create meaningful opportunities for our alumni community. This includes the creation of networks and career development opportunities.
This is why, in April 2023, the Business School travelled to China alongside NU Advancement to reconnect with our alumni community, celebrate welcoming our 250,000 alumni members, and start scoping out what the future might bring.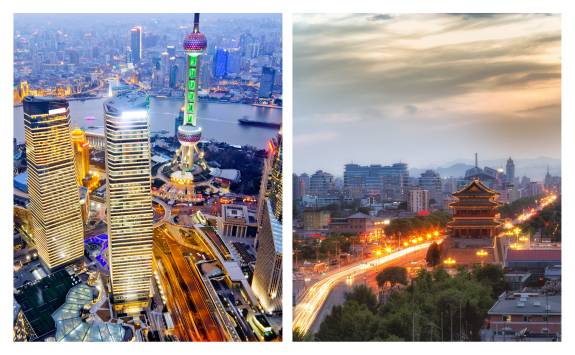 A week in China
Rebecca Stobbs, Alumni Relations Manager at NUBS, documented her visit to China and what the Advancement team experienced during their stay.

Q: Rebecca, do you want to visit our alumni community in China?
A: Always!
And just like that, my trip to China became a reality. Join me on my week-long visit across the world.
Thursday 20 April
5265 miles, 2 flights and a 20-hour journey, separate me from our 6,700 strong alumni community in China. But alas, that was never going to put me off, in fact, it made the journey more exciting!
As the excitement builds, so does the realisation that this is a mammoth journey to do on your own. Luckily for me, I am joined by our International Alumni Officer, Laney Wang, who becomes my trusted companion during the trip.
The journey showcases the dedication of students to study at Newcastle, many who are visiting the city for the first time and leaving their family behind. It gets me thinking about what we can do during induction to support our students.
Friday 21 April
We finally arrive in Shanghai - the first of our two cities. With the 7-hour time difference we arrive mid-morning Friday, while the UK is still fast asleep. Luckily for me, I managed to sleep on the plane, meaning I have avoided jet lag and am raring to go!
Never ones to sit on our laurels, we get to work straight away. Our home in Shanghai is where we will host our events, meaning we are able to start preparing for the days ahead. Making sure everything is perfect for our 150 guests, excitement continues to build knowing I will shortly be meeting those who, in my 5-year tenure, I have only talked to but never been able to meet in person.
As evening descends, I explore the Pudong district, as well as join Laney for our evening meal.
Saturday 22 April
It's finally time to celebrate as we begin welcoming our graduates to our 250,000 alumni celebration. Why 250,000? Last year we welcomed our 250,000 alumni members to our community, a milestone to be honoured. In recognition, there have been events across the globe, and it is now time for Shanghai.
As the event kicks off, I am able to meet NUBS graduates, including those that studied Finance, International Business Management and MBA. It is at this point we discuss activities for the future, from careers fairs in Shanghai to online webinars, we assess what might work best in the city. We then turn our attention to capturing our memories through the live photo album.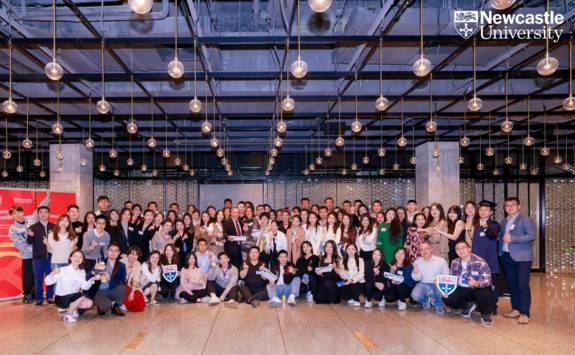 Pro-Vice-Chancellor, Professor Richard Davies, joins us for our celebration events in both Shanghai and Beijing. Richard is the PVC for Global and Sustainability and connects with our graduates throughout the event. Our guests build their networks as they share their goals and ambitions with one another. As I spend a lot of time with the School's Careers Consultants, I can't wait to share this news with the team. After all, it is one of the most pivotal pieces of advice the team gives - to use your networks.
As the event draws to a close, I head to a dinner with a few of our graduates. Many of those joining me for dinner, I have known for years but not been able to meet in person – today is that day. I couldn't be happier!
The eight of us reminisce about Newcastle University. Topics include what brought them to Newcastle (who knew football had such a big part to play), how we can support their development, and what the future could look like.
Sunday 23 April
Sunday is the one day I don't have anything planned so I decide it is time to explore the city. Embracing suggestions from alumni, I start with a (rather windy) run along the river, smug in the knowledge my exercise quota for the day has been met.
Following breakfast, I take a slow meander to The Bund via the Sightseeing Tunnel - a short but colourful means of transport across the river. Is it now that I admit the journey took me much longer than needed after getting lost?
Once over, I stroll around local parks, visit markets and view Yu Gardens from a distance. Alas, the fun cannot last, so I decide to head back to the hotel via a detour to glimpse the Financial Tower and Oriental Pearl TV Tower.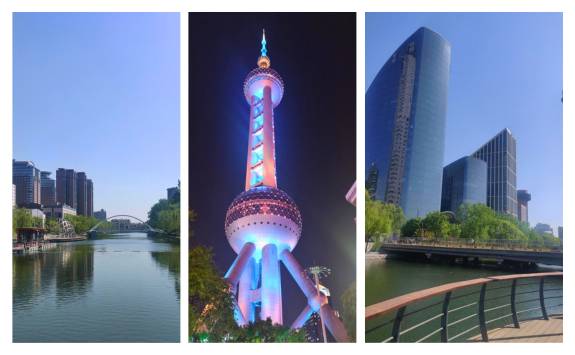 Monday 24 April
Time to travel to Beijing! An early start for us to make our flight on time and everything goes without a hitch. We arrive in our hotel/venue by mid-afternoon and once again settle down to prepare for the next day. Both our venues were recommended by our colleagues in the International Office, and once again we have been spoilt! The excitement is building once again.
Tuesday 25 April
It is time to welcome our graduates from Beijing to our celebration event.
Like Shanghai, I have the privilege of meeting graduates who I have spoken to before, as well as those who have joined us for the first time. It is a great mix in the room, including graduates from December 2022.
As we get to know one another, our conversations range from industry insights to what we like to do outside of work. From half marathons, to studying MBA's our community is diverse, dynamic, and ambitious to say the least.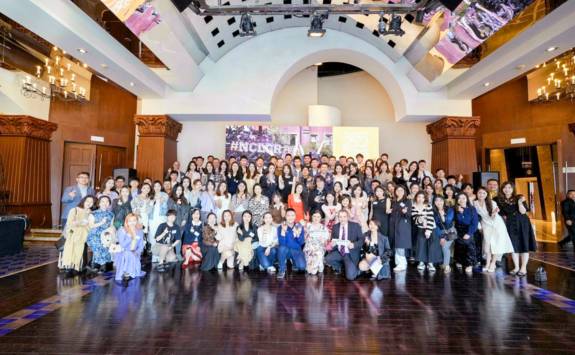 At both events, guests had the opportunity to win Newcastle University goodies, including the very popular Percy the Lion bear. Could you have won? Well, if you know how tall the Chinese Arch in Newcastle is, you would have been in with a chance to win.
As night descends, I say goodbye to those who have taken the opportunity to join us, with a promise to stay in touch. It is at this stage that Laney and I say goodbye to our International Recruitment Officer, David Ru. David has been an immense help throughout the trip, and we hope to see him when our global teams visit the UK in July.
Wednesday 26 April
It is time to spend some time with our NUBS graduates in Beijing. From recent graduates, to seasoned volunteers, it is a great evening of conversation, food, and reminiscing.
Again, we talk about all things Newcastle, public affairs and how Newcastle University can raise its profile in China. With it being a working night, we say goodbye to allow the team to get home swiftly, in what otherwise would be very busy Beijing traffic.
Thursday 27 April
And just like that my time in China is over and it is time to start the long journey home, which ends up taking 24 hours door to door. I was fortunate to speak to fellow travellers during the journey home.
From those working in Higher Education, to those embarking on further study, it was great to connect with people from all walks of life. By the time I arrive home, it is safe to say I went straight to sleep, remembering all the great times we had as a community.
#WeAreNewcastle