My journey to the Business Accounting and Finance programme- Maddy Beaumont
4 May 2022
Where it all began
My parents have without a doubt been my biggest influence and proudest supporters; with my mum having background in banking and my dad owning his own business I have always had an interest in what they were doing. As a child I was eager to help my dad, I remember going into the office with him and following him around. He used to let me sit and shred paper, then eventually I was allowed to help him with inputting data into spreadsheets. Looking back, it was probably the start of my interest in accounting and finance.
The perfect degree subject
When it came to applying to university, I wasn't certain about what I wanted to study; I looked at lots of different degree programmes and after writing many pros and cons list, I decided that accounting was the best fit for me. I knew that I was a 'numbers person' and I knew that I wanted to do a vocational degree so that I could learn skills directly related to work. The deciding reason for me was that I liked the idea of always learning new skills and then using those to help businesses develop.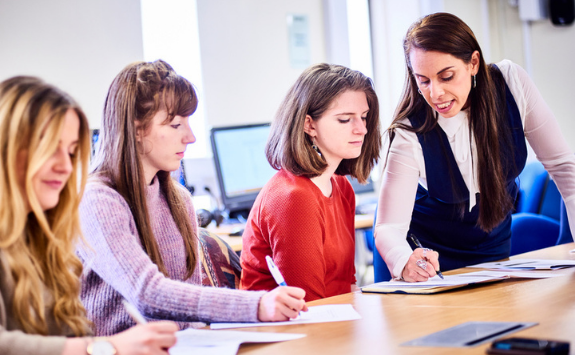 Application process
From the different programmes I applied to, the Flying Start was my favourite and the one I was eager to get a place on. I was keen on the idea of placement opportunities and the balance of study with work. There are no other degrees like it. The interview process was daunting, and I was worried that having not studied Business or Accountancy at A-level would put me at a disadvantage. This was far from the case, and I soon received an offer. It was an easy decision for me to put Newcastle as my first-choice university. The Business School has a strong reputation and supportive staff, whilst the city itself is lively and friendly.
My advice
My experience on BAF (Business Accounting and Finance) so far has exceeded my expectations, I felt welcomed from the very start and the small cohort meant it was easy to get to know everyone. The course is predominantly male. However, from the outset everyone was equal, and I have never felt a divide. On BAF we have several female lecturers who are inspiring role-models; they often talk about their industry experience and provide advice. For any girls considering a career in accounting and finance, I would strongly encourage you to take the leap. Organisations now have growing numbers of strong women in finance, and I look forward to joining them on my placement next year.
For any girls considering a career in accounting and finance, I would strongly encourage you to take the leap.