Business School has achieved Bloomberg Experiential Learning Partner (ELP) Status
6 June 2019
Newcastle University Business School is proud to announce that we have achieved the status of Bloomberg Experiential Learning Partner (ELP).
The Bloomberg ELP program is designed to recognise and celebrate academic institutions that are leaders in experiential learning through the integration of Bloomberg Terminal exercises into their curricula. Through the ELP Program, Bloomberg is building a community of peer universities and professors that provide their students with innovative courses to build their financial market awareness and career readiness.
Bridging the gap between classroom and industry
Dr Grega Smrkolj, Lecturer in Economics, who oversees the ELP program, said: "The latest Complete University Guide 2020 ranks our Economics and Accounting and Finance degree as top 7 and top 3, respectively, in the UK for graduate prospects. This latest Bloomberg recognition is another example of our School's dedication to bridging the gap between classroom and industry, and highlights how we continue to prepare students for the future of work".
The Bloomberg Financial Lab at the Business School currently hosts 20 Bloomberg Terminals through which students and lecturers can access cross-asset, real-time data and historical time series analysis in all markets, including foreign exchange, equity and fixed income.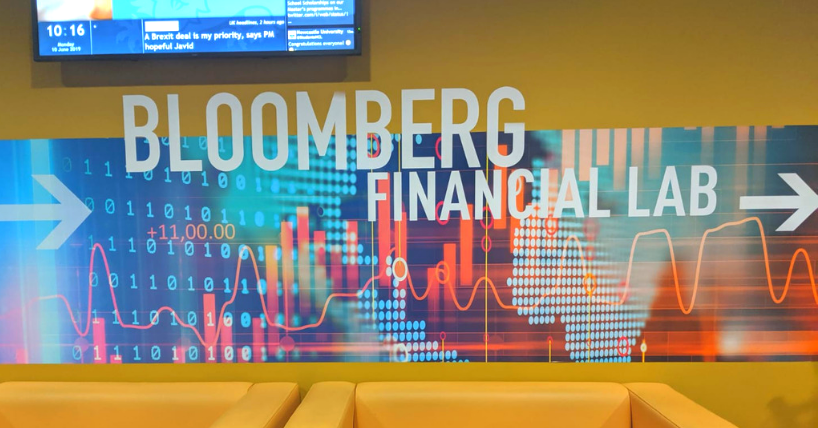 Adding value to students' resume
Today's graduates must be both intellectually and technically savvy to succeed in the job market. An important part of the ELP program is the foundational Bloomberg Market Concepts (BMC) certificate. BMC, which is freely available to all our students, is a 10-hour, self-paced e-learning course that provides an interactive introduction to the financial markets. It consists of five modules:
Economic Indicators
Currencies
Fixed Income
Equities
Getting Started on the Terminal
Today's graduates must be both intellectually and technically savvy to succeed in the job market.
Modules are woven together from Bloomberg data, news, analytics and television. By working through foundational content with concrete learning outcomes supported by case studies and examples from the gold standard market data platform, students gain practical knowledge, while the certificate of completion they obtain adds value to their resume.