MBA: Business in Action week helps businesses overcome challenges
1 April 2022
About Business in Action
MBA: Business in Action is a two-week long experiential learning module that encourages students to put theory into action. It's an opportunity for students to learn about life as a business consultant across several sectors. This year's MBA cohort is comprised of 35 students from nine different nationalities, each with an average of six years of managerial experience already in their toolkit.
The overarching theme of Business in Action was sustainability and digital transformation. Under this umbrella, they were invited to meet a variety of local, national and international businesses, ranging from world banks to wearable fitness technology.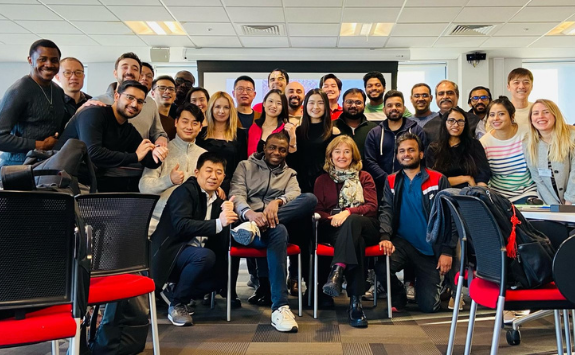 MBA student, Runa Ghosh, spoke of her experience: "It was two weeks of intense and highly engaging 'business in action'. In these sessions, we were applying theory to solve real-time business problems. We learnt about management consultancy, networking, hydrogen economy, CBDC, stock picking, data analytics in media, sustainability and much more. It was an opportunity that was both enriching and exhilarating."
Finding solutions for business challenges
As part of the experience, the MBA students took part in a case competition set by Northumbrian Water Group (NWG). The students toured Stanley South in County Durham with the Wear Trust to learn about how climate change is negatively impacting the community and the challenges around stakeholder engagement.
This set the scene for the case competition, where students worked in teams to develop solutions to the challenges NWG were facing. Presenting to a panel of judges, NWG gained insight from MBA students from different backgrounds and industries, receiving a plethora of results to take away and implement in the organisation.
NUBS alumni giving back
Seven NUBS alumni were among the participating businesses. This included Neal Edmondson, Associate Director within the Strategic Consulting division at Jacobs. Neal studied his bachelor's and master's at Newcastle University and enjoys giving back to the University.
Neal explained: "It was a pleasure to take part in the MBA: Business in Action week. As a Newcastle University alum, I saw it as an opportunity to not only enhance the growing relationship between Jacobs and the Business School but also to repay some of the positivity I received from external speakers during my own MBA. It was a fun afternoon feeding off the energy of the enthusiastic students."
It was also great to receive so much interest in Jacobs which was backed up by many LinkedIn connection requests and a number of applications for our current vacancies.
In the session with Jacobs, they learned about the role of a business consultant in a large firm compared to a start-up. The students were able to tap into Neal's wealth of experience and ask questions about what it's like to have a career as a professional consultant.
How our students can support your business
Being part of our immersive MBA at Newcastle University provides learners with real business experience and the likelihood of becoming part of the next generation of leaders. As Runa explains, our students learned so much from the experience: "My two most important learnings from this experience are to approach a problem with an open mind and how to effectively work in a team when time is not on your side."
At the same time, our corporate partners play a role in consolidating student learning through real challenges faced by businesses today, while benefitting from helpful recommendations through their hard work and research.
If you are interested in our MBA, you can read more about the modules, entry requirements and how you can apply to be a part of our 2022/23 cohort on our website. If you would like to get in touch about participating in similar future projects as a corporate partner and making a difference to our student's futures, please send us an email.
As a university, we are committed to sustainable business development and work closely with our partners and students to move into the future together.
Participating businesses
Blackfriars Restaurant
BlackRock
Boiler Plan
Cormirus
The Environmental Agency
Groundwork
HSBC
Iremia Technology
Jacobs
Lloyds Banking Group
MediaCom
National Innovation Centre for Data
NetKno
Newcastle Helix
Northumbrian Water Limited
Ouseburn Trust
Sage Group
Seven Stories
Sherry Coutu CBE
Wear Rivers Trust