Business School academics take part in first paper hackathon
12 October 2021
Academics from across the Business School recently took part in an intense five-day 'paper hackathon', a facilitated event helping participants focus on writing the first draft of a new paper, distraction free.
Supporting the research community
Dedicating time to writing a research paper can be challenging when surrounded by everyday distractions such as teaching, marking and applying for new grants and funding.
Being active academics themselves, Dr Benjamin Bader and Dr Robin Pesch, both senior lecturers at the Business School, had been thinking about running an event to support colleagues in the research community to get published in academic journals.
Dr Benjamin Bader explained: "I'd seen other paper hackathons and we agreed we'd loved to have been participants in an event like that. So, we saw the gap and decided to organise our own."
What is a 'paper hackathon'?
Running from 20 – 24 September 2021, the event asked participants to dedicate five full working days. In return, they would receive not only the space to work on their paper but also an inspirational series of talks from high-profile academics and other informative sessions.
With daily talks from guest academics, who shared their publication experiences and discussed their successes and failures, the programme included:
Michael Gielnik, Professorship for HR Development at Leuphana University, Germany
Stacey Fitzsimmons, Associate Professor of International Business at Gustavson School of Business, University of Victoria, Canada
Matthias Baum, Chair of Entrepreneurship and Digital Business Models at University of Bayreuth, Germany
Dana Minbaeva, Professor of Strategic and Global Human Resource Management at Copenhagen Business School, Denmark
Denise Rousseau, H. J. Heinz II University Professor of Organisational Behaviour and Public Policy at Tepper School of Business, Carnegie Mellon University, USA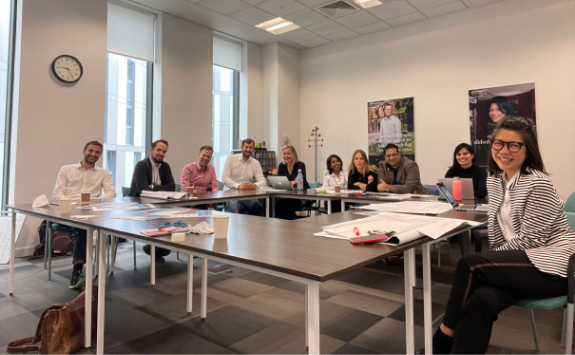 Benjamin and Robin also delivered sessions on how to prepare submissions and communicating with journal editors and reviewers.
The main purpose of the event though was to give the participants the space and time to fully concentrate on writing the first draft of a paper. Some participants used the event to work on a revision and refining an existing paper.
After the talks, the organisers provided quiet areas and breakout rooms for dedicated writing. The group reconvened each day to discuss the writing process and the barriers they faced during the task.
The result
The aim was not to have a journal-ready piece of work but to have a solid first draft that could be later polished and finally published. Most of the participants started the event not knowing what to expect but finished the week with a paper draft.
As well as learning that most academics face the same obstacles when writing, the event uncovered the importance of making time for research and the need to 'just do it'.
The speakers told different stories, but in the end, the outcome was the same. It is normal to suffer rejection and failure on the way to success.
"The event was about giving researchers the space to get their heads down and switch off from distractions. Only you can define your own successes. Only you can get it done. But you're not alone and you can get the support you need to progress." Benjamin said.
One participant commented: "The Hackathon was a great start to the new academic year. It provided an excellent opportunity to concentrate on my research project but also to meet colleagues in person after such a long time of remote working."
Benjamin and Robin wanted the event to be as inclusive as possible and it was open to all academics, researchers and PhD students in the Business School. They hope the hackathon will become an annual event and it will inspire others to arrange their own events to support the research community.