Sustainable start-up educates students on marketing edible insects
16 March 2022
Taking edible insects mainstream
As part of the Strategic Marketing module and the Digital Marketing module for undergraduate and postgraduate marketing students, Leo Taylor, CEO and Co-Founder of Yum Bug, was invited to deliver two guest lectures. Through these lectures, Leo shared how the business started and how it's grown to where it is now.
Yum Bug is a London based start-up on a mission to make edible insects mainstream, as one of the most sustainable protein sources in the world. In 2021 they launched the world's first insect cooking kit to make it easy to cook sustainable, healthy, and delicious insect meals at home.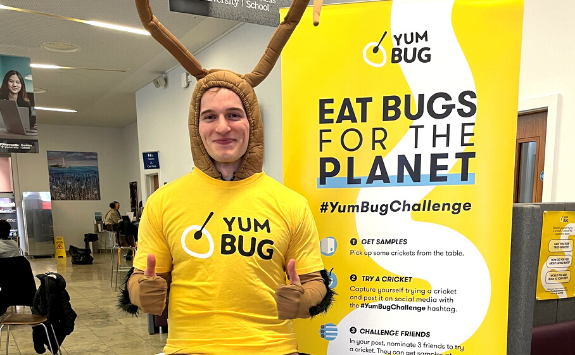 A real-world case study
During the lectures, students benefitted from getting real-life insights into the start-up's digital strategic marketing planning and roll-out of their business objectives. As an innovative and pioneering start-up, the students learnt about original approaches in the industry and could apply what they had been taught in the module so far.
"The biggest benefit for me was seeing what we are learning and how we can practically apply it in the real world," explained James, International Marketing MSc student. "It's not just us being lectured to saying, 'this is how it's done'; it's seeing how a business has used the theory we've been taught for growth."
As well as seeing how the theory is applied, the lecture experience also engaged students by participating in and creating a part of the #YumBugChallenge campaign. As part of the newly launched campaign, NUBS students and staff were given sample packs of insects and were encouraged to try them, create content, and nominate their friends to take part.
Sharing innovative thinking
Yum Bug CEO Leo Taylor commented on his visit to the Business School: "It was wonderful to meet the students and share our journey as a start-up. We aren't marketers by training, so it was great to share our thinking with students around the difficult problem of getting the West to adopt eating insects – and to have our thinking challenged in return."
It was Dr Klara Scheurenbrand, Lecturer in Marketing, who invited Yum Bug to present to the marketing students.
"I want the students to learn not only from me but from a real-life example of a business activating their business goals with digital marketing. Yum Bug is young and dynamic and what they're doing fits perfectly with what I am teaching. The fact they focus on sustainability too means in one case study, we are drawing together some important themes for the students."