Economics
An internationally-renowned economics community known for its primarily applied research.
About our research community
The Economics community is well-known internationally for its primarily applied research. Our vibrant research environment is built around a range of activities:
weekly seminar series hosting academics from the UK and abroad
internal brown-bag seminars
a seminar series and annual conference for PhD students
discussion paper series
Our academics are producing world-leading research and contribute to several research projects funded by research councils and international organisations. They collaborate widely within the University and externally. Our applied research informs and influences policymaking within the UK and throughout the world.
The group also maintains the Newcastle Experimental and Behavioural Economics Lab.
We have an enthusiastic group of PhD students. The PhD Programme comprises advanced economics training in the first year, alongside more general research modules run by the Faculty of Humanities and Social Sciences.
People, markets and firms
The group has contributed significantly to interdisciplinary research with national and international reach. It leads the Creative Industries Policy and Evidence Centre and the University's Centre of Research Excellence (NUCoRE) on Healthier Lives.
In applied microeconomics, our research has looked at the evaluation of benefit reforms, immigration, industrial relations, procurement, the impact of terrorism, education policies, labour, and development.
Research in macroeconomics has investigated the role of monetary and fiscal policy, banking and financial stability, and open economy macroeconomics.
Our international economics research has contributed to the debate on firm heterogeneity, trade policy and foreign direct investment location.
For further information, please contact Dr Smriti Sharma.
Economics of safety, health, environment, and risk (ESHER)
ESHER is an applied welfare economics research group. We focus on individual choices and behavioural changes in the context of public sector provision of public goods within the broad areas of environment, health, transport, and safety. The group's research has a long-standing international reputation and a strong policy impact in mortality and morbidity risk valuation. The research provides the reference values for publicly funded project appraisals (HM Treasury; DEFRA – Department for Environment, Food and Rural Affairs).
Our research relies on the most up to date techniques (some of which we are personally responsible for developing) in terms of methodology, experimental design techniques and analysis. Care is taken to ensure that our data can be interrogated, analysed and interpreted for both academic and policy purposes. Ensuring methodological advancement is the guiding principle behind our research.
Publication in academic journals provides both us and user bodies with an independent quality assurance of the rigour, robustness and relevance of the research.
Impact
Much of this research has translational impact.
Perhaps the strongest example is the inclusion of the Newcastle approach in HM Treasury's 'Green Book'. Most recently, a new research report from the UK Health and Safety Executive (2016) outlines the updated method for valuing risks of cancer fatality, based on our research.
The impact has been extended internationally to the European Commission (air pollution), and more recently we have worked with the European Chemicals Agency and OECD.
In 2014-15, one of our group members was awarded a Visiting Research Fellowship at the Treasury, New Zealand. A current, ongoing initiative following on from this involves developing a new, theoretical framework for environmental risks.
Interdisciplinary research
Mixed method approaches have been applied in our mortality and morbidity valuations projects in which the team has often comprised psychologists as well as economists.
We also have a growing expertise in behavioural economics, of importance going forward, given the increasing interest in designing public health programs to incentivise behavioural change. Research into health and most recently oral health inequalities has been carried out in collaboration with medics.
Recent examples in the environmental domain include sustainable deltas through the GCRF Living Deltas Hub, a current application of water resilience to NERC (Natural Environment Research Council) and health effects of climate change in collaboration with the Department of Health and Social Care.
For further information about this theme, please contact:
Newcastle Experimental and Behavioural Economics Lab
The Newcastle Experimental and Behavioural Economics Lab is a state-of-the-art research facility for conducting studies in experimental economics and economic psychology and allows testing economic theory, measuring preferences, pre-testing policy interventions.
The lab has 36 participant workstations with privacy screens, two experimenter workstations and a full suite of experimental software packages are available.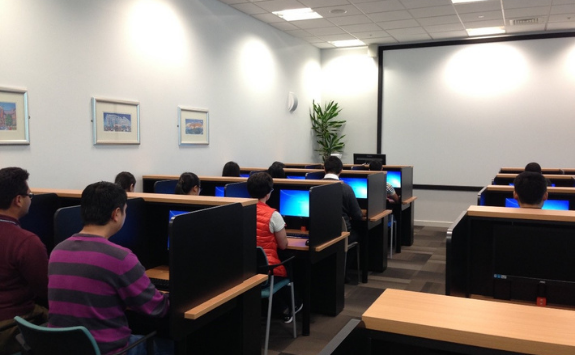 In addition to the research facilities, we offer weekly lab meetings attended by a multi-disciplinary group of researchers who conduct experimental research and are based in different faculties across Newcastle University. We also welcome external expressions of interest.
The Lab is located in NUBS.2.01. For further information, please contact Dr Till Weber.
Current projects
Centre of Excellence for Policy and Evidence in the Creative Industries (CEPEC)
Funder: Arts & Humanities Research Council-AHRC (formerly AHRB)
Start date: September 2018
End date: July 2023
Co-investigators: Giorgio Fazio (Economics), Jonathan Jones (Economics), Sara Maioli (Economics), Jonathan Sapsed (Innovation, Enterprise and Digital Business)
GCRF Hub 'Living Deltas'
Funder: Natural Environment Research Council (NERC)
Start date: February 2019
End date: February 2024
Co-investigators: Sue Chilton (Economics), Darren Duxbury (Accounting and Finance), Smriti Sharma (Economics)
Estimating the Influence of Headteachers
Funder: Nuffield Foundation
Start date: January 2020
End date: January 2022
Principal investigator: Nils Braakmann
Find out more about this project.
Enhancing the Effectiveness of Vocational Education in Vietnam
Funder: Danida Fellowship Centre
Start date: April 2021
End date: March 2023
Principal investigator: Smriti Sharma
Find out more about this project.
Empowering women's craft collectives in Rajasthan (India)
Funder: International Initiative for Impact Evaluaiton
Start date: July 2021
End date: June 2024
Principal investigator: Smriti Sharma
Find out more about this project.
Public perceptions of the health risks of climate change and priorities for action
Funder: NIHR Public Health Policy Research Unit
Start date: April 2020
End date: March 2022
Investigators: Susan Chilton and Jytte Nielsen
Find out more about the project.
The effect of terrorism on public attitudes and individual well-being in Great Britain
Funder: ESRC Secondary Data Analysis Initiative
Start date: June 2021
End date: May 2023
Investigator: Harry Pickard
Internationalisation of rural firms
Funder: Research England (through the National Innovation Centre for Rural Enterprise)
Start date: March 2021
End date: August 2023
Investigator: Sara Maioli
Public preferences for multi-cancer early detection tests (MCED)
Funder: NIHR Applied Research Collaboration North East and North Cumbria
Start date: December 2021
End date: December 2023
Investigator: Jytte Nielsen
Previous projects
ASEAN COP26 Policy Report
Funder: British High Commission Singapore
Start date: March 2021
End date: November 2021
Principle investigator: Atanu Ghoshray
Co-investigator: Marco Lorusso
Household economics in three-generation families. The role of intra-household altruism in the distribution of common resources for health care.
Funder: Polish Research Council
Start date: February 2017
End date: February 2020
Investigators: Susan Chilton and Jytte Nielsen
Fiscal Policy, Labour Market and Inequality: Diagnosing South Africa's Anomalies in the Shadow of Racial Discrimination
Funder: United Nations University World Institute for Development Economics Research (UNU-WIDER)
Start date: April 2020
End date: Novemeber 2020
Investigators: Marco Lorusso
A list of discussion papers
Luck in a Flat Hierarchy: Wages, Bonuses and Noise (PDF: 1.2MB)
John G. Sessions, Newcastle University Business School, UK
John D. Skåtun, University of Aberdeen Business School, UK
April 2022
Marriage Wage Premium with Contract Type Heterogeneity (PDF: 0.5 MB)
Roberto Bonilla, Newcastle University, UK
Miguel Á. Malo, Universidad de Salamanca, Spain
Fernando Pinto, Universidad Rey Juan Carlos, Spain

November 2021
Economic consequences of follow-up disasters: lessons from the 2011 Great East Japan Earthquake* (PDF: 1.7 MB)
Anastasios Evgenidis, Newcastle University
Masashige Hamano, Waseda University
Wessel N. Vermeulenx, Newcastle University
August 2020
A New Economic Framework: A DSGE Model with Cryptocurrency (PDF: 2.2 MB)
Stylianos Asimakopoulos, University of Bath
Marco Lorusso, Newcastle University Business School
Francesco Ravazzolo, Free University of Bozen-Bolzano and CAMP, BI Norwegian Business School.
July 2020
Find out more about our School's research