Masitano Sichone
Masitano Sichone, Electronic Business and Information Systems MSc, founded tech start-up Spareable in 2019 to enable individuals to donate and volunteer to their local food bank remotely, saving time and food waste.
About the business
Spareable
is
making a positive impact to food banks by
automating
their daily operations and
providing 25% more food
than regular donations
through the
distributi
on of
wholesale goods with long expiry dates
.
The app is
supporting thousands of users to make charitable
contribu
tions nationwide, with membership having grown significantly during the covid-19 pandemic.
With over 2000 food banks in the UK relying on donations and volunteers,
Spareable
is
playing a huge part in defeating hunger nationally
.
Masitano
,
winner of the Duke of York Young Entrepreneur of the Year Award 2019 and named a 'Top 100 Changemaker Defeating Poverty' by The Big Issue in 2020,
has plans to grow the business globally.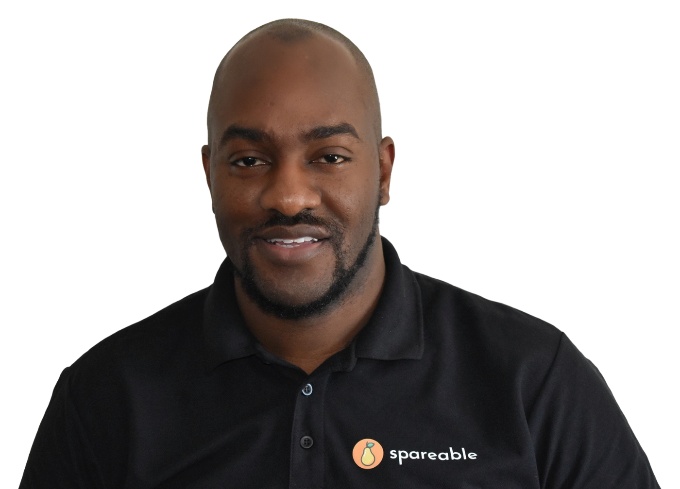 An interview with Masitano Sichone
What made you start your own business?
The idea came to me when I attended a START UP bootcamp in 2017, a student at the time. I won the bootcamp competition and refined the idea afterward whilst deciding if I should go ahead and do this or just find a job. I almost didn't do it because I thought I couldn't do it alone. I had the knowledge to do it, but I didn't know whether it would become a real product or just end up as a proof of concept. It was hard, just me myself working at home, trying to build an app I wasn't sure anyone wanted. Getting onto the START UP Founderships gave me the nudge I needed.
How did you innovate the idea for your business?
At the START UP bootcamp, I was told to look for big problems in society that tech could help fix. I was initially looking at an app to help prevent food waste but whilst researching we found the statistics about food hunger, which at the time told us that 6 million people in the UK used a food bank. I came here from Zambia in 2016 and didn't know there was poverty here or really what a food bank was. I thought the UK was a very developed country that didn't have such problems. After the bootcamp, I decided to volunteer.
I worked at Newcastle West End Food Bank from December 2017, in their warehouse packing donations, it was an eye-opening experience. I started to see that all the processes were manual, nothing computerised. After some time, I said to them, 'I think I can help you'. John McCorry, the Chief Executive, is a forward-thinking person and he said he'd prefer I work on the app. This, together with the Foundership, is what built this app to what it is today.
How did START UP Founderships help you advance your business?
I just thought I was a developer making an app but now I'm turning into something else. The mentors I got through the START UP Founderships and Ignite Accelerator programmes opened our minds to turn our app into a business and grow nationally. Now I want to get it to a point where Spareable is self-sustaining then look into another project in this same space.
What is next for you and your business?
Food poverty is a global problem. We are tackling it here in the
UK
but
our
solution can work globally.
We
are working with several foodbanks and through our generous app users have
bought and delivered
around 40,000 kgs of food. Slightly over 10,000 kgs of extra food was made possible thanks to our system's clever order aggregation, placement
and
fulfilment.
More recently we have
begun
to work with other charities helping them tackle other causes. We want to grow our business to become the
world's
leading platform enabling the public to
'spare' or
give to
good
causes whilst creating a bigger impact
for the cause, measuring and showing the impact made.
What do you like best about working for yourself?
I love the flexibility it gives you. Having worked for companies before, especially as a software developer, you're told what you need to do and there's not much room for experimenting. Working for myself has enabled me to test and build out my ideas, you can't do this in someone else's company.
What advice would you give for starting a new business?
Firstly,
you must understand yourself. What are your strengths, weaknesses, and skills? Do your skills cover some of the work required in the new business? Will you need people with skills that complement yours?
Secondly, you must understand
why you want to start the business.
Is it aligned with your personal interests and ambition? You are more likely to do well if you are passionate about your business.
Lastly, do your customer research, keep refining your business model, network with like minds, test the market and most importantly enjoy the journey.