A*STAR - Research Attachment Programme
Call for Expression of Interest – A*STAR - Research Attachment Programme – Newcastle University
Call for Expression of Interest
The Doctoral College, on behalf of Newcastle University, is supporting a call for Expressions of Interest in the A*STAR Research Attachment Programme, Singapore.
Calls for Expression of Interest
Calls for Expression of Interest are published twice per year:
November 2023 – for Nominations to A*STAR by 15 May 2024.
May 2024 – for Nominations to A*STAR by 30 November 2023.
Please make sure you have visited the A*STAR ARUP Programme website to familiarise yourself with the programme and the criteria for nominees. There is also further information and FAQs on the A*STAR programme in the ARAP Brochure (2 MB)
The A*STAR Research Attachment Programme is an excellent opportunity for current first and second year PhD students who wish to undertake a collaborative research project, spending time in Newcastle and in a Singapore, Government funded, A*STAR research institute.
Under this programme the successful awardee would spend one or two years at Newcastle University. They would then spend a minimum of one and a maximum of two years at an A*STAR Research Institute under the supervision of staff of the A*STAR Research Institute and Newcastle University.
Expressions of Interest to be considered as a nominee by Newcastle University are invited from Newcastle University registered first or second year PhD students and their academic supervisors by our internal deadline of the 17th January 2024.
All prospective nominees are required to hold a preliminary conversation with their academic supervisor in the first instance as supervisor engagement (or potential for engagement) in an area of research identified by A*STAR is an important pre-requisite.
Expressions of Interest will not be accepted from an applicant who does not have the active engagement and endorsement of their academic supervisor.
Pairs of supervisors in Newcastle and Singapore propose joint projects with the experimental work divided between the nominee's time in their Newcastle laboratory and their Singapore laboratory.
Computer Science student Burak
After completing the first two years of his research degree in Newcastle, he's now studying at the Agency for Science, Technology and Research (A*STAR) in Singapore.
Burak explains more about A*STAR, why he applied to the programme and how he thinks it will benefit his career.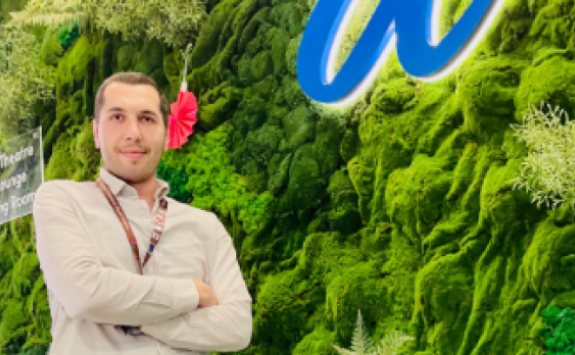 Eligibility criteria
We welcome applications from current first or second year Postgraduate Research Students in the following fields:
Research areas under the PhD programme fall broadly into four categories.

Please click the links below for the lists of supervisors and projects:
Further information can be found here A*STAR Research Focus (a-star.edu.sg). Please note that Research Focus areas may also include a Humanities and Social Sciences research areas.
Funding and Support
Students will receive:
A stipend and allowances whilst on attachment in Singapore – information can be found in the FAQs on the A*STAR website.
Training and support for their PhD in both Newcastle and Singapore, with supervisors in both locations
Opportunities to study at a prestigious institute in Singapore and experience life in another country
Opportunities to be part of a network of PhD researchers and establish international collaborations
Doctoral College A*Star Award - As part of the University's PGR Strategic Delivery Plan, the Doctoral College has funding available for one PhD student per academic year. The successful nominee for this award will receive fees and a stipend (equivalent to UKRI level) for their period of study at Newcastle. If you are interested in being considered for this award please indicate on the Expression of Interest Form.
We also welcome expressions of interest from sponsored students in the relevant fields. Applicants would need to be able to cover their costs for the period of study at Newcastle University. Sponsored students must also contact their sponsor to seek approval in writing that their sponsor will cover their fees and stipend for their period of study at Newcastle University.
Expression of Interest: Pre-application discussions.
The current arrangement for A*STAR ARAP nominations are considered on a case-by-case basis
Talk to your academic supervisor and discuss potential under the thematic areas identified as a priority focus.
The application process requires that your supervisor be in support of your expression of interest and submit an Expression of Interest form in support of your nomination. They must confirm that your research is at a high-quality to undertake the rigours of a period of study in Singapore, that they would support a period of outside study while in Singapore, and that there would be no adverse impact to the completion of your award.
Once your academic supervisor has been contacted, if they require further information, please direct them to the doctoralcollege@ncl.ac.uk. We will then arrange for a face-to-face meeting as required.
If sponsored, talk to your sponsor to check that they would approve in principle your collaborative project with an A*STAR laboratory.
Expression of Interest: Application and Decision Making Process
Expression of Interest Application Process
This is a two stage process with information required from both the student and their academic supervisor.
Student:
Once you have checked the compatibility of research area and secured the support of your supervisor and sponsor (if applicable), please complete the Expression of Interest Application online form.
Please note this EOI is part of the Newcastle University decision making process. As this is a collaborative nomination both parties in Newcastle and Singapore must agree to support and develop the nomination for a PhD supervisee to work in Singapore.
Applicants must also upload a copy of their CV and give a summary of the proposed research area, including potential research impact, outcomes, and outputs.
Supervisor:
Once you have checked the compatibility of research area and agreed with your student to nominate them for the scheme you need to complete the Expression of Interest Application online form.
You will need to add a covering statement as to the suitability of the student, their academic calibre, and what added value this research attachment would generate for the individual, your research field and the University
Decision Making Process
Expressions of Interest will be considered at a Cross-University Decision Panel which will meet twice each year. The next panel is scheduled to meet in August and the outcome will be notified to students and supervisors in early September.
Applications will only be considered if the Expression of Interest:

Meets the required high-quality academic performance threshold expected from this award. This will be evidenced through the students CV and application.
Demonstrates strong academic supervisor engagement on a collaborative research proposal. This will be evidenced by the academic supervisor's supporting statement.
Aligns with NU-A*STAR research areas
Demonstrates how the applicant will be supported financially during their period of Study at Newcastle University. EOI form will ask if you want to be considered for the Doctoral College Award.
The Decision Panel will make recommendations, and the Doctoral College will communicate their decision to the applicant and their academic supervisor, advising of next steps, and arranging a meeting to discuss next steps.
It is expected that the academic supervisor would be in liaison with their A*STAR counterpart to work on the collaborative research proposal.
If successful, awardees would need to apply for outside study and their student record amended accordingly.
The deadline for full submission to A*STAR ARAP is 30 November 2023.