Tamsin Rees
Doctoral Student in Creative Writing.
Email: t.rees1@ncl.ac.uk
Supervisors: Dr Zoe Cooper and Dr Helen Freshwater
Research Project Title: The possibilities of silence: contemporary narratives and the expression of female anger and desire.
Brief Outline of Research Project:
I am researching and writing two full length stage plays suitable for professional production. The first play I am currently writing asks questions about internalised misogyny, the stigma surrounding STIs, and differing generational perspectives towards sexual assault. This is explored through the social and sexual archetypes of three generations of women who come together in various roles at a sexual health clinic.
My critical research is investigating how silence, the female experience, and power are conceptualised in Portrait of a Lady on Fire dir. Céline Sciamma (2019), Supper Club by Lara Williams (2019), In the Dream House by Carmen Maria Machado (2020), and Stop Your Women's Ears With Wax by Julia Armfield (2019). This original scholarly contribution will investigate how subtext and silences function in these texts through props and non-verbal forms of communication.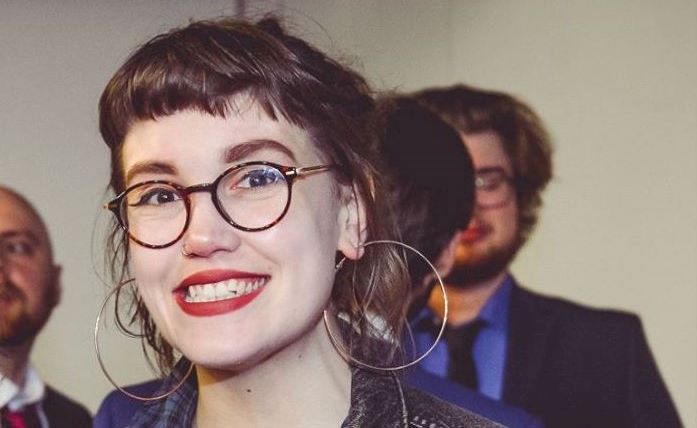 Research Interests:
Contemporary Theatre and Performance
Writing for stage
Silences and subtext
Sex and sexuality
The erotic
Queer Theory
Feminist Theory
Female anger and violence
Research activities
Written performances
I work as a playwright, researcher, script reader and mentor, with notable works including:
'Cheer Up Slug', dir. Anna Ryder, Live Theatre (October 2021)
'My Mate Ren', dir. Holly Gallagher, ACE funded (October 2020 - postponed to March 2022)
'Fledglings', dir. Emily Collins, Nuffield Southampton Theatres (October 2019)
'Clementines', dir. Joe Douglas, Live Theatre (December 2018)
'Teddy', dir. Anna Ryder, Durham Book Festival/NWN (September 2018)
'Fingerwank', dir. by Jonluke Mckie for Live Theatre, and Nel Crouch for Bunker Theatre (2017)
Funding and awards
Long listed for the BBC Alfred Bradley Award 2020
Northern Bridge Studentship Award funded by AHRC 2019-2023
Long listed for Old Vic 12 Playwriting Scheme 2018
Long listed for the Theatre503 Playwriting Award 2018
Newcastle University School Masters Scholarship Award 2018-2019
Newcastle University Brooks Johnson Prize for Drama 2018
Newcastle University Cowan Best File of Original Literary Work in Creative Writing 2018
Research groups and memberships
Orange Tree Theatre Writer's Collective 2020-2021
Associate Artist at Live Theatre
Member of the North East Playwrights
Member of the first Royal Court Writer's Group North 2018
Member of Newcastle University's Performance Research Group
Co-founder of "girls club!" an informal reading group on popular culture at Newcastle University
Academic background
MA Creative Writing, Newcastle University (Distinction)
BA (hons) English Literature and Philosophy, Newcastle University (First)