Toby Martinez de las Rivas
Doctoral Student in Creative Writing.
Email: t.j.g.martinez-de-las-rivas2@newcastle.ac.uk
Supervisors: Sinéad Morrissey, Sean O'Brien, Anne Whitehead
Research Project Title: The Body of the Poem: The Life, Death and Afterlife of Poetic Texts
Brief Outline of Research Project:
The project treats poems not as artificial – or even artful – machines, but as bodies that come into being, live and pass away, and researches these bodies as they move across surfaces and media. It imagines poems as ontologically separate from poets, editors and readers, and asks what such an approach can reveal about their lives as incarnate bodies in 'this' world.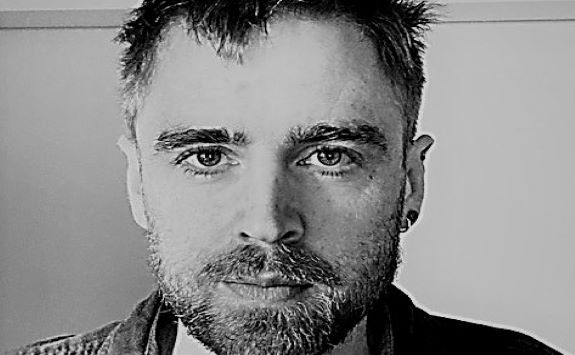 Research Interests:
Religious Poetry
Twentieth Century UK & US Poetry
Peoptry & Theology
Poetry & Materiality
'Shape' Poetry
Poetry & The Occult
Research Activities:
Publications
Books & Pamphlets
Toby Martinez de las Rivas, Black Sun (Faber & Faber, 2018)
Toby Martinez de las Rivas, Terror (Faber & Faber, 2014)
Rowan Evans, Geoffrey Hill and Toby Martinez de las Rivas, Penguin Modern Poets 7 (Penguin, 2018)
Toby Martinez de las Rivas, Triptych No.5 / Violent Trinity, limited edition letterpress (Guillemot Press, 2017)
Toby Martinez de las Rivas, Faber New Poets 2 (Faber & Faber, 2009)
Key Anthologies
ed. A. R. Thomson, Blackwell's Poetry No.1 (Oxford School of Poetry, 2020)
eds. V. Bean and C.McCabe, The New Concrete: Visual Poetry in the 21st Century (Hayward, 2015)
ed. N. Hamilton, Dear World & Everyone In It: New Poetry in the UK (Bloodaxe, 2013)
eds. T. Dolley and M. Kapos, The Best of Poetry London 1998 – 2013 (Carcanet, 2013)
ed. J. Byrne, The Wolf: A Decade (2002 – 2012) (The Wolf Editions, 2012)
ed. T. Swift, Lung Jazz: Young British Poets for Oxfam (Cinnamon Press, 2012)
eds. J. Byrne and C. Pollard, Voice Recognition: 21 Poets for the 21st Century (Bloodaxe, September, 2009)
Book chapters
Toby Martinez de las Rivas, 'Scant Theologies: W.H. Davies and the Figure of Christ' in ed. R. Waterman, W.H. Davies: Essays on the Super Tramp Poet (Anthem, 2021)
Placements and Funding
Northern Bridge DTP award 2018-21 cohort (AHRC)
Awards
The Renwick Travel Scholarship (British School in Rome) 2019/20 (Newcastle University)
The Wiener Library International Prize for Book Art (joint) (The Wiener Library), 2014
Australia Residency Award (New Writing North), 2013
Grants for the Arts: Research & Development/Time to Write (Arts Council UK), 2010
Faber New Poets (Faber & Faber), 2009
Andrew Waterhouse Award (New Writing North), 2008
Eric Gregory Award (Society of Authors), 2005
Research Groups
Word & Image Research Group
Creative Arts Research Network
Academic Background:
Durham University BA (Hons) First Class History & Archaeology
Website:
https://www.faber.co.uk/author/toby-martinez-de-las-rivas/