Caroline Rae
Doctoral Student in Literature.
Email: c.e.rae2
Supervisors: Dr Stacy Gillis and Dr Fionnghuala Sweeney
Research Project Title: Uncanny Water: Haunting the Northern Atlantic Periphery
Brief Outline of Research Project:
My research examines representations of water and the ocean in contemporary fictions of an area I have identified as the Northern Atlantic Littoral – rural and coastal spaces in Eastern Canada and the U.K. Responding to a call by scholars of critical ocean studies to 'put the ocean's agitation back onto our mental maps and into the study of literature' (Yaeger, 2010), I theorise 'uncanny water' as a figuration within contemporary literature. I posit that as writers evoke or inhibit the uncanny in relation to water, they reconfigure representations of the ocean beyond hitherto simplified narratives of it as vast, inexhaustible and sublime. Instead by utilising uncanny tropes such as ghosts and sea monsters, these fictions draw attention to the interconnection that humans and water have across time and space and seek to cultivate greater responsibility toward the planet's oceans in the Anthropocene.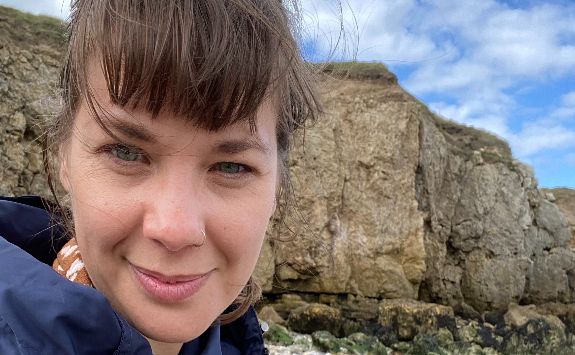 Research Interests
Feminist Theory
Blue Humanities
Transatlantic fictions
Posthumanism
Ecocriticism
Gothic fictions
Funding and Awards
2019-20 Robinson Library Bequest Bursary
2018-19, Robinson Library Bequest Bursary
2018, S.Y. Killingley Trust Scholarship
2017-18, Robinson Library Bequest Bursary
2017, S.Y. Killingley Trust Scholarship
2016-17, Robinson Library Bequest Bursary
2015, Prize: 'Best Postgraduate Student Abstract', Association for the Study of Literature and the Environment
Research Activities
Publications
Caroline Rae. 'Altering Subjectivities: Place and the Posthuman in Michael Crummey's Sweetland'. Studies in Canadian Literature (43.2)
Conference Presentations
February 2020, 'Plastic Ghosts and Haunted Shores: The uncanny ocean in Lucy Wood's The Sing of the Shore (2018),' Flows and Floods (Warwick University)
December 2018, 'Forgetting to Breathe': Water and fear in The Town That Forgot How to Breathe,' Wavescapes in the Anthropocene (Split University)
July 2017, '"Sense of place" in Creative Practice', English: Shared Futures
May 2017, 'Establishing New Ecologies: Place, Identity and the Transnational in Fiction of the Northern Atlantic Peripheries', Newcastle University Migration Showcase
Sept 2015, 'Rediscovering the Oikos: The Ecopoetry of High MacDiarmid', Association for the Study of Literature and the Environment
Conference Organisation
Sept 2017, Co-organiser, Anonymity (https://anonymityconference.wordpress.com/)
July 2017, Co-organiser, 'Changing Ecologies, Persistence and Possibility,' and 'The Interdependent Presence', English: Shared Futures
Public Engagement
Nov 2018 , 'Gothic Water and the Monstrous Reality of Interconnection' talk for 'Being Human', Festival of the Humanities and Newcastle University Humanities Research Institute (NUHRI)
Nov 2017, 'Relinquish Humanity'. Podcast for Shift + Signal with Alex Lockwood and The Newbridge Project. Episode #3. Available at: http://shiftandsignal.space/2017/08/01/episode-3-restore-wildlife/
June 2017, My Cousin Rachel, Tyneside Cinema Book Club
Research Assistantships
2019, Research assistant, The Complete Poetry of Ben Jonson
2016-17, Research Assistant, Writing the Wall: The Cultural Afterlife of Hadrian's Wall.
Teaching
2020 Transformations, Newcastle University
2019 Close Reading, Newcastle University
2019 PARTNERS Summer School, Newcastle University
2019 Transformations, Newcastle University
2019 Introduction to Literary Studies II, Newcastle University
2018 Close Reading, Newcastle University
2018 Get Ahead, Newcastle University
2018 Bitesize University, Newcastle University
2018 PARTNERS Summer School, Newcastle University
2018 Introduction to Literary Studies I, Newcastle University
2018 Introduction to Literary Studies II, Newcastle University
2017 Introduction to Literary Studies I, Newcastle University
Academic Background
MA English Literature, University of Amsterdam
MA (Hons) German and English Literature, University of Edinburgh
Website
LinkedIn - https://www.linkedin.com/in/caroline-rae-2b228953/