Research project title
The Sex Workers' Revolution: Prostitution, Feminism and 'Authentic' Virtue in Women's Writing of the 1790s
Supervisors
Dr Laura Kirkley and Prof Kate Chedgzoy
Contact details
Email: a.collinson1@ncl.ac.uk
Research interests
feminist literature and women's life writing in the 18th century
issues surrounding race, gender, and class
representations of sexual violence and consent
representations of female sexuality and sex work
representations of maternity and motherhood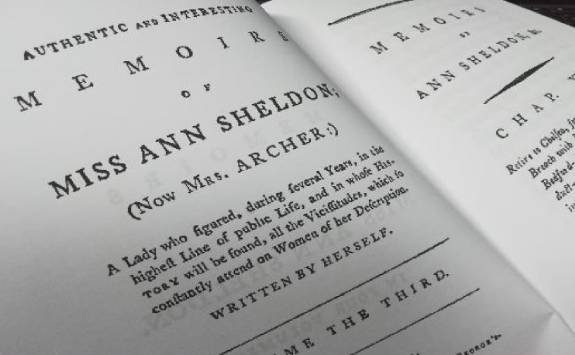 A brief outline of my research project
My thesis contends that revolutionary feminists were not the only female writers to intervene in the patriarchal domain of late eighteenth-century politics. It argues that sex workers — individuals impacted by converging factors of race, gender and class — made vital contributions to feminist discourses on women's nature and social role in memoirs and legal testimonies published during this period.
The perspectives of sex workers like Margaret Leeson and Anne Sheldon converge with, and complicate, those of Marie-Madeleine Jodin, Olympe de Gouges and Mary Wollstonecraft, writers who, in their quest to liberate women from social subordination, condemned female sexual expression, and perceived prostitutes as little more than symptoms of womankind's sickness under the weight of patriarchal hegemony. Sex worker writers challenge these ideologies by providing fresh, intersectional insights into female education, sexual agency, and male violence in this period.
This is a project of recognition, one that highlights the importance of listening to female voices from a range of backgrounds on the social issues that impacted women in the eighteenth century. Some of the most transformative, and fruitful, aspects of progress emerge from investigating elements of tension and discord between women's voices; by exploring these sticking points, I hope to enrich scholarship on the history of feminist thought with new, intersectional meaning.
Awards
As an undergraduate at Newcastle in 2018, I was awarded the Spence Watson prize for Best Overall Performance in Literature, having achieved the highest degree result for this subject in the School of English. I achieved a mark of 92% for my dissertation, Advocating Silence, Advocating Violence: Rape Culture in the Memoirs of Miss Arabella Bolton (1770), which was commended for the School of English's Dissertation Prize. I am currently revising this essay for publication in an academic journal.
I achieved a Distinction in my Research Masters (MLitt) at Newcastle, which was funded by the School of English's Masters Scholarship Award. My research projects, predominantly focused on the lives of eighteenth-century sex workers, included:
Harriot's Absence: Race, Gender and Sex Work in Nocturnal Revels (1779)
Stories of Shame: Virtue, Violence and Trauma in The Histories of Some of the Penitents in The Magdalen House (1760)
Making Pacts with the Patriarchy: Self-Possession and Subjectivity in An Apology for the Life of George Anne Bellamy (1785) and the Memoirs of Mrs Margaret Leeson (1795-97)
My PhD project is funded by an Arts and Humanities Research Council Northern Bridge Studentship.
Outreach
In 2019, I participated in an outreach project at Hotspur Primary School alongside Dr Stacy Gillis and Dr Ruth Connolly, which focused on the life and work of the seventeenth-century writer Margaret Cavendish. I led a team of undergraduate students in creating and delivering a workshop on feminism to year six students.
Research groups
Middle Modern research group
North East Forum for Eighteenth Century and Romantic Studies