The Battle of Dyrham AD577
The Battle of Dyrham AD577: an interdisciplinary conference
The Battle of Deorham is an event recorded in the Anglo-Saxon Chronicle for the year AD 577:
577 Here Cuthwine and Ceawlin fought against the Britons, and they killed 3 kings, Coinmail, Condidan and Farinmail, in the place which is called Deorham, and took 3 cities: Gloucester and Cirencester and Bath
Deorham is usually associated with the modern village of Dyrham in Gloucestershire. The battle has often been interpreted as a significant, defining event in the history of the Britain. It has been seen as a strategic blow that separated the 'West Welsh' of the south-western peninsula from Wales; it has been argued to have been a major event in the ethnic and linguistic landscape of early medieval Britain and as important evidence for the continuity of Romano-British urban life into the sixth century in the West Country. It has even been suggested that the 'battle' was a fiction, invented in later centuries to justify West Saxon expansion into Mercian territory in the Lower Severn Region.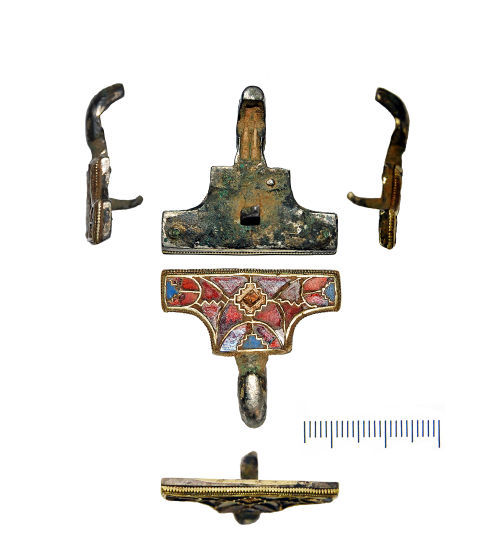 The aim of this interdisciplinary conference, organized by Dr James Gerrard (Newcastle) and Dr Alex Woolf (St Andrews), is to draw together experts in archaeology, history, linguistics and placenames in an attempt to better understand the late sixth-century context for this supposed battle and to critically evaluate the composition and significance of the entry in the Anglo-Saxon Chronicle
Speakers Include:
Dr Ali Bonner (Cambridge University) The 577 entry in the Anglo-Saxon Chronicle
Dr Morn Capper TBC (University of Chester)
Dr Mateusz Fafinski (Freie Universitat, Berlin) Making use of the past in post-Roman Britain: looking for a framework of the reuse of Roman infrastructure in southern Britain.
Dr James Gerrard (Newcastle University ) The Temple of Sulis Minerva, Bath in the late and early post-Roman period and the Battle of Dyrham
Dr Ben Guy (Cambridge University) Brittonic kings in Gloucestershire in the sixth or seventh centuries? The evidence of name forms
Neil Holbrook (Cotswold Archaeology) The Archaeology of Cirencester and Gloucester in the 5th and 6th centuries: does AD577 mean anything?
Dr David Parsons (University of Wales) Place-Names and the Battle for Dyrham
Dr Andrew Seaman (University of Cardiff) Late Antique Hillforts and Hilltop Settlement in the Dyrham Region
Dr Alex Woolf (St Andrews University) Imagining the Britons of Western England in the Sixth Century
Prof Barbara Yorke (University of Winchester) Ceawlin and Anglo-Saxon expansion in the late sixth century
The conference will be held online via Zoom on the Saturday 2nd April 2022.