Age of Samurai: Battle for Japan
Netflix's new docuseries
Streaming service Netflix premier a new docuseries today (Wednesday 24th February 2021). Described on the streaming platform as '[d]ynamic reenactments and expert commentaries bring to life the tumultuous history and power struggles of a warring 16th-century feudal Japan', the Age of Samurai: Battle for Japan is already receiving praise online from reviewers and samurai fans alike.
School of History, Classics and Archaeology's very own Dr Philip Garrett features on the show, appearing as a talking head to providing expert commentary on sixteenth-century Japan. Dr Garrett's narrative focuses particularly on religion and the role of monastic institutions as major political powers in an age of instability and endemic warfare. The image to the left shows a shot of Dr Garrett as a 'talking head', taken from the show.
Dr Garrett's own research interests concerns provincial life in medieval Japan, sacred space, belief, and organisational control. Among the modules he is teaching this year are HIS2140 A Survey History of Japan, HIS2309 Ideas and Beliefs in Medieval and Early Modern East Asia and HIS3351 Buddhism and Society in Medieval Japan.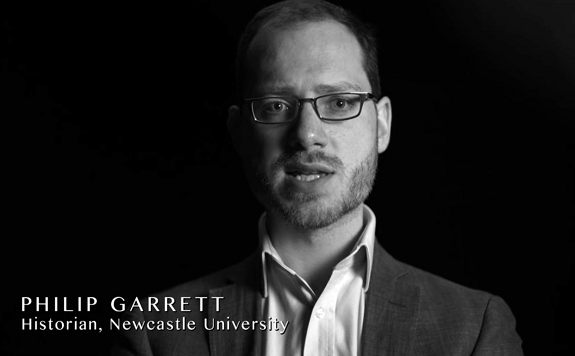 The series is available to stream on Netflix now.
Credit to Cream Productions Inc and Lane Dorsey for the images.