Project title
Cultural Heritage and Landscape Identity in the Tyne Valley: Participatory GIS for Landscape Archaeology
Supervisors
School of History, Classics and Archaeology
School of Architecture, Planning and Landscape
Queens University Belfast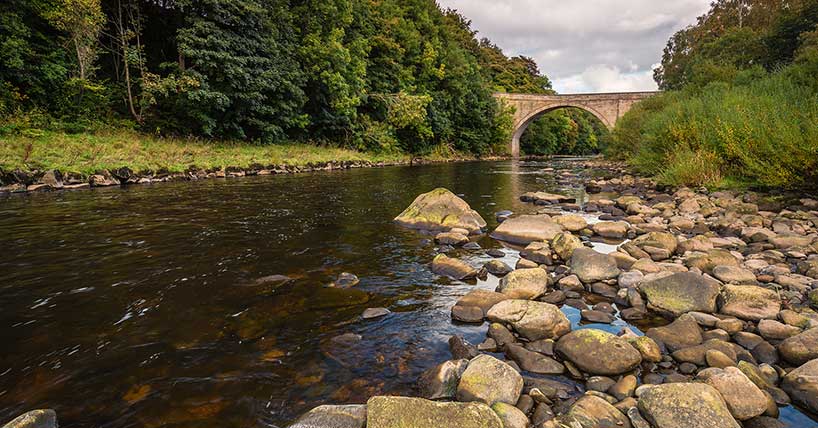 Project description
Cultural heritage and historic landscape management in the UK and in Europe are often 'top-down'. Experts develop tools and methodologies. They define heritage and generate ideas about the historic landscapes inhabited by communities. But management policies often neglect the perception of these communities. Policies do not take into account how communities perceive the historic environment. They do not account for the value a community places on its changing landscape heritage.
My research will develop a better understanding of the interplay between historic landscape change and 'landscape identity' in England. I will develop methods to underpin participatory management of landscape as cultural heritage. My research will consider how 'landscape identities' develop. I will explore the impact of landscape change, and whether it is possible to distinguish zones or types of identity through time and space.
In this project, I will develop a novel method to integrate people's perception of landscape heritage into existing GIS-based characterisation approaches. This will create a new tool for landscape archaeology. The new approach will enable communities to improve awareness of shared landscape identities. It will allow an examination of historic landscapes as cultural heritage.
In the long term, this will be beneficial for existing communities. It also has the potential to help new inhabitants and migrants settle in new areas by understanding these fundamental qualities more effectively.
Research grants
AHRC (Northern Bridge full-time scholarship) 
Conference organisation
(2014) CHeriScape I conference in Ghent 'Landscape as Heritage in Policy'  
CHeriScape II conference Amersfoort 'Landscape as Heritage in Research'
Session at Landscape Archaeology Conference (Rome, ITA): Seeing heritage through the lenses of landscapes
(2015) CHeriScape III conference in Oslo 'Landscape as community'
CHeriScape IV conference in Madrid - Title:'Facing Global Change through the lenses of landscape'
Session organiser at Cultural Sustainability COST Conference (Helsinki, FIN) - Title: Landscape as heritage, a central idea for the role of culture in sustainability?
(2015) CHeriScape V conference in Newcastle 'Landscape and Virtual future'
Conference papers
(2014) 12th International Conference on Urban History: Cities in Europe (Lisbon, POR) - Title: Integrating historic landscape research and spatial planning to develop a sustainable cultural heritage management in Flanders (Belgium)
ICOMOS General Assembly (Florence, ITA) - Title: The constructive interaction of landscape and heritage
PECSRL Unraveling the logics of landscape (Gothenburg, SWE) - Title: Heritage value of the landscapes in an urban context as base for integrated heritage management in Flanders (Belgium)
(2015) Annual Meeting of the European Association of Archaeologists Glasgow (UK) - Title: Views and perspectives: legacies of the past to shape the future
Invitational lecture:16th Council of Europe Meeting of the Workshops for the implementation of the European Landscape Convention, Andorra La Vella (AND) - Title: Cross border landscape characterisation assessment. Case Study: West Flanders and Nord-Pas-de-Calais
39th Session of the UNESCO World Heritage Committee in Bonn (GER): Observer invited by ICOMOS Vlaanderen-Brussel
Other roles
August-December 2013: Visiting fellow at School of History, Classics and Archaeology, Newcastle University
Historic Landscape Characterisation Project Tyne and Wear (English Heritage)
Wallington and Capability Brown Project
Historic Visual Characterisation: East Boldon
January 2014 - May 2016: Researcher at Geography Department, Ghent University
CHeriScape, Cultural Heritage in Landscape (JPI for Cultural Heritage)
Landscape and Heritage Assessment Nord-Pas-de-Calais and West-Flanders (Province of West-Vlaanderen and CAUE)
May 2016 - November 2016: Project coordinator at Kempens Landschap vzw
February 2014 - Present: Member of the Municipal Advisory Board for Spatial Planning in Damme
January 2016 - Present: Member of the board of directors ICOMOS Flanders/Brussels
Publications
Fairclough, Dabaut, Van Eetvelde (2014), The Constructive Interaction Of Landscape And Heritage, Conference Proceedings Icomos General Assembly (Florence, ITA)
Fairclough, Pedroli, Dabaut (2015), Seeing Heritage Through The Lens Of Landscape, Conference Proceedings Landscape Archaeology Conference 2014 (Rome, ITA)
Dabaut, De Graef, Geleyns, Godts, Selfslagh (2015), Negendertigste Bijeenkomst Van Het UNESCO Werelderfgoedcomité In Bonn, Monumenten en Landschappen 34(5)