Project title
The Material Culture of Children in Ancient Greece: An Interdisciplinary Exploration of Identity
Supervisors
Examiners
Dr April Pudsey (Manchester Metropolitan University)
Dr Mark Jackson (Newcastle University)
Completed 2021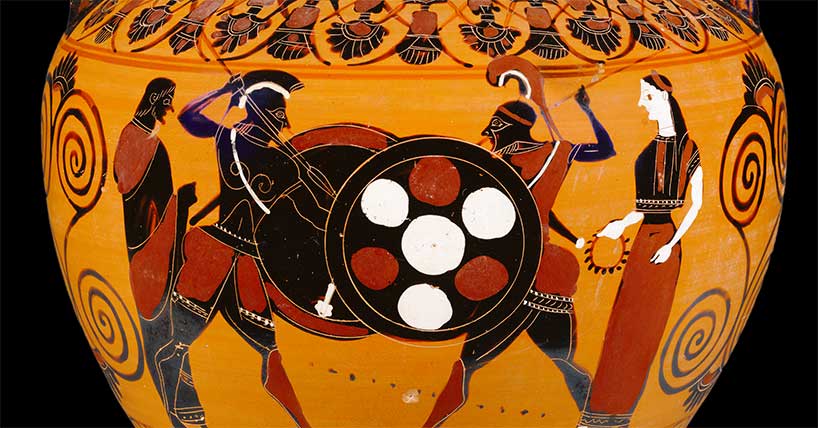 Project outline
My PhD research investigated the identities, material culture and social visibility of children in Geometric, Archaic and Classical Greece (9th to 4th centuries BCE). Drawing upon literary sources and archaeological and iconographic evidence I investigated children's identities throughout the ninth to fourth centuries BCE, to explore changes and development as the Greek polis system was established, and Athenian democracy developed.
In my thesis, I catalogued and analysed Geometric, black-figure, red-figure and white-ground painted pottery, as well as children's burials and carved marble grave markers, stelai. Through analysis of them, I identified material cultures of children and childhood that could be used to investigate children's identities as they were experienced in domestic contexts – wherein they have typically been overlooked in previous scholarship, dismissed as 'invisible' or 'inaccessible' – and across the extended life course. My research indicates childhood became an increasingly distinct stage in the ancient Greek life course throughout 900 to 323 BCE but demonstrates it does not necessarily follow that children became more visible in Attic society as a consequence. In some ways, children's identities, and the symbolism of them, remained constant; children were prized for the stability and continuity they represented, and they were appreciated for their role in perpetuating a society that increasingly acknowledged their place within it. Ultimately, I explored the suggestion that socio-political change primarily impacted children's lives and identities because of how it affected the agency of their family members, particularly their primary female caregivers.
My broader research interests include:
social identities, especially of juveniles and women
human-animal relationships in antiquity
iconography
material culture
household archaeology
artefact distribution analyses
the extended life course
Publications
Waite, S. and Gooch, E. (2018) 'Sandals on the Wall: The Symbolism of Footwear on Athenian Painted Pottery', in S. Pickup and S. Waite (eds.) Shoes, Slippers and Sandals: Feet and Footwear in Classical Antiquity. London: Routledge.
Other roles
Research Assistant [2022]: Shining a Light on Women and Children in Antiquity (Newcastle University/Tyne and Wear Archives and Museums, AHRC Capability for Collections funded project)

Module leader [2021-2022]: CAC1012: Greek and Roman Art and Archaeology (Newcastle University)
Qualifications
PhD Archaeology: Newcastle University, 2021 (A1)

MA Archaeology: Newcastle University, 2016 (Distinction)

BA (Hons) Ancient History and Archaeology: Newcastle University, 2014 (First Class)