Project title
Links to Late Antiquity: Understanding Contacts on the Western Seaboard in the 5th to 7th Centuries
Supervisors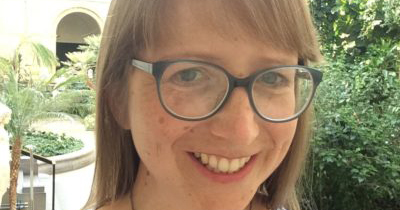 Project description
I am investigating imported Mediterranean pottery. The pottery comes from Late Antique sites in Britain, Ireland and on the Atlantic seaboard of continental Europe.
The 1950s saw the publication of excavations at Tintagel. This led to the recognition of the presence of Mediterranean imported pottery at Late Antique sites in western Britain. Recent projects have increased the amount of identified imported pottery found in British and Irish sites.
This study will offer a new synthesis of these imports. I will also consider the material fully in its wider continental and Mediterranean context. In particular, I will explore the traditional assumptions of direct trade with the East Mediterranean. New discoveries at recently published sites on the western seaboard suggest a more complex picture of this transport.
The thesis will consider whether imported pottery reflects previously unidentified networks. These trade networks may have existed between western Britain and France, Spain and Portugal in Late Antiquity. My analysis will consider the economic, political and cultural connections between the Atlantic seaboard and the East Mediterranean in this period of social transformation.
Comparisons of the ceramic assemblages are central to understanding the mechanisms of this transport. We need to compare the character and composition of British, Irish and Continental pottery.
I will further illustrate and interpret my conclusions using GIS mapping and network analysis techniques. The project will also integrate new research carried out in the Mediterranean. It will provide new understandings of the nature and origins of the material transported.
Funding
AHRC PhD Funding October 2011 – September 2014
Devon County Council Historic Environment Service research grant
Awards
John Dore Scholar 2009-10 - awarded by the Centre for Interdisciplinary Artefact Studies (CIAS) and the Libyan Society
Research projects
I have contributed to a number of research projects at Newcastle University.
Mothecombe Project
With Professor Sam Turner and Andrew Agate of Newcastle University and Steve Roskams of York University.
2011 - Senior supervisor for final year of excavations. This site in south Devon has revealed 5th/6th century occupation and imported Mediterranean pottery.
Pisidia Survey
Directed by Dr Lutgarde Vandeput (BIAA) and Dr Veli Köse (Hacettepe University)
With Dr Mark Jackson of Newcastle University.
2010 - survey and ceramic recording of Late Roman Red Slip Ware kiln sites in Pisidia, Turkey.
2011 - Ceramic processing supervisor for survey around ancient city of Pednelissos in southern Turkey.
Chassenon Project
With Professor Sam Turner and Dr Jane Webster of Newcastle University
2011, 2012 – Ceramic processing supervisor for a project investigating post-Roman and medieval settlement activity in the region of the Gallo-Roman sanctuary
Teaching
I have taught and will be teaching on the following undergraduate modules:
ARA2091 Archaeologies of the Roman Empire
ARA2100 Fieldwork Methods and Artefact Analysis
HIS1025 World Empires
I have worked as a commercial archaeologist. I supervised students from the University of Liverpool and Manchester University on various excavations.
I have worked on Newcastle University research projects in Britain, France and Turkey. I have trained students in archaeological excavation, site recording and techniques of ceramic processing and quantification.
Committees
21st Theoretical Archaeology Conference Organising Committee.
TRAC 2011 Proceedings Editorial Team.
School of Historical Studies Postgraduate Forum Secretary 2010-11
Publications
Joint editor: Proceedings of 21st Theoretical Archaeology Conference
Joint author: Preface to Proceedings of 21st Theoretical Archaeology Conference
Commercial experience
2002-2006 - Archaeological Supervisor and Finds Assistant, University of Manchester Archaeological Unit
Summer 2006 - Excavator, Çatalhöyük Research Project
2001 - Site Assistant, Liverpool Museum Field Archaeology Unit
Qualifications
BA Ancient History and Archaeology, The University of Liverpool 1999
MA Archaeology, The University of Liverpool 2001
MLitt Archaeology (Late Roman and Byzantine Ceramics), Newcastle University 2011
Interests
Roman and Byzantine ceramics
Roman red-slipped tableware
Roman and Byzantine food and dining practices
Trade and economy in Late Antiquity
Early Medieval south-west Britain