Project title
Engendering the Future: Divination and the Construction of Gender in the Late Roman Republic
Supervisors
Newcastle University
University of Erfurt, Germany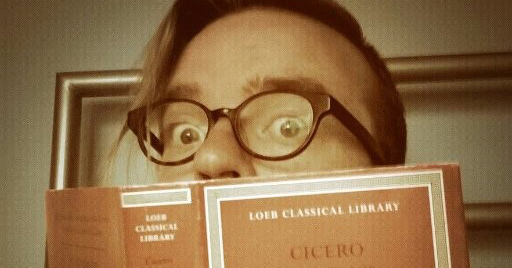 Project description
The Romans had extensive and, to some extent, embedded divinatory traditions. These underpinned their political and religious systems as well as wider society. They were often based on collegial positions and offices, rather than on particular individuals. This project looks behind these traditions to find the individual people involved in the practices.
The divinatory traditions seem impersonal. But they had specific, though often implicit, identity-based rules. They signalled who was 'allowed' to practice, and be successful at, divination.
Gender was a key identity marker, permeating all aspects of society. Perhaps surprisingly, it was not simply a case of excluding women from the divinatory scene. Instead, gender played a strong role in delineating the rules, rituals and traditions. It ensured that both the masculine and the feminine were integral to finding answers.
In this thesis, I take a case study based approach to uncover those rules of gender, as they stood in the late Roman Republic. From the political to the personal, divination was a way of gaining access to knowledge otherwise inaccessible. Both women and men negotiated it effectively.
Funding awards
Kolleg-Forschergruppe "Religiöse Individualisierung in historischer Perspektive", Universität Erfurt (Study abroad period) (2015-2016) 
Mirfield Educational Charity Grant (2012-13) 
Manchester Alumni Bursary (2012-13)
Conference papers
(Forthcoming) "An Intersex Manifesto: Naming the Non-Binary in the Ancient World" (paper) Society for Classical Studies Annual Meeting, University of Toronto ON (January 2017)
"First Person, Second Sight: the Sibyl, Apollo and feminine prophecy in the ancient world" (paper) Classics and Feminism VII: Vision, University of Washington, Seattle WA (May 2016)
"Dreaming Discourses, or: Is Artemidorus shouting into a void?" (paper) Classical Association Conference, Edinburgh University (April 2016)
"Whose line is it, anyway? Sibylline messages and the decemviral college." (paper) Annual Meeting of Postgraduates in Ancient History, Newcastle University (March 2016)
"Calpurnia and the Disruption of the Roman State" (paper) Leeds University's 6th Annual Classics Postgraduate Conference (June 2015)
"Calpurnia and the Disruption of the Roman State" (paper) Newcastle University's PGF 12th Annual Conference (May 2015)
"Faking Duty: The Spontaneity of P.Ryl. 28." (poster) Beyond Duty, LAR conference, Erfurt (January 2015)
Other roles
Teaching assistant on CAH1012; CAH1013; CAH2006; CAH2007/2207; CAH2020.
Organiser of the Annual Meeting of Postgraduates in Ancient History (AMPAH) March 2016
PONS AELIUS: Newcastle History, Classics and Archaeology Postgraduate E-Journal Editor, issue 13 (2016-2017)
Postgraduate Forum IT and Social Media Officer (2015-2016)
Postgraduate Forum Lunchtime Seminar Coordinator (2014-5)