Northern Heartlands
Engaging with communities to establish one of the UK's Great Places.
Northern Heartlands is one of sixteen Great Place Schemes in the UK funded by the Heritage Lottery Fund and Arts Council England. This Great Place is in County Durham and includes the catchment of two rivers – the Tees and the Wear – extending from their sources in the North Pennines to the lowland arc through which they flow.
The area includes the market towns of Barnard Castle, Bishop Auckland, Shildon, Crook, Tow Law and Willington and the communities of part of the former Durham coalfield, together with the isolated hill farms and villages of the rural Upper Dales.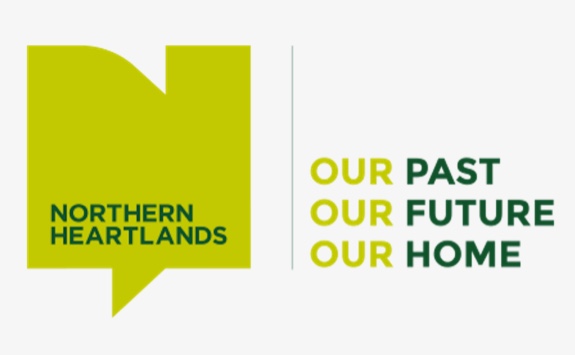 About the research project
The aim of this project is to understand how the past has transformed the landscape and what people value, need and want from their environment, as well as to explore current and future challenges and how they might be addressed. The project has been awarded £1.48 million based on a cultural landscape approach and co-production methods between communities, artists and researchers to facilitate engagement and discussion with specific, targeted communities.
Commissioned artists use innovative approaches to enable communities to:
describe how their place and landscape has changed and is now valued
explore how this can be translated into future policy, strategy and plans
work towards the development and support of 'community champions'
This project has had wide interest at national and local level, building on the success of the Heart of Teesdale HLF Landscape project and the 'Artists, Farmers & Philosophers' (AFP) Conference which was co-organised by Maggie Roe, the HoT team and other stakeholders.
Further Information: https://northernheartlands.org/
Key Publications:
Dr Paul Cowie, Faculty Research Fellow, Centre for Rural Economy at Newcastle University took part in an event 'Planning - A Participatory Art' on 25th April, 2018 sponsored by the Global Urban Research Unit (GURU) at Newcastle University: https://northernheartlands.org/project/planning-a-participatory-art-event-on-25-april/
Town Meeting community-based project: https://northernheartlands.org/project/past-project-6/
Funder: Heritage Lottery Fund (HLF)
Duration: 3 Years (2017-2020)
PI and further team:
Maggie Roe, Reader in Landscape Planning Research and Policy Engagement, McCord Centre for Landscape, was a member of the small group who developed the bid and is now a member of the Advisory Board. The accountable body is Visit County Durham and the Advisory Board is made up of key partners, all of whom supported the original application to the Heritage Lottery Fund and Arts Council England. Newcastle University is a Supporting Partner in this initiative through HaSS, the McCord Centre for Landscape and the Institute for Creative Arts Practice.
Advisory Board Members:
Chair: Graham Young
Sue Berresford, Jacqui Cameron (Opera North), Gary Charlton (Natural England), Debbie Connell (Durham County Council), Jim Cokill (Durham Wildlife Trust), Annie Dolphin (Active Durham), Michelle Gorman (Visit County Durham), Rev. Alec Harding, Tony Harrington (The Forge), Stephen Howell (Durham County Council), Adrian Jenkins (Bowes Museum), Trish Pemberton (Wear Rivers Trust), Maggie Roe (Newcastle University), Jane Shaw (People into Enterprise), Diane Spark (UTASS), Margaret Vaughan (County Durham Community Foundation) and Chris Woodley-Stewart (North Pennines AONB).