What is ePortfolio?
ePortfolio (soon NU Reflect) is a tool designed by the University that supports students' reflective learning process.
It helps students to understand:
What they are learning and where this fits into their previous learning
How they learn best and what motivates them to learn
Why the learning has been useful and what they think they still need to learn.
Accessing ePortfolio
ePortfolio is now integrated in Canvas and is accessible in both Account and in any Course menu. It provides the tools to support personal, professional and academic reflection in both modular and non-modular contexts. You can access ePortfolio in the following ways:
1. In Account, select NU ePortfolio.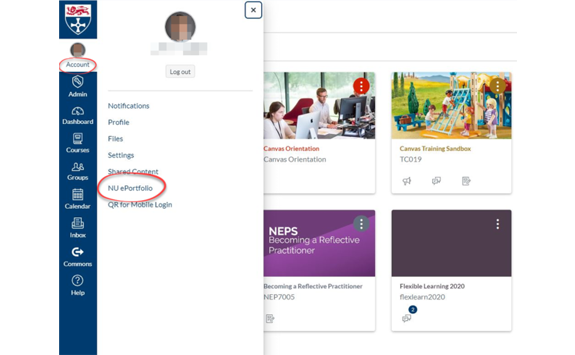 2. In any Course, select NU ePortfolio in the Course navigation menu.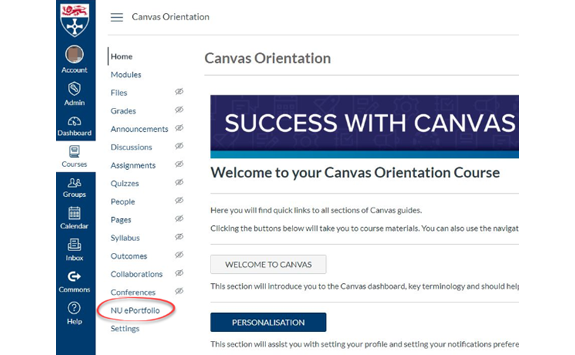 3. If ePortfolio is not visible within a Course, it can be added by accessing the Course Settings, clicking on Navigation and dragging 'ePortfolio' into the visible Navigation list. Click Save at the bottom of the page.
ePortfolio Tools
The tools within the University's ePortfolio system include:
Personal Tutoring and Meetings
The purpose of Personal Tutoring is to support the personal and academic development of our taught students, by providing an ongoing personalised point of contact. It is an essential part of helping our students know we care about them, and helps them navigate their journey through higher education.
The Personal Tutor home page allows access to individual records of all tutees including UCAS Personal Statement, assignment marks through NESS, timetable and student information from SAP. Meetings can be created by staff with any student within the ePortfolio system, allowing meetings to take place in various contexts, such as Personal Tutor meetings or group meetings for undergraduate projects.
Sharing and Groups
ePortfolio provides the option of creating specific groups with the purpose of effectively sharing, organising and communicating with others at the University. There are three sharing options:
Share Groups offer simple one directional sharing between the group owner and group member(s). Students can create their own groups and some groups ('My Tutors') are created automatically based on institutional data.
Supervision Groups offer the supervisor the means to communicate to all members of a group, but student posts can only be seen by the supervisor.
Communities allow all community members to view all the posts added to the community.
Creating groups allows for more streamlined processes, including the ability to email group members, create meetings or offer meeting slots, read and respond to posts of group members and share documents. Furthermore, Communities encourage collaboration between group members.
Reflection and Skills
ePortfolio, now integrated in Canvas, provides the tools to support personal, professional and academic reflection. Users can reflect and/or evidence skills through the Blog functionality, which can be customised on a programme or module basis. Students can reflect against structured skill sets, which are determined by programme/module registrations, including the Graduate Framework (taught students) and Research Development Framework (PGRs). Taught students can use the Graduate Framework in ePortfolio to keep track of their development in the top skills employers look for, or against attributes within professional competencies to ensure they have developed the skills necessary within their programme.